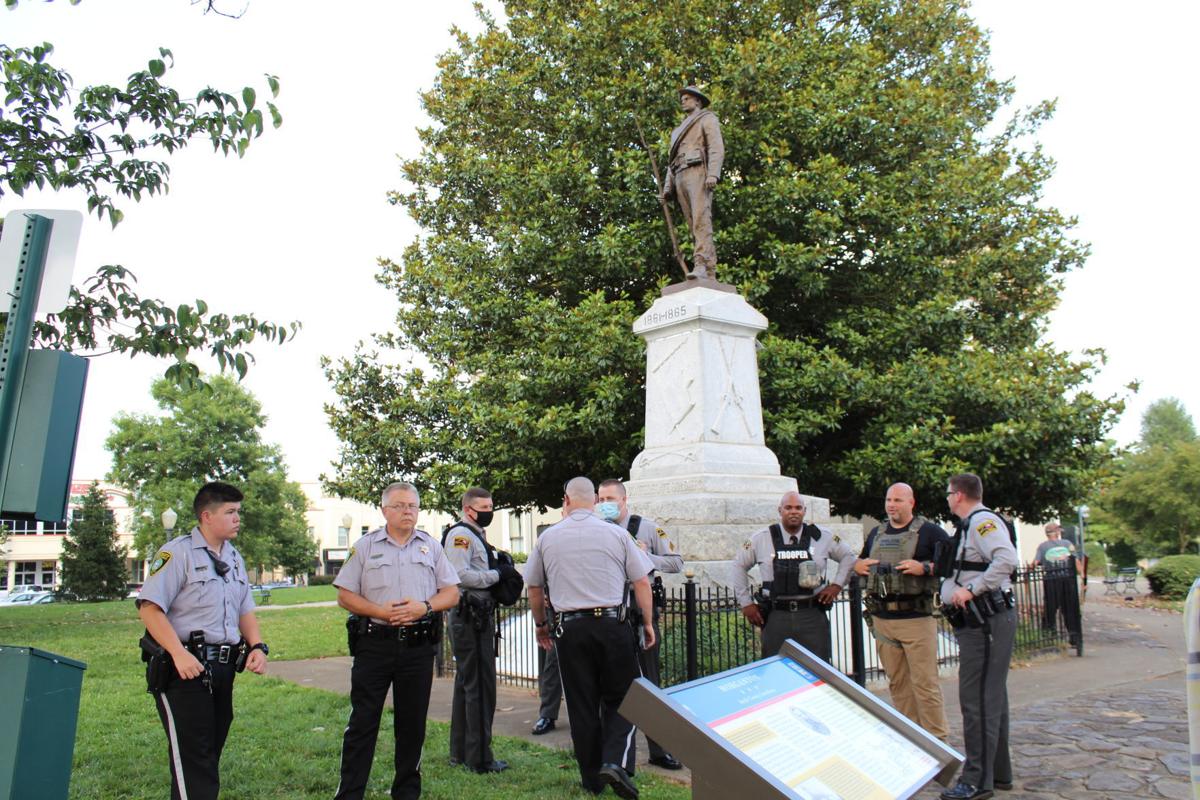 It was just a rumor that brought hundreds of people to Morganton's Historic Courthouse Square to protect the city's Confederate statue Saturday.
Since then, multiple petitions have circulated on change.org to either remove or support the statue. The leading petition to remove the statue had more than 3,100 signatures Wednesday afternoon, and the leading petition to keep the statue had more than 2,300 signatures.
Those petitions raise the question: Could the city and county actually remove the statue?
In 2015, North Carolina General Statute 100-2.1 made it illegal for any objects of remembrance on public property to be permanently removed. While the objects may be relocated, temporarily or permanently, there are strict guidelines for when that can take place:
» When appropriate measures are required by the state or one of its political subdivisions to preserve the object.
» When necessary for construction, renovation, or reconfiguration of buildings, open spaces, parking or transportation projects.
If the monument is owned by a private party but located on public property, the monument still can be removed.
The statute even specifically prohibits monuments from being relocated to museums unless they already were located at a museum.
Another exception to the statute states that the monument can be removed if it is deemed a threat to public safety because of a dangerous or unsafe condition determined by a building inspector or similar official.
Gov. Roy Cooper ordered in June that Confederate monuments at the state's capitol be removed after protesters pulled down two soldiers on a 75-foot Confederate monument, The Raleigh News & Observer reported.
Cooper's order to remove the statues cited a concern for public safety.
"I am concerned about the dangerous efforts to pull down and carry off large, heavy statues and the strong potential for violent clashes at the site," the News & Observer quoted Cooper.
The News Herald asked City Attorney Louis Vinay if he felt that interpretation of the statute is something the city has considered since the events that transpired Saturday.
Vinay said that, his advice to council, if asked, would be that he finds it doubtful that section of the statute could be used to get around requirements that monuments and memorials remain in place.
"To be honest, I'm very skeptical that applies to a situation involving something other than the physical condition of the monument," Vinay said. "I think it is pretty clear from the context of the statute that that was intended to refer to a monument or structure that was, you know, physically collapsing, in danger of falling, deteriorated, broken, that sort of thing ... that's my interpretation."
The courthouse square property is owned by Burke County, but leased to the city.
Burke County Manager Bryan Steen told The News Herald that he also would advise county commissioners, if asked, to abide by state law.
"State law governs us," Steen said. "We can only do what the state allows us to do."
That being said, Vinay did say that he felt that the passions people have on either side of the spectrum about the statue can pose a threat to public safety.
"That's why our public safety department, our whole city, is trying to address that bigger issue," Vinay said.
Even if the statute preventing the removal of monuments like Morganton's statue didn't exist, the ownership of the courthouse would come into play.
The Historic Courthouse Square is owned by Burke County, which leases the property to the city. Part of that lease includes maintenance of the square, including the monument, Vinay said.
However, he said he could safely say that, if any action on the statue is ever considered, the city and county governments would only take action on the statue if they were taking action together.
Vinay said that, while petitioners are welcome to address local government entities about anything at any time, efforts to preserve or remove the statue might suited for state representatives.
"Petitions are fine," Vinay said. "You can ask us to do whatever, that's fine, but I suspect that, to accomplish, at least the group seeking to remove ... that it's possible that their efforts might need to be directed elsewhere, specifically to Raleigh. ... That doesn't mean that you don't, like anything else, any other issue that is of local concern, sure, petition and ask, make sure city council knows how you feel. That's basic."
Get Government & Politics updates in your inbox!
Stay up-to-date on the latest in local and national government and political topics with our newsletter.