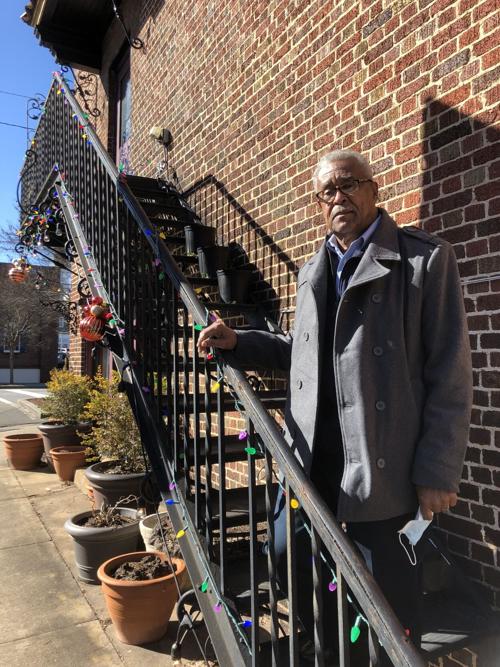 In the early 1960s, in my all-white elementary school, my class studied India's caste system, and I thought how awful it was, and how foreign to the country I lived in.
It was years later before I understood the U.S. South's own "caste" system called Jim Crow, after a 19th-century minstrel caricature of an enslaved person. One example of these degrading segregation laws illogically told an African American person, "You can cook my food and serve it to me, but you can't sit beside me and eat it with me."
Semi-retired Broughton Hospital social worker Bruce Hawkins has worked to change racial injustices during his lifetime, especially as a student at North Carolina A&T in the early 1960s.
Among other community service, Hawkins has served on the Burke County Board of Commissioners, the school board and the United Way, and is a lifelong active member of Mt. Zion Baptist Church. He recently spoke with me about some of his experiences with racism.
"Growing up in Berrytown, a small community between Drexel and Valdese, I did yard work and house cleaning at a home in Valdese across the street from Castle's Café. If I wanted lunch from there, I had to walk around to the back door to order. No African Americans could eat inside, although the cook was black."
At another former restaurant, the Alamogardo in Valdese, he got a job car-hopping, taking orders from white people in their cars.
"The cook there was African American, too," he said. "We still had to go in the back to order our food."
Hawkins either stood in the kitchen or went outside to eat.
Instead of attending Drexel High, a few miles from his home, Hawkins and other black students were bused 8 to 10 miles to Morganton. At the end of his senior year at Olive Hill High School in 1961, he remembers he and his friends had finished exams early.
"Five of us boys talked one of the female instructors into letting us borrow her car to go to lunch," he said. "We went down on East Union to a drive-in restaurant where you picked up a mic and gave your order. A waitperson came to the car and realized we were black and said 'We don't serve coloreds here.' One of my friends said, 'We don't want to order coloreds, we want hamburgers.'"
They had to leave and go somewhere else.
After graduation, Hawkins spent a year working in the housekeeping department of Valdese Hospital for 87 cents an hour. He felt there had to be something better than that.
With a student loan from the former Northwestern Bank, Hawkins entered the historically Black college, NC A&T in Greensboro, in the fall of 1962.
He was aware that in February 1960, four students from NC A&T entered Woolworth's store and sat at the "whites only" lunch counter. Though they were asked to leave and were not served, they stayed in their seats until closing time, ultimately making history as "The Greensboro Four," who started the sit-in movement and months later, succeeded in integrating Woolworth's.
Led by student body president, Jesse Jackson, Hawkins and others protested at theaters, libraries and restaurants, peacefully asking for their right to be treated equally. He remembers thinking that Jackson, now a nationally known activist, was an impressive orator and leader.
"There were usually a couple of hundred of us, male and female students. We'd march from campus to downtown Greensboro," Hawkins told me.
One of Hawkins' most memorable experiences occurred at a theater there.
"We were trying to desegregate one of the local theaters," he said. "Two students from (the eastern N.C. town of) Ahoskie, very fair-skinned and with hair texture no different from yours, asked if they could seek admission first before we arrived. Management allowed them to come on in, thinking they were white. When we got there as a group, they denied us. The couple stated to management, 'We're African American.' The theater managers were totally surprised when they learned the students were not white.
"They still didn't let us in, and asked the couple to either leave or sit in the 'coloreds only' balcony, and so they left and continued to march with us. The theater's reaction really impacted me."
A worse experience awaited.
"One Sunday, I forget exactly where, police with large German Shepherd dogs arrested all of us," Hawkins said. "I didn't think they would hurt us, because of the repercussions, so I wasn't afraid. We were peaceful, but still arrested.
"They transported us by bus to an old vacant hospital, and we spent most of the night there into the wee hours. They finally released us and transported us back to campus. They had to feed us dinner. It cost the city of Greensboro $37,000 to house and feed us for that one incident."
More than 150 students were arrested that day.
Today he says, "We've come a long way but there's still work to do."
Hawkins married Judith Connelly his senior year in college, and they have two children, Cassandra and Bruce Jr.
Hawkins said the former F. W. Woolworth's in Greensboro is now the International Civil Rights Center and Museum. He's visited once, but wants to go back.
"I want to take my grandson and show him the old Woolworth's, and tell him about marching in Greensboro when I was in college."
I'd like to visit that museum, too, with my own grandchildren and tell them about meeting one of the everyday heroes of the Civil Rights Movement who helped change history for the better.
Gwen Veazey is a member of the Morganton Writers' Group.