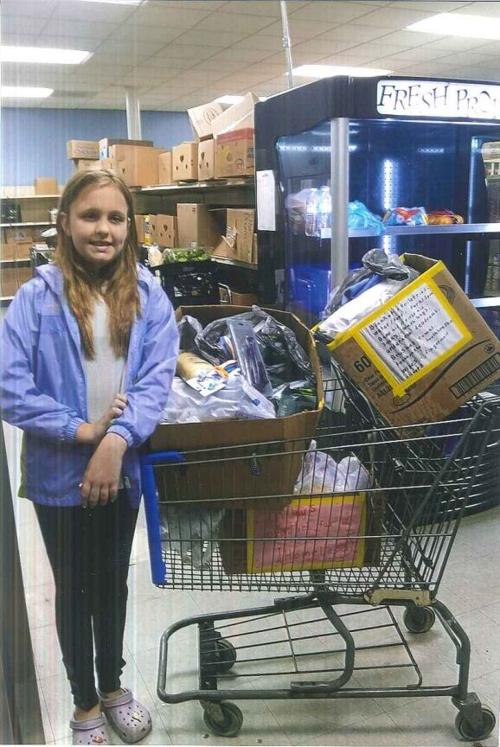 A local sixth grader is doing her part to help Burke County residents in need.
In March, 11-year-old Miley Secrest and her great-grandmother, Cindy Keys, started a food collection drive for Burke United Christian Ministries.
Miley, a member of Enon Baptist Church in Morganton, put out collection boxes throughout the church and began asking members if they would donate to her cause. After three weeks, she had collected more than 60 pounds of food.
"For months, Miley had been asking me to help her with this project," Keys said. "When children are small, their heart goes out for the homeless and people who are starving in other countries. It's just a natural part of growing up. While they are small, (they) want to help."
Keys agreed to help her, but said that she was slow to get involved. However, one day, a chance encounter with a homeless couple on their way to a local grocery store changed her mind.
"We saw this couple with backpacks on, walking to the store," Keys said. "It was like God was telling me that it was time to do something."
Miley shared how she felt about seeing the couple.
"I felt bad for them not being able to have a home," she said. "Knowing that they can't pay to go to the hospital if they need to or have a home to live in really affected me."
Keys credits the teaching of her Christianity for instilling this desire to help in her great-granddaughter. She said that, from a young age, Miley has been around people at church who put their faith into action in many different ways.
"Our church is very active in missions," Keys said. "We help with the soup kitchen, raise money for missionaries, pregnancy care centers and shelters for abused women and children in Burke County. My children, grandchildren and great-grandchildren all have been involved with these ministries."
During the first week of March, Keys brought home three large cardboard boxes, and Miley began making a list of items she wanted to collect for the ministries. She took the boxes to church the following Sunday and started asking members to donate.
"We also posted it on social media to my friends and church members to get more people involved with the project," Keys added.
According to Keys, the boxes were filled within three weeks, in addition to several monetary donations they received to help buy more food and supplies. On March 29, Keys and Miley took the items to Burke United Christian Ministries. Keys said they chose to donate the items there because they have volunteered there in the past and know the ministries are dedicated to helping people in need.
"I am thankful for this place and their acts of kindness reaching out to help people who are in need," Keys said. "They care about people and want to help."
Miley said she was excited to be a part of helping so many people and plans to do more in the future. She also hopes other people her age will be inspired to believe they can make a difference too. She believes that young people don't have to wait until adulthood to make a difference in the world if they are willing to take a chance and get involved.
"If someone is thinking about getting involved in something, I would tell them that they should do it because it's a good thing," Miley said. "Don't be afraid to just do it."