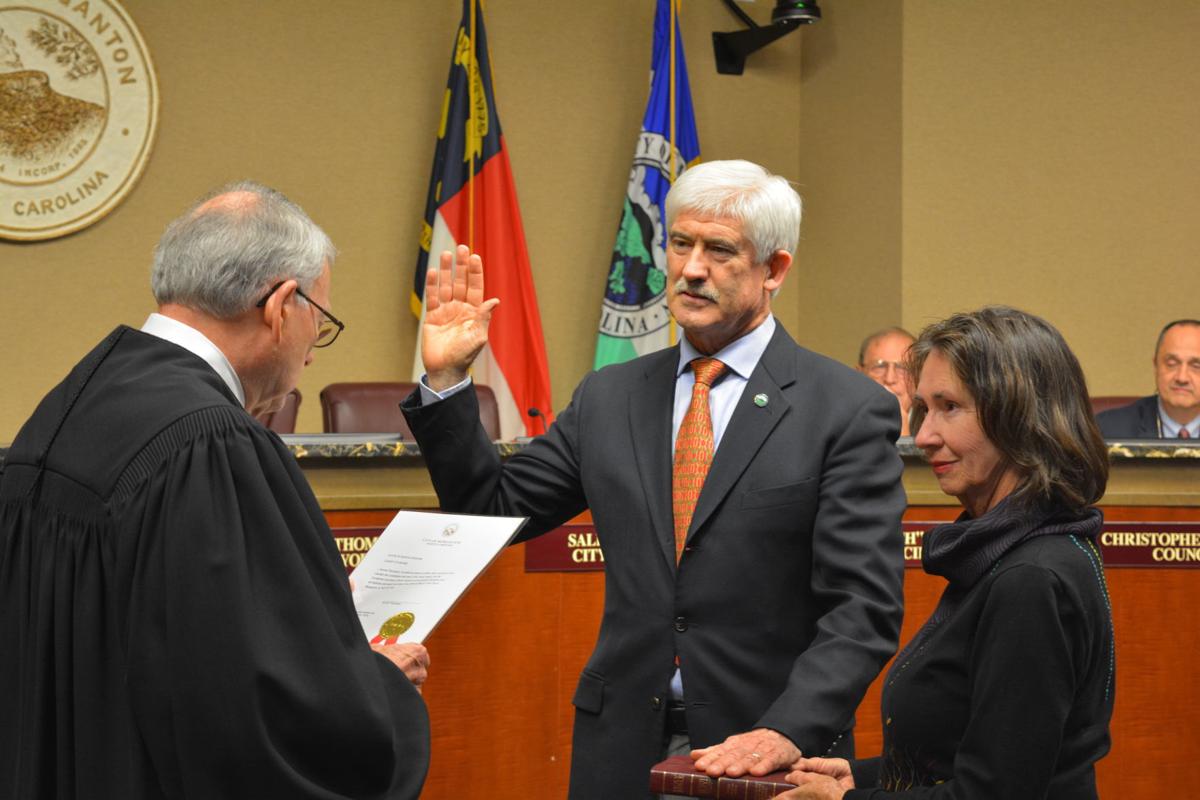 Those who watched Monday night's Morganton City Council meeting noticed that Mayor Ronnie Thompson was absent.
That's because he was hospitalized that morning with COVID-19.
Wednesday, he shared his story with The News Herald from his isolated hospital room in Hickory.
Thompson said he got poison ivy and around July 16, he couldn't stand it anymore and went to the doctor to get a steroid shot.
He said his doctor thinks that the steroid shot might have weakened his immune system so that he went from being asymptomatic for COVID-19 to symptomatic.
It wasn't until July 21 that Thompson said he started to get a little catch in his throat, like he couldn't clear his throat completely, but nothing else. The next afternoon, he got a sore throat and felt a fever coming on.
"My head felt like I had a head cold the size Burke County," Thompson said. "I just felt bad."
On July 23, Thompson said he knew it was time for both he and his wife, Anne, to get tested, even though she was still feeling OK.
"I knew the show was over," he said.
They went to the Urgent Care location near Golden Corral in the Morganton Heights Shopping Center to get tested.
"It (the test) is not painful, but man, it gets your attention pretty quick," Thompson said.
When they were told it could be anywhere from two to seven days before they would receive their test results, they decided to do some research.
"I needed an answer pretty quick," Ronnie said. "I was in pretty bad shape."
That's how they found out that the Celo Health Center in Burnsville could get results in 30 minutes. There, Ronnie tested positive while Anne tested negative.
On July 25, they got their results back from Urgent Care. The test results were the same, but the next day, Anne started feeling sick. She's been in self-isolation at home ever since.
All that being said, Ronnie wasn't feeling terribly ill yet.
"I could get out, do a little yard work, I could clean up the basement, I had a pretty big list to do," Ronnie said. "But then the fever really set in. My fever was 102 to 103 for about eight straight days."
He said it got to a point where he was eating less than 500 calories per day almost.
"I could not eat," Ronnie said. "You could put a bowl of oatmeal in front of me, I had to eat, I needed to eat, but just could not force it down."
Every morning, Thompson would take a dose of Tylenol at around 8:30 a.m. Like clockwork, his fever would return an hour and a half later despite taking the medicine.
"I would sweat profusely," Thomspon said. "I would go through about three T-shirts a day just from the sweat."
He'd take more Tylenol around 3 p.m., but the same thing would happen: his fever would return along with profuse sweating about an hour and a half later. He also would get violent chills and shakes, something he sent a video of to the newspaper.
"It was like 15 people, all of them shaking me," Ronnie said. "It would go on for two minutes, five minutes, 10 minutes, leave me just absolutely drained."
Around 8 p.m., he'd take more Tylenol with the same results.
Around July 29 or 30, his doctor told him the main thing to worry about was his oxygen level. He was told that he would need to be put on a ventilator if his oxygen level got down to 88.
He got a pulmonary oximeter and checked his oxygen levels. They had dipped to 91.
But he was able to get his oxygen back up to 95.
Symptoms worsened Sunday when he said he developed diarrhea.
"On Monday, we made that decision that, if I developed diarrhea and can't take any fluids or any food in, that's just a bad combination," he said. "So, we called the ambulance."
By Monday when he was checked into Catawba Valley Medical Center, Thompson said he had lost about 20 pounds since he first got sick.
"I just couldn't eat," he said. "I just couldn't force anything down my throat."
He thought he would get to go home Monday afternoon, but doctors found a blood clot in his lungs when they did a CT scan.
"Obviously, I didn't get my ticket home," Thompson said.
Wednesday, he said he was feeling much better than he felt a couple of days ago. His pulse, blood pressure and temperature all were within normal parameters.
He said his doctor is trying to determine how best to treat his symptoms.
"He feels real good, with my vitals like they are and to fight the fever, that I may be able to go home Saturday or Sunday," he said. "It's a long journey."
But even if he gets cleared this weekend, Ronnie said he probably won't go out for another four or five days.
"I just feel like I need to be as safe as possible," he said. "If I don't have a reason to be out, then I don't need to be out."
That's something he hopes other people will take seriously.
"Believe me, I understand quarantine," he said. "I've been at it since the 23rd day of July, and it's no fun, but you could be infecting somebody else."
He said he's contacted everyone he came in contact with five days before he got sick and they were all cleared. One person had gotten sick, but they recovered quickly, he said.
"You just don't know who you're going to infect, especially if you're asymptomatic," he said.
Being asymptomatic is something he said he worries people don't grasp.
"People think, 'well, I'm asymptomatic, that means I don't have it and I ain't going to catch it,'" he said. "I think that's some of the belief people have when they're asymptomatic … not realizing that you still could be a carrier."
He's concerned that people won't take the virus as seriously as they should.
"My concern for the city of Morganton and Burke County is that they see it on TV … and they say it's Miami Beach, it's California," Ronnie said. "It just takes one incident. This is not something you can go down and get Theraflu and take it for three or four days and it's gone. This is serious, serious stuff."
He said he's had some customers who tell him how fake it is, but that's not the case.
"Everybody needs to wear a mask, everybody needs to wash hands and everybody needs to social distance," he said. "You can go down to different bars and restaurants in town and young people, they just don't believe it's going to happen to them."
It's not just younger people who are skeptical, Ronnie said. He said that in Ingles a few weeks ago before he tested positive for the virus, he spoke to an older person in the store who wasn't wearing a mask.
"I went up to one and said 'do you need a mask?'" he said. "He said 'I ain't wearing a mask.' He said 'I don't believe it and y'all look stupid wearing a mask.'"
But Thompson is getting first-hand experience at just how believable COVID-19 is.
"It's a game-changer," he said. "You get it one time and it makes a believer out of you."
He said that he, maybe more than others, understands how difficult quarantining and staying home is, but not everyone has to stay home.
"You can wear your mask and go to the grocery store and go to Walmart," he said. "As long as you social distance, wear your mask and wash your hands. You can't make it any simpler than that."
Some of his friends expressed that they didn't think he should let people know he has the novel coronavirus.
"I'm not ashamed of it," he said. "I'm in pretty good company all over the world with how many million people have it now. And I said people locally need to know that it can happen and it can happen to you real quick, and it's not something you can reverse.
"It gets in your system, you get this headache that you just can't shake, and you just have to deal with it for 14 days, at least."
And while many think it's just a virus that is affecting the most at-risk populations, that isn't the case either. Thompson said he was in good health before his COVID-19 diagnosis and rode his bicycle any day that the weather allowed it.
"It happens to the healthiest people," he said. "It really happens to those people in poor health and underlying conditions."
He said it's also not just the flu that many people claim it is.
"I'm going to get my flu shot when they become available this fall as everybody else should," Ronnie said. "I've had the flu before, I've had mono before. Nothing like this, nothing like this."
Again, he emphasized the importance of wearing masks.
"I think the mayor of Kansas City said it best [Tuesday]: Wear your damn mask," Ronnie said.
He said those who don't like the plainness of some masks should go find one customized and personal to them like many local retailers now offer.
"Wear a mask," he said. "That's all you can ask people to do. It's simple. It doesn't make you less of a man or more of a woman or whatever. Just wear a mask."
Marion Mayor Steve Little issued a mayoral mandate requiring people in Marion to wear masks and stay 6 feet away from others. While the order doesn't come with an enforcement clause, Little said in a press release that the order is meant "to reinforce the importance of looking out for each other."
Thompson said that's something he may consider doing moving forward.
"I really think I probably should," he said. "Some people say 'I don't care what the mayor says, I ain't doing it anyways,' and you've got that attitude, but … I think at some point I need to just go ahead and do that, it's just to let people know it's really serious."
From his isolation room in the hospital, he said his care has been fantastic and the amount of personal protective equipment people have to wear in and out of his room is incredible.
"It's a tremendous amount of stuff that the health care professionals have to do and they do it with dignity, they do it with professionalism," he said. "I've been real impressed with all of the health care professionals I've been with."
As the phone interview with the mayor drew to a close, he had a public service announcement for readers.
"It is extremely important that you wear a mask, that you wash your hands and that you social distance," he said. "The public needs to protect itself and it's critical that we all are in this together, and together we can keep this virus from spreading even more in Morganton and Burke County."
Get local news delivered to your inbox!
Subscribe to our Daily Headlines newsletter.