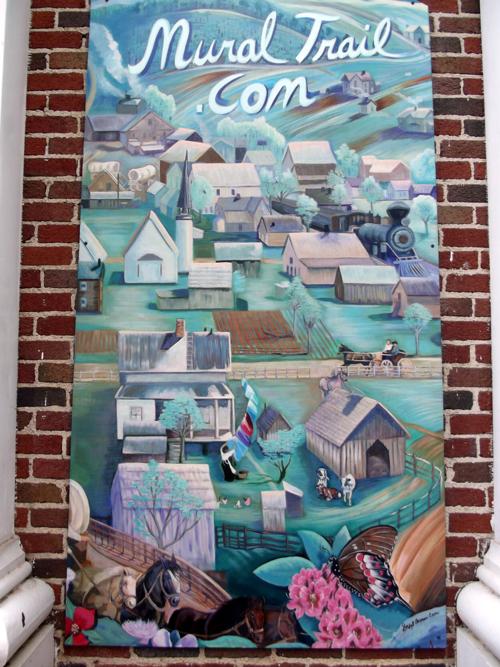 LENOIR — A building with a long history of supporting arts and culture is home to a new mural.
The Caldwell Heritage Museum, located on top of Davenport Hill, is the last building remaining of the Davenport College for women, established in the 1850s. The college was the center of the community for education and the arts for many years.
After the college closed, the building was used for many purposes. It was an elementary school, public school administration offices, a music center for Davenport Junior High School and a location for community residents to study art and music from a variety of instructors.
School officials had discussed having the structure demolished, but when word reached the community about their plans, a renovation effort was organized to save the building. With the support of many residents and those who had a vision to not only preserve, but also teach the history of Caldwell County, the Caldwell Heritage Museum was born. It eventually came under the care of Caldwell County Schools. Its mission is to educate and preserve the history of Caldwell County for future generations through educational services and exhibits.
Today, the museum showcases exhibits featuring subjects such as Native Americans, the early formation of Caldwell County, railroads and furniture. Special exhibits include schools, military, women's fashions and Davenport College.
In that spirit of history and art education, Doreyl Ammons Cain, a local artist and director of the Appalachian Mural Trail, installed a mural on the outside of the museum that she painted called, "Train Town." The mural, the second in a series of postage stamp murals recently placed on the Appalachian Mural Trail, captures a scene depicting life in the 1850s.
The trail consists of nearly 120 public murals showcasing local history and culture placed in various locations throughout western North Carolina, Mountain City, Tennessee, and into the Shenandoah Valley. The displays illustrating Appalachian art and spirit are designed to attract visitors, especially art and history enthusiasts, into small mountain towns and communities.
The "Train Town" postage stamp mural is at the front of the building. Cain said visitors are welcome to take a picture of the mural, even if the museum is closed. Information about all of the murals is available through AMT's interactive smart-phone responsive website at muraltrail.com. The website includes stories about the murals and driving directions.
Get local news delivered to your inbox!
Subscribe to our Daily Headlines newsletter.