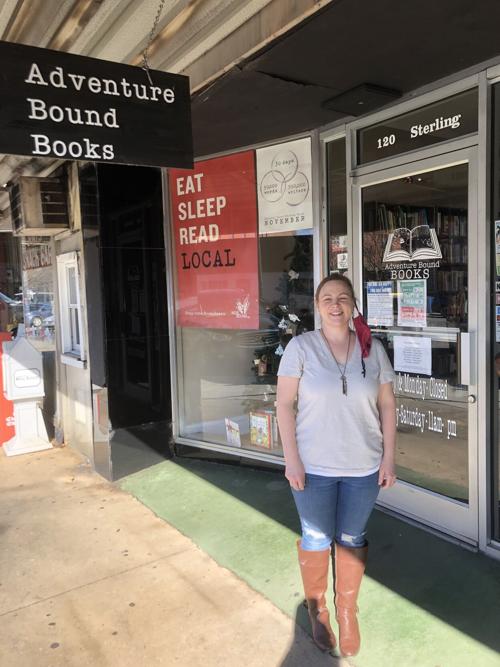 Despite COVID-19, I traveled this past year to Nigeria, England, New York City, Russia, the Middle East and many other places. In books, that is.
Of the 54 books I read in 2020, 10 were nonfiction, mostly biographies and memoirs. I enjoyed learning more about Eleanor Roosevelt, Oscar Wilde and the Wright Brothers from authors David Michaelis, Richard Ellman and David McCullough, respectively.
Eleanor, President Franklin Roosevelt's wife, emerged from a privileged yet difficult, anti-Semitic upbringing and less than happy marriage to become an empathetic social humanitarian ahead of her time, especially on race relations.
I smiled reading that airplane inventor Wilbur Wright thought automobiles were too dirty and unfeasible to become widespread.
The witty Oscar Wilde, a caring father and a gifted author, wrote one of my favorite novels, "The Picture of Dorian Gray." Wilde's humorous epigrams helped make him popular. He struggled with religious belief, and once when asked what his religion was, he said, "I don't think I have any. I am an Irish Protestant."
After his marriage failed, he embraced a homosexual lifestyle in 1890s London when this was a crime. He was ultimately convicted of indecency and imprisoned for two years, dying destitute and in exile at age 46, three years after his release.
Michelle Obama, Elton John, Lenny Bruce and Alex Trebek kept me company last year with their memoirs. They're titled, respectively: "Becoming," "Me," "How to Talk Dirty and Influence People," and "The Answer Is."
I laughed out loud reading Nora Ephron's "I Feel Bad About My Neck," a 2006 collection of essays. She didn't mind revealing herself in print, and accomplished it with masterful prose.
Nearly half my 54 books were mysteries. I read less science fiction and fantasy this year, only five of those, including the classics "Green Mars" by Kim Stanley Robinson (1993,) "The Forever War" by Joe Haldeman (1974,) and "No Blade of Grass" by John Christopher, a dystopia eerie to read during the COVID pandemic. A fictional virus starts in China and destroys all grasses and grains in the world.
Here are my nine fiction favorites:
9) "A Holiday for Murder" by Agatha Christie, 1938. A crotchety old man invites his four sons and their wives to the homeplace estate for Christmas. All show up, even the estranged ones who haven't seen him for decades. A murder occurs, and suspects include the guests, the servants, and the horrified family.
8) "Archangel" by Robert Harris, 1998. Set in mid-1990s Russia, the novel follows an American professor of Russian history who gets drawn in to the discovery of an explosive secret about Stalin. Great research and setting details. The story seems to predict the Russian people's acceptance of an autocratic ruler.
7) "Nothing to See Here" by Kevin Wilson, 2019. An impoverished 29-year-old is recruited by a rich former classmate as a nanny for her step-kids. A nice opportunity, except the children's bodies spontaneously combust when they're upset. Doesn't harm the kids, just sets their clothes and everything touching them on fire.
6) "My Sister the Serial Killer" by Oyinkan Braithwaite, 2017. I hate serial killer novels, but had a feeling this would be different. It was. I've never read a response to misogyny distilled into a purer form. It's set in Lagos, Nigeria and follows excellent cook and skillful nurse, Korede, and her beautiful, sassy, and murderous sister, Ayoola.
5) "It Can't Happen Here" by Sinclair Lewis, 1935. A disturbing classic written as Hitler rose to power in Germany. It speculates that the U.S. would not be immune to such a figure here. Sinclair writes about a charismatic blowhard who lies his way into the White House then creates his own army and calls for martial law.
4) "Map of Salt and Stars" by Zeyn Joukhadar, 2018. Exquisite prose in this novel of an adolescent girl who suffers having her home bombed and must escape Syria.
3) "Little Fires Everywhere" by Celeste Ng, 2017. Set in the real and carefully planned community of Shaker Heights, Ohio, this novel follows a high school girl and her single mom, who are working class newcomers, and their interactions with a more privileged and established family. It's difficult to write about abortion, and the author does it with sensitivity and empathy for all sides.
2) "The Brothers Karamazov" by Fyodor Dostoevsky, 1880. Theology, philosophy, rambling social commentary, details of small-town Russian life, torture and mayhem. It's all here in this classic novel of a harsh, neglectful father and his three sons. Also, humor: Father Zosima dies and creates a controversy. Will his corpse smell? The belief prevails that a pure man of God would not putrefy after death.
1) "The Book of Longings" by Sue Monk Kidd, 2020. Since the Bible is silent on about 15 years of Jesus' life from his late teens to his baptism, speculation that he may have been married is not unbelievable. This novel offers beautiful writing that captures the hardships of women and outcasts during the New Testament era, along with a fascinating story. What if Jesus were married to a feisty, talented woman?
Burke County Public Libraries and bookstores, such as Adventure Bound Books in Morganton, offer curbside pick-up. Staying home during the pandemic is a lot less dreary with good books to read. Happy reading in 2021!
Gwen Veazey is a member of the Morganton Writers' Group.