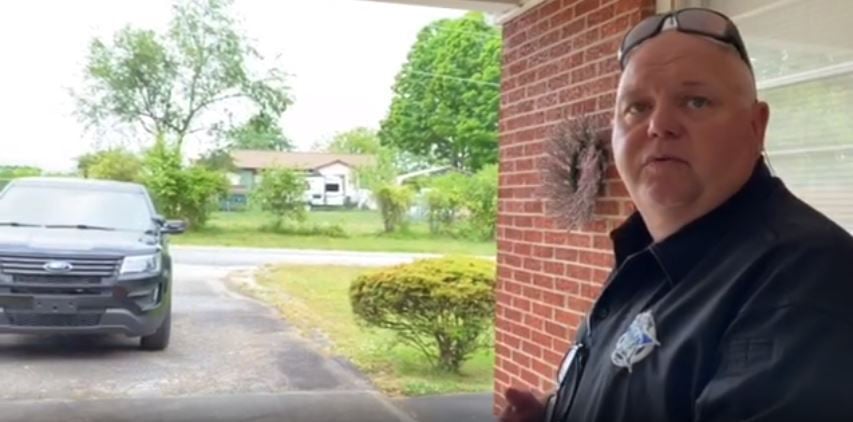 GLEN ALPINE — The town of Glen Alpine knows him as their police chief, but he was once a 3rd class petty officer in the U.S. Navy.
Rodney Cox, a Glen Alpine man through and through from even his elementary school days, enlisted in the U.S. Navy in 1988, eventually serving multiple at-sea deployments on a ship he and his crew helped commission.
"I was young, I was ready to see the world, starting a family," Cox said. "That's not a family atmosphere. It takes a special family to be able to keep it together in an environment like that. You're constantly gone."
He shared some memories of getting the U.S.S. Wasp, a multipurpose amphibious assault ship and the 10th ship to bear its name commissioned.
"The ship wasn't ready for the fleet yet, so we had to go through all these qualifications, combat qualifications, kind of like what we do as police, you've got to be certified every year," he said. "It's the same thing with the ship, she has to be qualified. When it's a brand new ship, we have to go to these extra tests."
One of those tests, where the hull is put through a shock test, sees explosives put under the water, the ship goes over it, the explosives are detonated and the hull is checked to make sure it didn't crack. That test happened three times before the ship was commissioned, Cox said.
"It brings back memories just talking about it," Cox said. "It was pretty interesting. I think it was one of my accomplishments in my life that I take pride in, yeah. I take pride in serving in the navy."
When the ship was at its homeport in Norfolk, Virginia, Cox said it was almost like having a civilian job.
"You just go and you had a task that you had to do that day and you got it done, whether it was maintenance on the ship or doing a checkoff list," he said. "If you had duty you couldn't leave the ship, you had to stay in the post, stay in the watch, security the watch, fire watch."
But when the ship wasn't at the port, Cox recalled being gone for long periods of time — something that was rough when he and his wife were first starting a family in Norfolk.
"I worked on the flight deck and on the hanger deck," he said. "I took care of the aircraft on the flight deck and on the hanger deck."
That was a dangerous job, one that he said some people call the most dangerous job in the world.
"It was very intense at times," he said. "A lot of jet wash, propellers, jet engines that's loud. I've lost my hearing because of it. If you can imagine, sitting beside an aircraft jet, a jet aircraft with two jet engines on it screaming and you can't hear the person in front of you screaming at you. That's how loud it is. You have to use sign language to communicate with each other … you really have to pay attention to what you're doing on the flight deck or it could be a bad day."
He recalled he and his shipmates were given a lot of responsibility right off the bat.
"Here you are, 19-, 20-year-old kid, and they throw you in front of a million dollars of equipment and expect you to do your job and not tear anything up and not get anybody killed," Cox said. "Responsibility in the military is huge. The work ethic, I guess, you sacrifice a lot. What I mean by that is, out here in the real world, you get off and go home and see your family or whatever you want to do. But sometimes in the military, you have to sacrifice that stuff to get the job done. It's tough on family."
It was especially tough on him and his family, just getting started.
"Being away from family," he said. "My wife and I were just married. She lived in Norfolk, she got her a little job, she got her a little apartment but leaving, especially when she was pregnant with my first born, that was tough. But that would be the toughest part for me was leaving family, and missing them for months, weeks, whenever we were gone. That was pretty tough."
But there still was some fun to be had with his shipmates.
"We saw a lot of places," Cox said. "Navy guys tend to party a little harder. I guess we play hard, work hard, ain't that what the saying goes? Yeah, navy guys, we played hard, but we worked hard."
That play hard, work hard mentality helped form a family-like bond between all of them. Cox said he even met up with an old shipmate for lunch over the summer.
"To this day, every Christmas, a bunch of us get together on a phone conference … and we'll just chitchat for a while and check in on everybody," he said. "The relationship that you have with the guys on the ship, they turn out to be brothers for life. We've always done that. It's pretty neat, and they live all the country. It's pretty neat that we're able to do that every year."
Cox said he is proud of serving his country.
"The pride of serving your country, especially in that time frame," he said. "The '80s was pretty rocking in the Middle East at that time. President Reagan was the president. He had us busy. We patrolled a lot in the Persian Gulf. We lost the USS Star in '87, I think it was over there. Well, we didn't lose her, but we lost some shipmates over there. We got the ship home. It was a very trying time in the Persian Gulf at that time. Of course, Russia was the evil empire. I would say serving my country is the proudest thing I think I've ever done."
Cox, who became started working in law enforcement in 2006 after a stint working in the manufacturing industry, said the skills he learned in the navy helped him get to where he is today.
"Those things I learned in the navy followed me all the way up to this point," he said. "Communication and discipline and the responsibility and the leadership, all those things I learned back then have stayed with me."
While unstable world affairs might make some hesitant to join the service, Cox said he'd still recommend people to enlist.
"Join the navy," he said. "Serving your country, to me, is one of the best things anybody can do. Get out there and live and learn these things and serve your country at the same time …. The things that you will learn in the military, like I said, it stays with you your whole life."