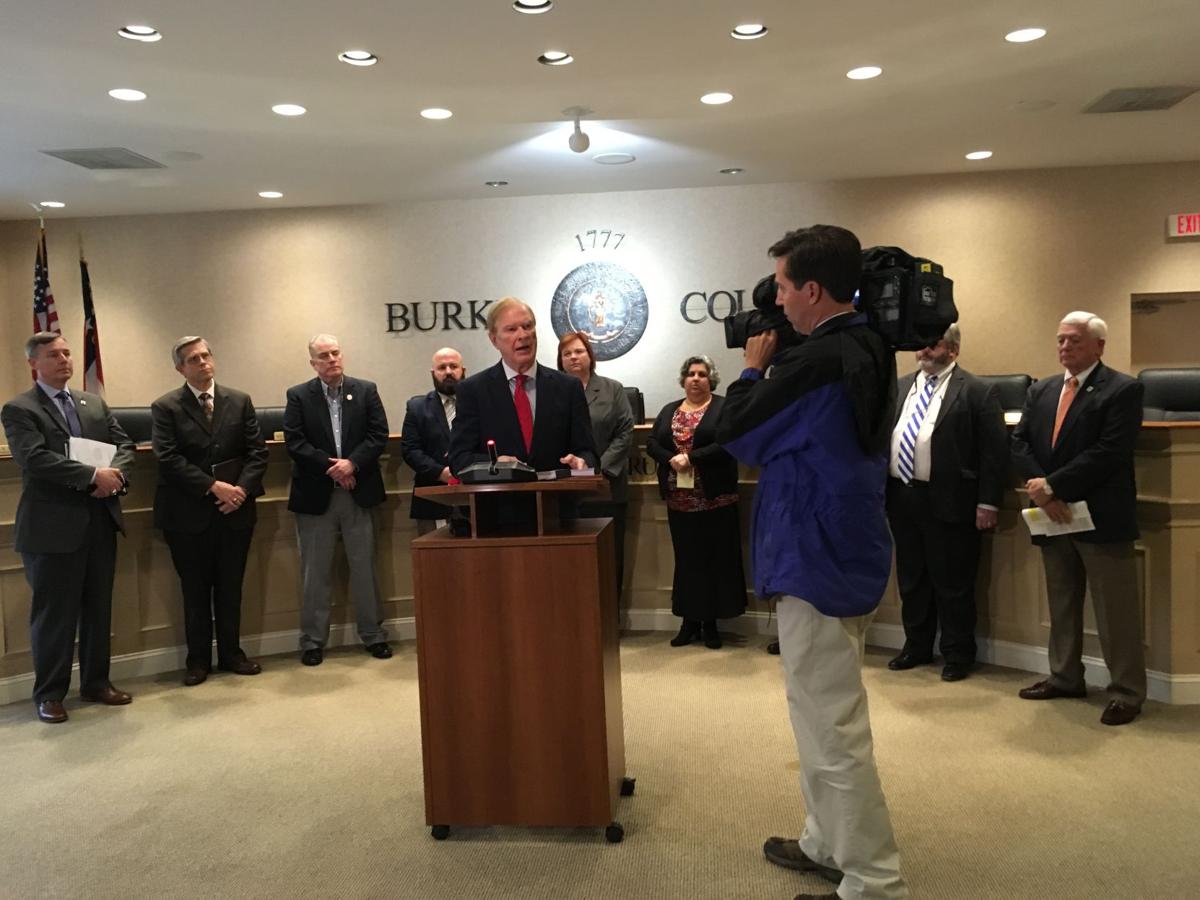 Millions of dollars will be coming to Burke County as part of a settlement with opioid distributors and pharmaceutical companies that was announced Wednesday.
Burke County was one of the cities and counties throughout the U.S. who sued opioid distributors Cardinal, McKesson and AmerisourceBergen and opioid manufacturers Johnson & Johnson and Purdue Pharma. The county joined the lawsuit in February 2018.
On Wednesday, N.C. Attorney General Josh Stein joined multiple attorneys general in the country on Zoom announcing the $26 billion settlement. He said the settlement isn't the end of the matter. He said there are other companies they are looking into.
Stein said it's expected that North Carolina will see $750 million from the settlement. The three distributors, collectively, will pay up to $21 billion over 18 years, he said.
Johnson & Johnson will pay up to $5 billion over nine years with up to $3.7 billion paid during the first three years, according to Stein's office.
Stein said he expects the first payments to North Carolina in April.
Burke County Manager Bryan Steen said the county will get about $13 million over an 18-year period.
The money Burke County receives from the settlement is intended to be used on a long-term drug treatment facility in the former Burke-Catawba District Confinement Facility that will have an educational aspect to train those seeking treatment for a new trade. The county announced in January 2020 its plans to reuse the facility.
County Commissioner Johnnie Carswell, who sits on the N.C. Association of County Commissioners' special opioid settlement committee, said the money will be spent on abatement, treatment, recovery, beds, education and prevention. He said Burke County has had extensive negotiations with Partners Behavioral Health, the county's local manager of mental health, substance use disorder, and intellectual and developmental disabilities treatment, on creating a facility at the former regional jail in Morganton and what that would look like. It would be a regional treatment facility.
Those negotiations are still going on, he said.
Steen said the N.C. Senate budget contains $3.25 million for 2021-22 for Burke County for initial construction and renovations to the former Burke-Catawba jail. Other money would be included in future budget years for the facility, he said.
Carswell said there will be up-front money from the opioid lawsuit settlement that will come to Burke County that also will be used on the facility.
"Today is a good day. We waited a long time — about four years to get to the point where we are today," Carswell said.
He called the settlement bittersweet, saying these companies have profited off the misery, death, pain and suffering of a lot of people, not just in Burke County, but across the country.
He said the settlement — the second-largest settlement in U.S. history — sent a message that this needs to stop, saying it will afford the opportunity for them to do what they need to do, Carswell said.
Stein's office said as part of the settlement, Johnson & Johnson will have to stop selling opioids and not be able to fund or provide grants to third parties to promote opioids and it cannot lobby on activities related to opioids.
As for Cardinal, McKesson and AmerisourceBergen, Stein's office said they have to establish a centralized independent clearinghouse for aggregated data and analytics about where drugs are going and how often. They also will use systems to detect suspicious opioid orders from pharmacies, prohibit shipping suspicious opioid orders and report them and terminate pharmacies' ability to receive shipments, and report those companies to state regulators, when they show certain signs of diversion, Stein's office said.