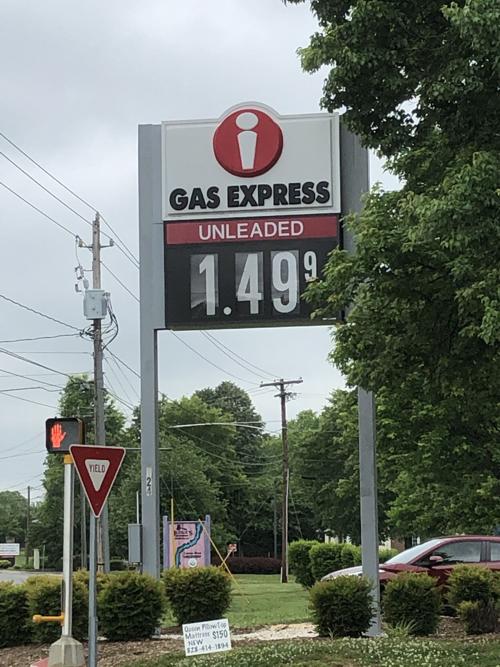 I recently drove to Hickory for a few errands and to visit a friend. About the time I passed the Drexel exit on Interstate 40, I noticed the gas meter registered almost empty.
Dang! I meant to fill up at Ingles, where I'd earned 20 cents off per gallon from grocery shopping points. I didn't want to backtrack. Maybe I'd have enough gas for my trip? My 2015 Toyota Highlander said I had 28 miles to go before running out of fuel, and there's always more than it shows.
When I got to Hickory's Exit 123, the numbers disappeared, and "Low Fuel" showed up, along with the lighted orange icon of a fuel pump. That spooked me enough to want to stop and get at least a few dollars' worth of gas. If I completely filled the tank, I wouldn't need gas for weeks with the tiny amount of driving I do in COVID life, and I would lose my Ingles points. Most of them would disappear at the end of the month. No way was I going to miss out on the Ingles discounted gas! I'd get it later.
My husband rolls his eyes over this gas discount obsession. He reminds me the savings are usually 5 or 10 cents a gallon, and even with the maximum discount, "You're saving maybe $3 if your tank is completely empty."
There's just something so compelling about those nickels and dimes. Can't explain it! And $3 is something, right?
On the way to downtown Hickory, I kept an eye out for service stations. Where 3rd Street SW branches off 4th Street SW, an old convenience store sits in the point. They had three ancient red fuel pumps, so I turned in and pulled to the last one. "Prepay only" sent me inside to the nice fellow who took my $5 and turned on the pump. As I lifted the hose to start fueling, I noticed the only choice listed was "Super Premium." Good grief. Each pump was a different grade, and I had bypassed Regular. I got about a gallon and a half with my $5. When I settled back in my seat and started the car, the "Low Fuel" warning and the pump icon still stared me in the face. My efforts hadn't even secured enough gas to turn those alerts off.
Still, I figured I could drive at least 30 miles. With four places to go, I kept an eye on the odometer. As each mile rolled over, I got more and more nervous. Finally, I was through and headed up U.S. 321 toward where my friend lives. I soon realized that returning to Morganton from there would be miles more than my gas would carry me.
Admitting defeat, I pulled into Raceway and hosed another small amount into the car's tank. Shooting for $6, I was able to halt the pump at $6.11. What a relief to turn on the car and see that I now had 60 miles left before needing gas again. Whew.
Making the turns to Celia's house carried me into the depths of Caldwell County on Poovey's Chapel Church Road, past several still-posted Trump yard signs and finally into the long driveway to her home. We had a nice visit on her porch, and when I told her about my gas angst, she said, "Oh, you know there's an Ingles near Rutherford College."
"No, I didn't. Do they have gas pumps?"
"Yep. It's about 6 miles from Exit 113 on Malcolm Boulevard."
Roughly on the way, fewer miles than backtracking to the Morganton Ingles. Oh, well. Live and learn.
I'd spent $11.11 trying to save $3 and added unneeded stress to my life. Sometimes I miss the forest, staring so hard at the trees.
Wouldn't it be funny if I ended this story by saying my husband, cynical as he is about the meager gas savings, borrowed my Ingles card and filled up his own car with my points? That's exactly what he did.
The good news is that I had so many Ingles points, I, too was able to fill up and receive the 20 cents off per gallon. Sometimes, with all the difficult problems in the world, small victories seem worth the effort.
Gwen Veazey is a member of the Morganton Writers' Group.