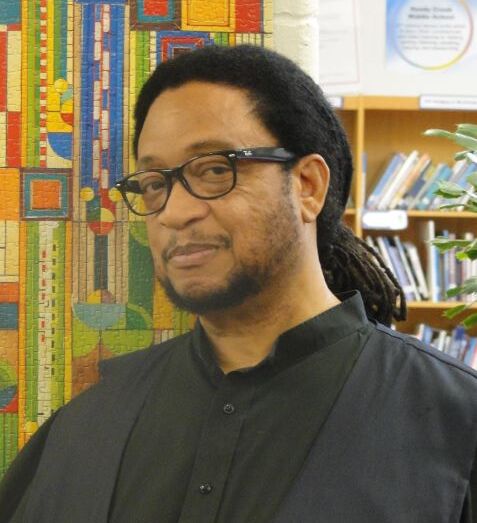 The Burke Arts Council is pleased to welcome esteemed poet, author and teaching artist, Phillip Shabazz to Morganton as an artist-in-residence.
Shabazz's work engages issues of community, culture and race in America. He is the author of two collections of poetry. Critics acclaimed his latest poetry collection, "Flames in the Fire."
"His writing is beautiful and accessible, vivid and thoughtful," one review reads. "This is a book for people who love poetry. He takes you from the depths of despair to the sweet joy of love."
He has served as a visiting writer at many colleges and universities, including UNC-Chapel Hill, Elon, Winthrop, Warren Wilson and the Writers' Series at Appalachian State University.
During his residency in Morganton, Shabazz will visit New Dimensions Charter School to conduct a four-day workshop, where students will explore lyric and narrative poems and prose as they relate to their interactions with others as they support and celebrate each other's work. Educators have called him "one of the most inspiring individuals in the arts."
In collaboration with Adventure Bound Books in downtown Morganton, the Burke Arts Council will present an adult creative writing workshop, led by Shabazz, on Monday and Tuesday, March 22 and 23, from 5:30-7 p.m. each evening at the Morganton Community House.
"In this workshop, we will write lyric and narrative poems," a description of the workshop reads. "Themes include family, loved ones, friends, things in the world, good times, food, music, Mother Nature, and real and imaginative experiences. The purpose is to explore the use of the senses, figurative language, rhythm, imagery, sound, tone, emotion and style. We'll write a first draft, and read aloud to share those drafts during the session."
Participants will receive feedback on whether or not their intentions were successfully rendered in their work, and discuss artistic choices as a way to further the prose or poem's development.
The two-day workshop is free and open to the public, but registration is required. Those interested may register by visiting burkearts.org or contact 828-433-7282 for more information.
The program is made possible with funding from the North Carolina Arts Council, a division of the Department of Natural and Cultural Resources.