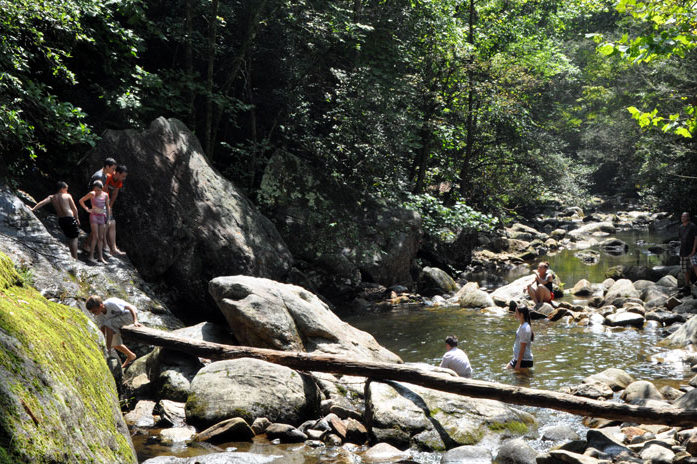 Despite being closed for weeks in 2020, western North Carolina's state parks saw record visitation as Nature enthusiasts turned to the region's many state parks and forests during the pandemic at much higher clips than in years past.
While the uptick in hikers and campers helps promote business for western North Carolina's tourism industry as a whole, facilities are overworked as a result of the influx of visitors, causing what park superintendents called a "double-edged sword" for their attractions.
Increase in park visitors
Jonathan Griffith, superintendent at South Mountains State Park, said park visitation was up 30%, from 315,691 visitors in 2019 to 409,043 visitors in 2020.
"That's not taking into account all the people that turned around because of the wait times when we filled up," Griffith said. "Our actual numbers of people trying to get here was considerably higher than that."
According to Griffith, for the past seven years, visitation has increased anywhere from 5-11%, but the 30% was the biggest increase he has seen in his time with the park.
"It was just absolutely packed, from the first weekend we reopened after the COVID closure, around the middle of May," Griffith said. "From that point, until basically the end of November, if it was a halfway decent weekend, Saturday and Sunday you were waiting in line anywhere from 20 minutes to an hour and 15 minutes."
Grandfather Mountain State Park's visitation increased even more significantly, up 32% from 2019, according to its park Superintendent Kevin Bischof. Like South Mountains, the park was closed for a period during April and May 2020.
Grandfather has a parking lot with roughly 100 spots that serves as a trail access point to Profile Trail. In 2019, that parking lot filled up on Memorial Day, and a few other weekend days in October, the park's busy time, according to Bischof.
In 2020, the parking lot often stayed full during weekends from May until November, Bischof said.
"If it was a nice weekend, we were full," he said. "It didn't matter if it was a holiday, it didn't matter if it was the fall, we were full. That parking lot filled up."
Bischof said Grandfather's busiest month was Oct. 2020, particularly the weekend of Oct. 17-18.
"People were literally just parked everywhere," he said. "The Banner Elk area, every road that you were on, traffic was backed up."
Consequences of the increased visitation 
The increased visitation led to emergency rescue workers performing more "not significant rescues," as the average visitor was less experienced in the outdoors than in previous years, Bischof said.
The emergency responders were not the only staff members who were overworked as a result of the surge in visitors.
Recently, state park staff – superintendents, park managers, rangers, maintenance workers, mechanics and office administrative workers – met virtually to discuss the burden placed on the parks, according to Bischof.
"It's definitely concerning," he said. "I've joked around several times, saying, 'Well, the goal is to get people outside.' Man, did we get what we asked for. All the park facilities, regardless of what park you're talking about, have a certain carrying capacity. It is built for a certain amount of people. The natural resources can only handle an impact of a certain amount of people. The incredible increase we've had for the pandemic has impacted those resources greatly."
During a typical year, visitors are more mindful of "trail etiquette," while newer hikers may not be as familiar with these customs.
Grandfather's trails are fairly narrow – less than 6 feet wide – which caused many people to have to step off of trails to have others pass them, degrading the trail shoulders in the process.
With more than 20,000 acres, South Mountains is the largest state park in North Carolina. South Mountains has more than 50 miles of trail, but roughly 75% of hikers come to see High Shoals Falls Loop Trail, a 2.4-mile trail that features a waterfall, Griffith said.
"We have opportunity for them to spread out," he said. "But we still get hammered on (High Shoals Falls Loop) trail."
The increase in hikers only accelerated the wear and tear on the trail, Griffith said, requiring South Mountains' staff to repair handrails, widen trails and pick up more trash.
"Our issue here more is parking and infrastructure," he said. "We're just not set up to handle the amount of crowds that have been coming. Due to social distancing, we stopped allowing folks to park on the road shoulder. So once the parking spaces filled up, that's when we had to stop traffic. Our facilities just aren't designed for that much use. So long term, going forward we're going to have to consider whether or not we can allow folks to overflow park, just because it's so hard on our facilities."
Visitation in 2021 and beyond
Griffith said he doesn't expect visitation numbers to decline any time soon.
"I don't know if they'll continue going up, but I don't see them going down significantly," he said. "We've had a whole new segment of the population realize they actually like hiking, which is a good thing. That's a good problem to have."
While he said he fully understands that most people work Monday through Friday and have no other alternative than to visit trails on the weekend, Griffith emphasized the importance of encouraging visitors to hike the trails during the week whenever possible, so as to not overwhelm the trails at once.
Still, South Mountains continues to attract people, even during the down season.
"We're still reaching capacity, even in January, which is unheard of – or was unheard of, until this year," Griffith said.
Bischof expects for Grandfather to remain busy as well.
"We've introduced a tremendous amount of people to the outdoors," he said. "Our visitation trends are going to continue to increase. It means it's going to make it very crucial to manage the park visitors appropriately so that they don't impact the facilities or the natural resources in a negative way.
"It's an incredible fine line. You want a lot of people to come out to the parks, but there is a spot where it's too many."