Drivers on Interstate 40 were honking as they drove under the Exit 104 bridge in Morganton as a large American flag flew from a fire engine's ladder on Monday.
The patriotic display likely bled to other exits and bridges along the interstate as first responders sought to honor fallen Deputy Ryan Hendrix of Henderson County.
Hendrix, 35, was killed in the line of duty early Thursday morning after responding to a breaking and entering call around 3 a.m., according to articles by the Hendersonville Times-News. The U.S. Marine Corps veteran and father of two young children had been with the Henderson County Sheriff's Office for eight years and was set to be married next month.
As Hendrix's body was escorted from Winston-Salem through Burke County to be laid to rest in Henderson County on Friday, first responders lined the interstate to show their respect.
It started by blocking a lane of Enola Road over I-40 so the ladder truck could be set up
As first responders lined the bridge and the flag was hoisted, others honked and flashed their lights. A few even walked up to stand in unity with the department.
That included Chance Hensley.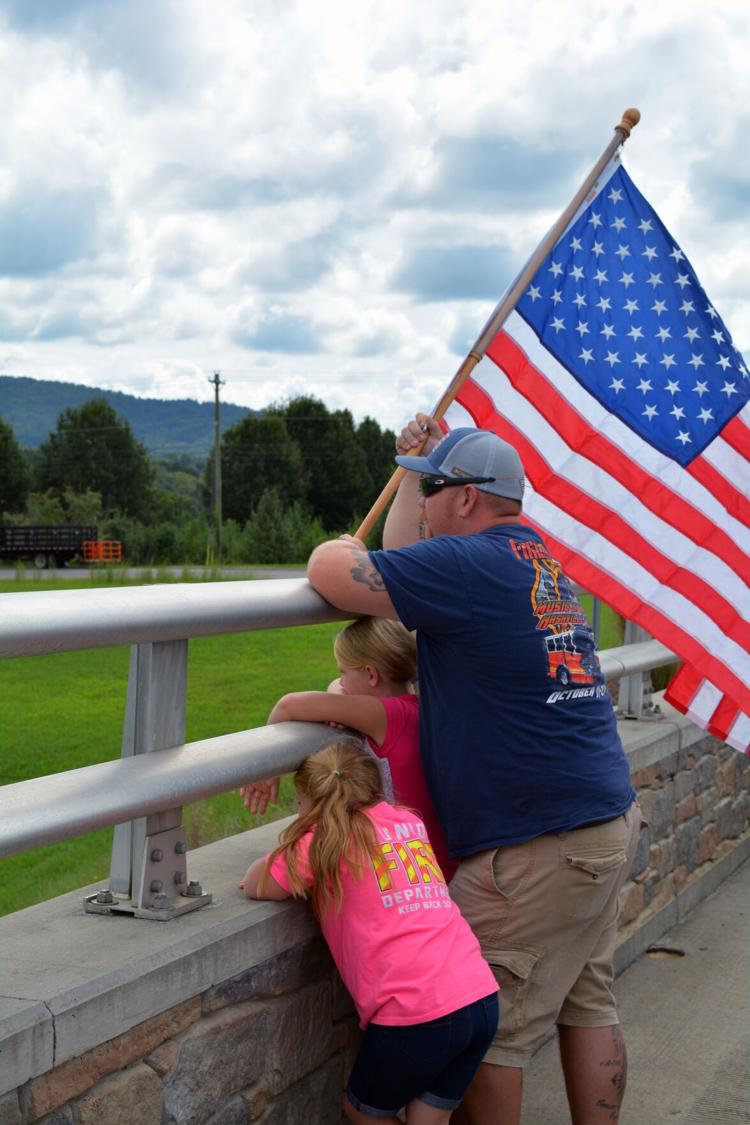 "I didn't know him personally but I have two friends who are deputies there," Hensley said, holding a smaller American flag on a pole. "Come to show my support for them. I think that's the best we can do, especially given the troubles that's going on today in the world of emergency services. [They] have got it rough. Nobody deserves that."
Hensley brought his two daughters, Carlea and Addison Hensley.
"We're really upset about the person who passed away and we feel really bad," Addison said. "We feel bad for his family and everyone who liked him. Now we're here and wishing him good luck to heaven."
Hendrix's life may have come to an end, but he continues to help others. The Hendersonville Times-News reported that Hendrix was an organ donor.
"Even in passing Ryan continues to exemplify a servant's heart," the newspaper quoted a release from HCSO.
Hendrix's funeral is set for Friday at Mud Creek Baptist Church, according to the HCSO Facebook page. He will lie in state from 10 a.m. to 1:45 p.m. with a funeral to follow at 2 p.m. After the funeral service, Hendrix will be carried to Forest Lawn Cemetery for interment.
Get local news delivered to your inbox!
Subscribe to our Daily Headlines newsletter.