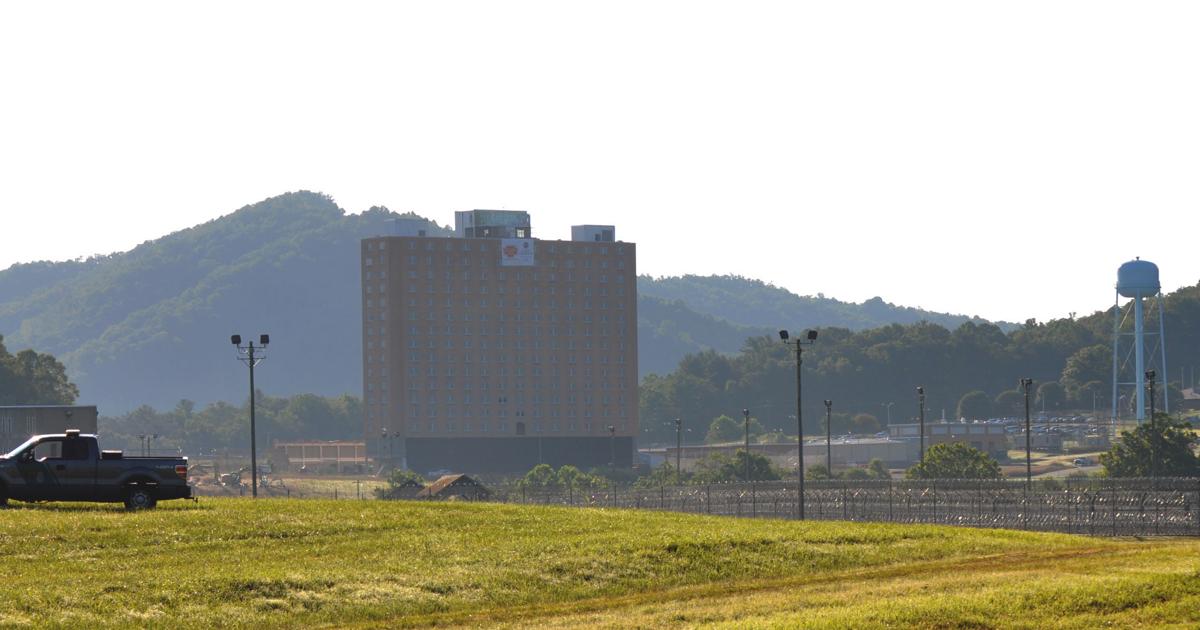 It may have seemed like any other hazy, summer morning to some, but for the North Carolina National Guard, North Carolina Department of Public Safety and Burke County, it was much more than that. 
Humvees drove around Foothills Correctional Institute and the former Western Youth Institution as crews prepared for its implosion. 
The skinny, 16-story building once housed 708 mixed-security offenders, ranging in age from 13- to 22-years-old, according to information from DPS. It first housed offenders in 1972, before closing in 2013.
DPS said the closure of WYI, along with four other prisons, saved the state $20.3 million.
Bo Goodson, captain of special operations at FCI, told reporters Saturday that it was a humbling experience to see the building come down. 
"It's ... humbling," Goodson said. "I started at Western back in '95. It's got quite a history to it, and we hate to see her go."
Jerlene Epley worked at WYI when it first opened, and was part of the staff who worked in temporary offices at Broughton Hospital with a small planning staff for the facility until it opened in 1972. She said she was one of about four women who worked at the prison. 
"I enjoyed the work and I enjoyed the people," Epley said. 
She worked there for 15 years, leaving the job when she had children to stay at home with them.
"I was determined, when they told me they were going to tear it down, I told Debbie (my daughter) if they've got a place where I can sit ... I want to go," Epley said. "They brought me this morning ... and I enjoyed it."
The building came down to make room for a new National Guard training center that will be built on the site.
National Guard Lt. Col. Kent Caldwell told reporters that the readiness center coming to Morganton will be one of eight across the state. 
"This readiness center will house equipment and soldiers from four different units that will come here and train for state active duty and their federal mission to support ... the state of North Carolina," Caldwell said. 
The readiness center received $23.33 million from the Connect NC bond for the readiness center, according to a previous News Herald article.
"This allows us basically to be well-trained and prepared to respond to any state active duty event that North Carolina needs, emergency management needs the National Guard's assistance in," Caldwell said. 
Smaller armories will remain in place around the state, but the new readiness centers will allow for more space for equipment and training.
"Our older facilities can't physically house the newer army equipment," said Maj. Matthew Boyle. "This facility is purpose-built for our current and future equipment."
Emergency Management Director Mike Willis said the county has been planning with the contractor for the implosion for more than two months.
"All the parties involved worked together to develop a plan and it was executed without any problems," Willis said.
Get local news delivered to your inbox!
Subscribe to our Daily Headlines newsletter.