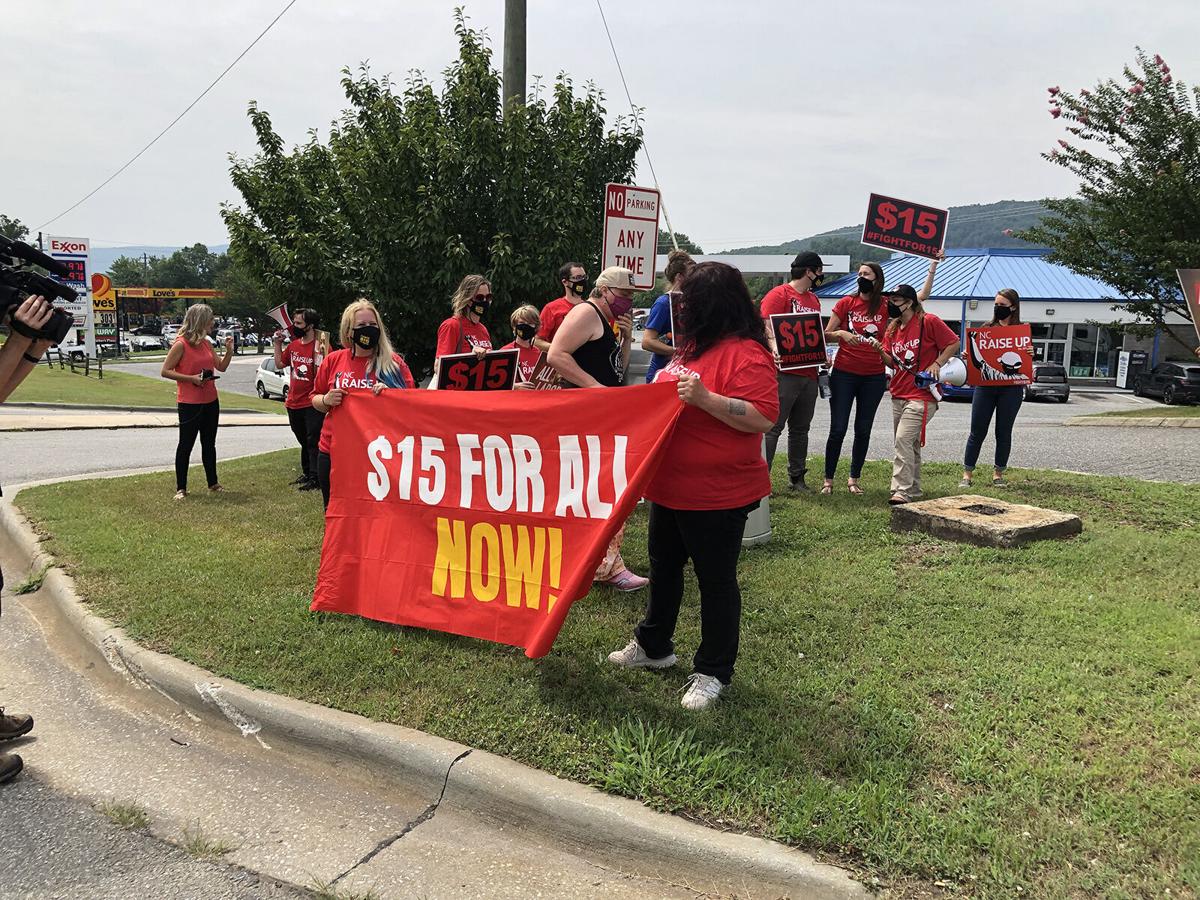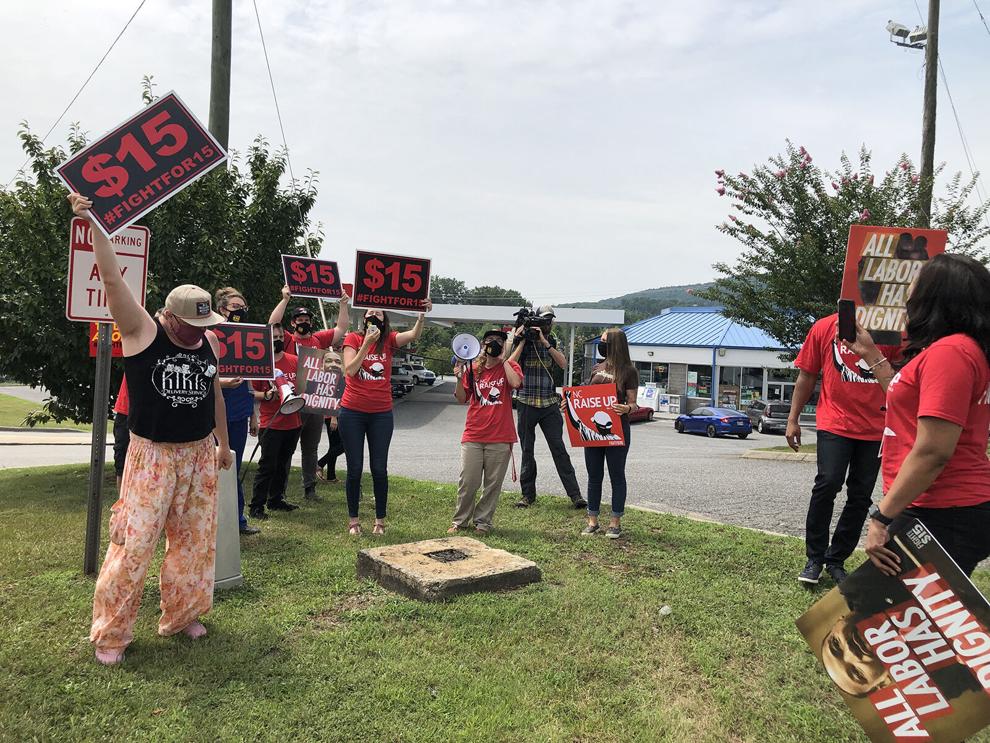 [Editor's note: This article was updated on July 21, 2021 to reflect Claire Clark's preferred personal pronouns.]
MARION — Western North Carolina workers voiced their demands for a $15 an hour minimum wage Tuesday at the Hardee's on N.C. 226 South in Marion.
A strike and worker-led rally to demand that Congress pass a $15 federal minimum wage was held by the NC Raise Up, which represents underpaid workers across the South who are fighting for $15 an hour and union rights. North Carolina workers held similar rallies in Charlotte and Durham.
Fifteen people met at the Love's Travel Plaza on N.C. 226 South and marched to the Hardee's restaurant carrying signs demanding $15 an hour.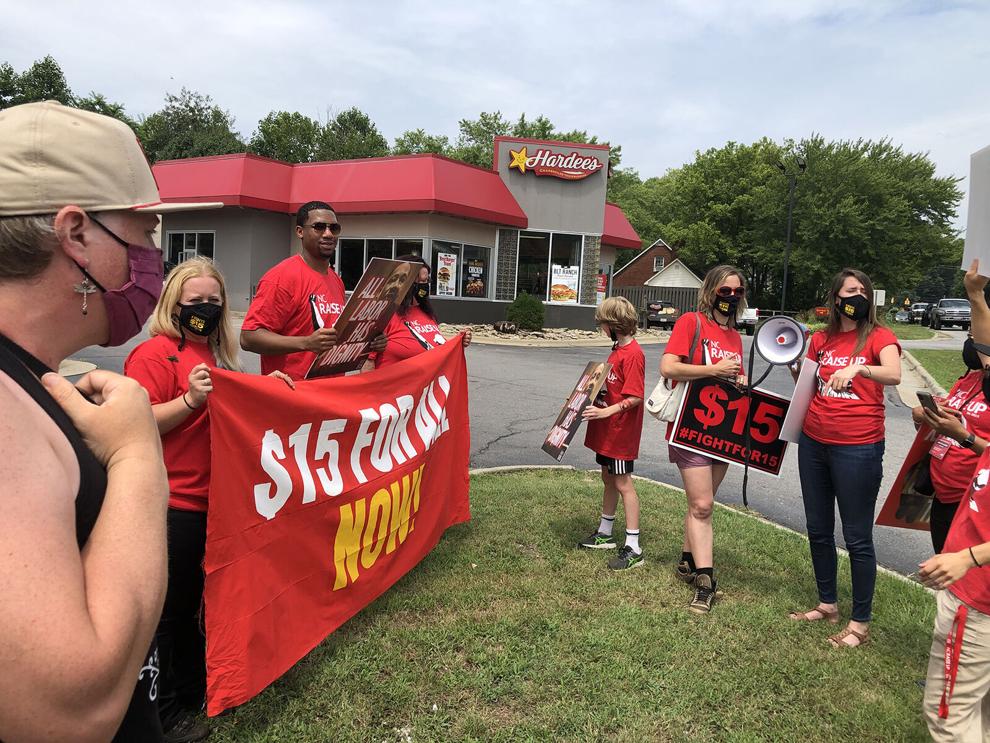 "Worker power! Worker power!" they chanted.
"One, two, three, four! Greedy bosses pay no more!" they also chanted. "Five, six, seven, eight! Want a union! We won't wait!"
They gathered in the grassy area next to Hardee's and voiced their demands for a living wage and union representation.
Although the emphasis of the event was on the fast-food industry, some of the workers are employed in other industries.
Lena Lane, a direct care worker who works with disabled adults, spoke to the small gathering.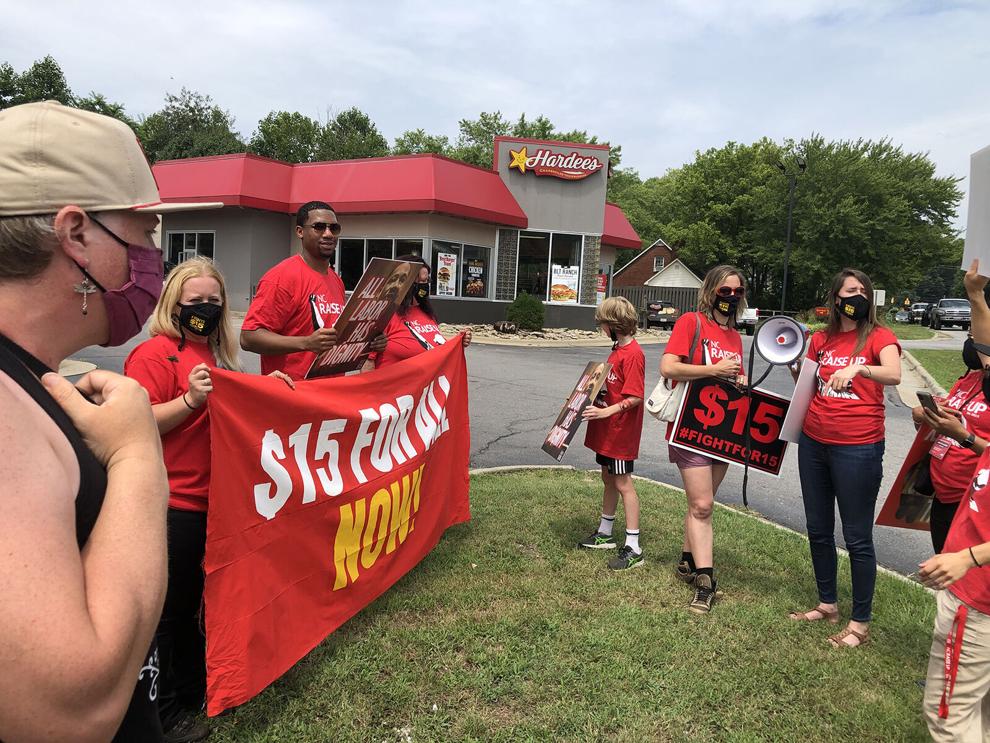 "I don't yet make 15 (an hour)," she said. "All through the entirety of the pandemic, I made $10.25 an hour working for the same agency I have worked with since 2002. If you are an essential worker and, even if you are not an essential worker but especially if you are an essential worker, we need $15 for federal minimum wage."
Claire Clark said she's been working since she was 15 years old and is 40 now. She started working at $4.75 an hour and has since worked in fast-food, call centers and factories. In the 25 years she has worked, she has not made more than $12.50 an hour, she said.
"That is not a livable wage," Clark said to the gathering. "It is not a wage on which we can support families. Americans deserve a $15 minimum wage. We deserve a living wage. In fact, 15 is the bare minimum. Americans deserve not just to live. We deserve to thrive. We cannot continue to accept these wages. We cannot work for peanuts. We can be poor on our own time. Bosses if you can hear me, pay us! We earned it! We deserve it! We are the workers! We make this world run and we will run it!"
As they spoke, several people driving by on N.C. 226 South honked their horns as a show of support.
Nathan Ruggles, an Amazon driver from Candler, said he was promised $15 an hour when he started but he had to fight to get a living wage.
One of the workers at the rally who spoke to The McDowell News is a Marion native.
Jason Carroll told The McDowell News he used to work at the Hardee's.
"I am here today to fight for 15 and a union because it is desperately needed in the South and countrywide," he said.
Carroll said he worked there for six months a few years ago. He was the closing cook and he made $7.25 an hour.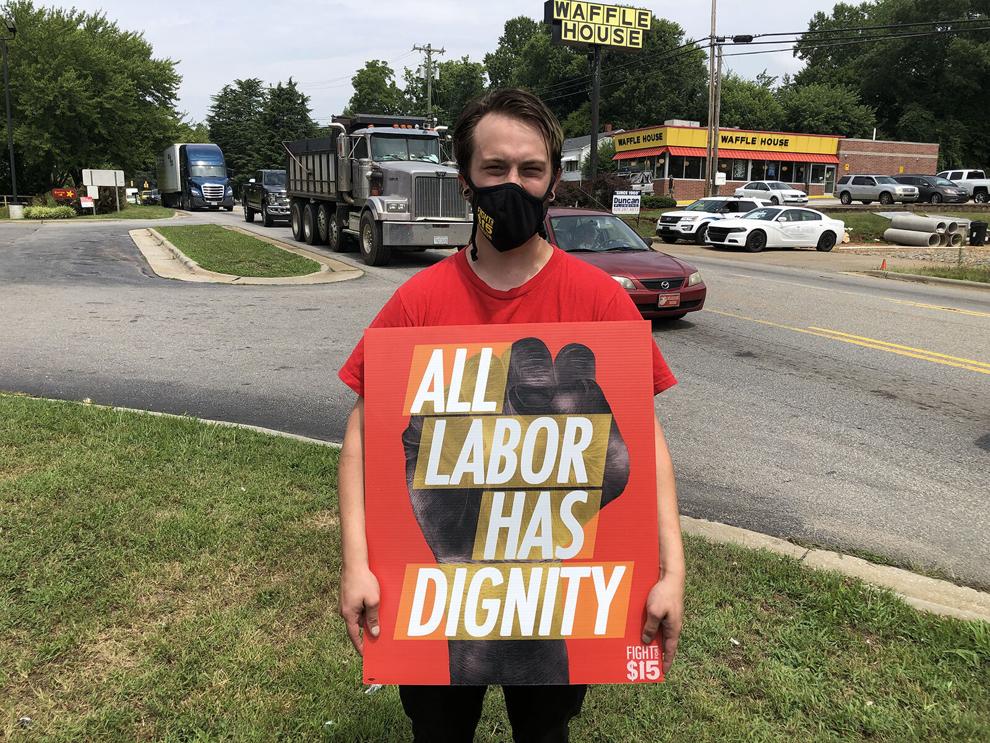 He said he was fired from the Hardee's because he got sick and was unable to get a doctor's note. He didn't make enough money to get a doctor's note and didn't have health care coverage.
"They don't provide health care and don't give raises," he said.
Now, he's working for DoorDash delivering food to people around McDowell County.
"It's a little better," he said. "If you really stick with it all day, you will end up making 15 an hour."
The McDowell News attempted to ask a manager at the Hardee's for comment about Tuesday's demonstration. The manager declined to comment.
Tuesday's strike and rally in Marion and the ones in Charlotte and Durham were part of a nationwide protest. Workers in more than 15 cities went on strike to demand Congress and restaurant companies like McDonald's, Burger King, Hardee's and Wendy's raise minimum pay to at least $15 an hour, a news release says.
Tipped restaurant workers, who are paid a subminimum wage of $2.13 an hour, also held protests from coast to coast. Tipped workers have been excluded from increases in the federal minimum wage for over a half-century, and the subminimum wage for tipped workers has been at $2.13 an hour since 1991.
Nationally, workers went on strike in Charleston, South Carolina, Detroit, Flint, Michigan, Houston, Milwaukee and St. Louis, with additional protest actions in Montgomery, Alabama, Tulsa, Oklahoma. and Norfolk, Virginia. Restaurant workers with One Fair Wage held protests in New York, Washington, Chicago and Nashua, New Hampshire, the news release says.