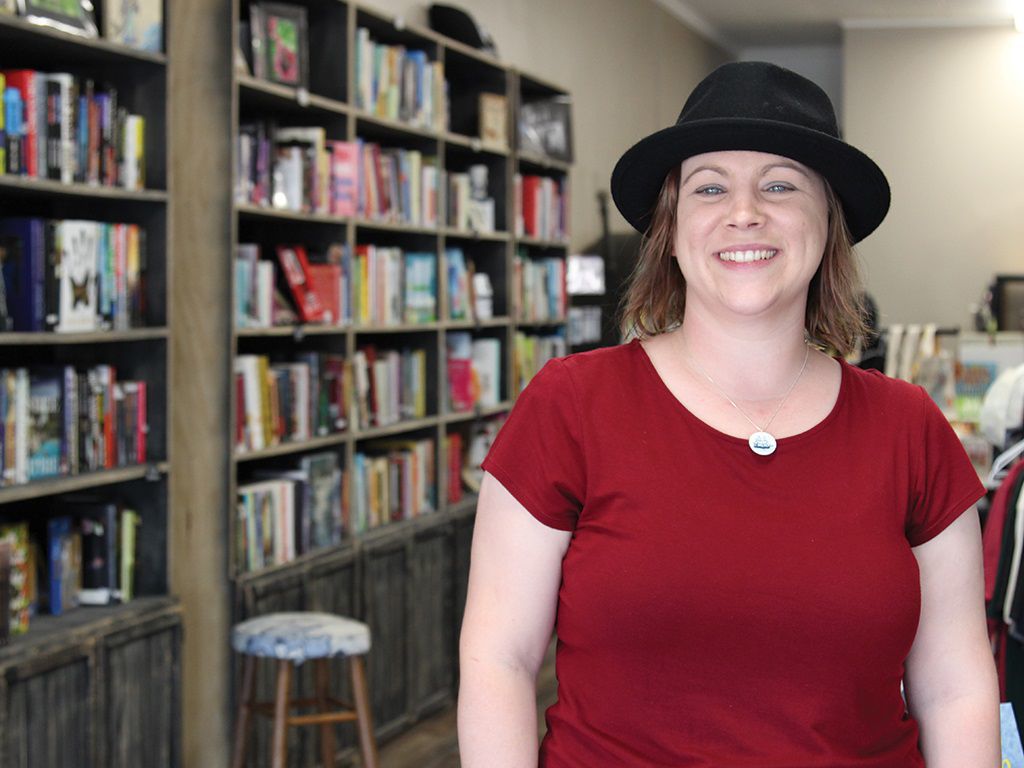 Since 2000, the N.C. Department of Commerce and the N.C. Main Street program have been recognizing individuals who work and advocate for revitalized downtowns.
For 2019, Adventure Bound Books owner Angela Shores was chosen as the representative for downtown Morganton on the 45-person list of North Carolina Main Street Champions, all of whom were honored for their commitment at a recognition ceremony in New Bern last month.
"Despite the short-term uncertainty in the global economy right now, vibrant downtowns will remain catalysts for North Carolina's economic prosperity in the years ahead," said N.C. Commerce Secretary Anthony Copeland in a press release. "These honorees have shown considerable creativity and dedication in improving their communities. We're proud to honor their vision and hard work as Main Street Champions."
Shores opened Adventure Bound Books downtown in June 2018 with the aspiration of becoming the premier independent bookstore for Burke and surrounding counties, the Morganton Main Street Department said, noting that Shores works tirelessly to achieve that goal.
"It's long been well-known that successful downtown economic development doesn't happen by luck," said Liz Parham, director of the N.C. Main Street and Rural Planning Center, in the release. "There are always hardworking people behind these efforts, and we wanted to take time each year to put the focus on leaders who are making a real difference in their communities. Main Street Champions serve as a valuable think-tank for future projects and innovation."
Since opening, Shores has been involved with downtown and Main Street efforts. She quickly joined the Downtown Development Association, joined the steering committee for Historic Burke County Courthouse Square redevelopment, got involved with the Burke Arts Council's Third Thursday Art Crawls and, among other things, has taken promotional retail events to the next level and become a champion among Morganton's retailers, Morganton Main Street said.
"I was completely overwhelmed when (Morganton Main Street Marketing and Events Coordinator) Abby (Nelson) told me. Completely surprised," Shores said. "I'm very grateful to even have been considered as a potential person to nominate for that award. It's a big honor to have been picked out, to recognize that I, somehow, in the things that I do day-to-day as a business owner here downtown my champion colleagues."
A few of the programs Shores has conducted at Adventure Bound Books include weekly story-time, adult book clubs, author meet-and-greets, poetry nights and writing contests. As one of downtown Morganton's newest businesses, Angela has highlighted the path to what it takes to be a champion, Main Street said.
"I definitely am thrilled that the bookstore and the events that I've planned and the book clubs that we do and those kind of things have been well-received by the community," Shores said. "It was one thing for to think, 'Oh, we need a bookstore in town,' as a singular person and an individual thought of something downtown needed.
"But to see the support and having people show up for the event. It's not just verbal support, but people come out and show up with their presence and support. It's definitely rewarding and reaffirming that it wasn't just some crazy idea that I had that we needed a bookstore."
Shores joins Mel Cohen (2000), Clyde Eskridge (2000), Judy Willis (2000), Jerry Norvell (2001), Clark Erwin (2002), Paula Page (2004), Lynn Henderson (2005), Bill Allman (2006), Ruth and Ed Jones (2007), Dr. Gresham Orrison (2013), Charlotte Eidson (2015), Mike Crotts and Mike Fincher (2016) and Keith Suttles (2018) as Main Street Champions who have represented Morganton.
Some of the other 2019 Main Street Champions from the region include Ann Dergara (Brevard), Bob Barker (Cherryville), Melissa Cantrell (Forest City), Jack and Beverly Maniscalco (Hendersonville), Julie Owens (Hickory), Frank Stewart (Kings Mountain), City of Lenoir Public Works' Sanitation Division (Lenoir), Tracy Cotton (Marion), Angela and Neal Powell (Newton), North Wilkesboro Police Department (North Wilkesboro), Warren Ormiston (Rutherfordton), David White (Shelby), David and Stephanie Whitson (Spruce Pine), Steve Hill (Statesville) and Alex McKay (Waynesville).
During the coronavirus pandemic, Adventure Bound Books is working on reduced hours. And while the store's doors are not open to the public, the business is processing orders by email, phone and online.
"It's critical. It's tough on a lot of people and a lot of businesses having to make decisions about whether they can stay open, how they can adjust, whether or not they can adjust the way they do business to respond to things they can or do or how people can access them," Shores said. "Not everybody can take what they do or their business online. When we can, we really need to support local and downtown as much as we possibly can.
"Always, but definitely now with so much uncertainty about how long things are going to be different and when things can get back to normal."