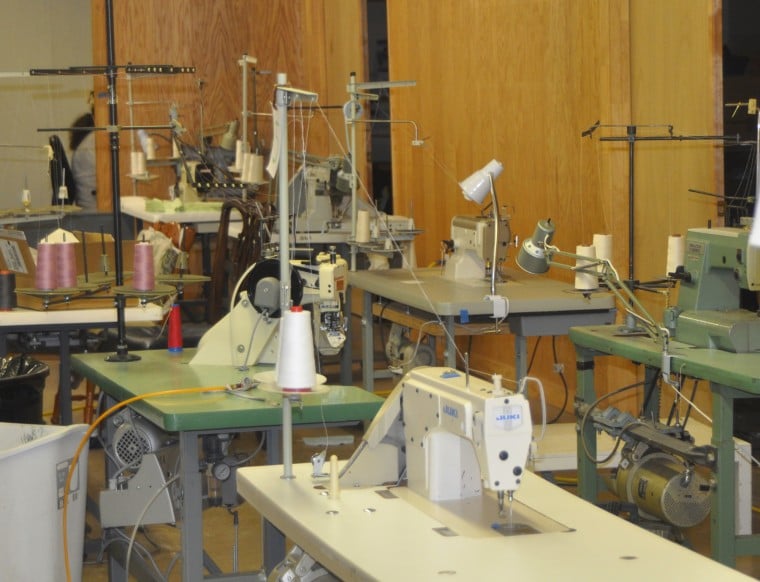 Another factory producing textile goods has sprung up over the years in Morganton. The employees are not simply biding their time waiting for a promotion, but they are producing quality goods and the longer they work at the factory, the closer they are to becoming part-owner.
Opportunity Threads is utilizing a different concept to keep employees happy and produce more quality work.
"It's a good business practice for people who are responsible for products to think about quality," Molly Hemstreet said. "It's not for everyone. It is an interesting way to organize business."
Hemstreet is the general manager and one of the co-founders of Opportunity Threads.
"We are a cut-and-sew plant here in Morganton," Hemstreet said. "We work a lot with entrepreneurs on production that is environmentally friendly using a different labor model."
Opportunity Threads is utilizing a cooperative business model to create eco-sustainable products.
"We have built on our history of a textile community, but are doing that in a different, sustainable way," she said. The cooperative business concept is designed to allow workers to be part-owners, in hopes they take pride in their work and want to grow business.
"We want people to value what they do," Hemstreet said. "The best thing we can do is create a strong, efficient business that benefits the community."
Nine people work at Opportunity Threads, working with 25 to 30 clients. Each clients' orders range from 500 to 1,000 units.
"For most of our supply chain, we try to think local and North Carolina," Hemstreet said. "Fabric thread, trim, machines coming from North Carolina."
Most of the textiles used at the plant are organic and the plant recycles all scraps from materials, she said.
"Most of our clients are green and money is going to nonprofits," she said.
Such clients include Proxy Apparel, an ethical apparel company working to empower women, and Maggie's Organic Fibers, an apparel company striving to create comfortable, durable and affordable apparel and accessories from sustainable materials.
The cooperative business creates a variety of textile products ranging from fashionable to playful.
Opportunity Threads tries to ensure a successful business by hiring hardworking, dedicated employees.
"We are quite selective," Hemstreet said. "We look for the right skills and attitude. We are more than punching a time clock. We end up being a small community."
The cooperative business got its start in 2009 as a volunteer organization and has now taken off as the business cooperative.
"Our overall goal includes increasing capacity to be a bigger player in business," Hemstreet said.
Hemstreet was recently selected as a finalist in The 2012 Edison Project Entrepreneurial Competition. The competition, based in Catawba County, was created to identify, recognize and reward innovative business ideas from the region that are considered to be viable and fundable prospects for competitive success in the marketplace. Entrepreneurs and start-up businesses from Alexander, Burke, Caldwell and Catawba with less than $350,000 cumulative revenues are eligible for the competition.
"We are excited for the opportunity to get to know more entrepreneurs and for that opportunity to get more coaching," Hemstreet said.
The competition has a grand prize of $10,000, money which could benefit Opportunity Threads.
"We would buy more machinery for our business," Hemstreet said. "But it's an honor to get to the finals. I was really impressed with the other folks in the room. I will learn from the mentors and the others in the group."