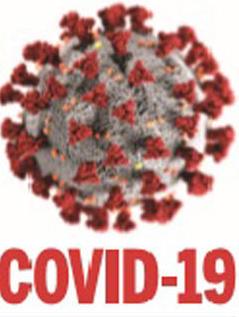 Officials confirmed Wednesday that the two people who have tested positive for COVID-19 in Burke County know each other and are in isolation.
Burke County health officials received notice Tuesday evening that two people in the county tested positive for COVID-19 but information that could identify the two people is not being released, said Burke County Health Director Rebecca McLeod. When people are tested they are told to quarantine themselves, she said.
Burke County Commissioner Chairman Johnnie Carswell said during a news conference on Wednesday that the two positive tests were determined to be travel-related and not community spread.
"Let's continue our personal precautions to ensure we do not have a community outbreak," Carswell said. "I ask that we as a Burke County family continue to exercise personal responsibility and common sense to do our part to stop the spread of this virus and minimize as much as possible the chance of community spread in Burke County."
But McLeod said it is likely to expect more positive cases in the county. She said anyone who is sick with COVID-19 or any infectious illness should isolate themselves at home until they are symptom-free for 72 hours.
McLeod said the most recent recommendations is for those who are having mild symptoms of COVID-19 do not need testing and should stay at home to recover.
Mild symptoms are defined as fever and cough without shortness of breath, difficulty of breathing, chest discomfort and altered thinking, McLeod said. Carswell said the state has said people who are having mild symptoms should call their doctor.
As for tests, Burke County had 34 testing kits as of Wednesday. It is allowed to, and does, order 12 test kits per day, McLeod said.
As of Wednesday, the county health department has tested 73 people. Of those, 59 results have been received with 57 testing negative and two testing positive, McLeod said.
But that doesn't include the doctor's offices and clinics in the county that are testing independently of the health department or hospital system.
Carolinas HealthCare System Blue Ridge is sending people to the health department for testing, say health officials.
McLeod has said people have to meet the criteria to be tested.
The criteria for testing for the virus is:
» Fever of 100.4 or more or signs/symptoms of lower respiratory illness (e.g., cough, shortness of breath) in any person, including health care workers, who has had close contact with a laboratory-confirmed COVID-19 patient within 14 days of symptom onset. Close contact is defined as close to someone less than 6 feet and for 10 minutes or longer.
» Fever and signs/symptoms of lower respiratory illness (e.g., cough, shortness of breath) and negative flu test (rapid or PCR) and no other more likely diagnosis.
» And the recommendation of people older than 65 with a fever of 99.6 or higher from the Admiral of Public Health Commission.
"The other role you play as a community is to reduce the rumors causing panic throughout the county," McLeod said. "Please don't start or continue rumors. All factual information will be posted on the webpage located at www.burkenc.org/COVID-19 or posted by us in the media."
A public information line has been opened from 8 a.m. to 5 p.m. Monday through Friday. Those with questions can call 828-764-9388. After hours, general questions can be directed to the NC Public Information Line at 866-462-3821.
Burke County Government will temporarily limit access to non-emergency offices, except by appointment, effective at 8 a.m. today, until further notice. The limited access will not affect Burke County Emergency Services.
In other county news, the Fire Marshal's Office said, until further notice, no written burn permits will be issued statewide.
Concerned about COVID-19?
Sign up now to get the most recent coronavirus headlines and other important local and national news sent to your email inbox daily.