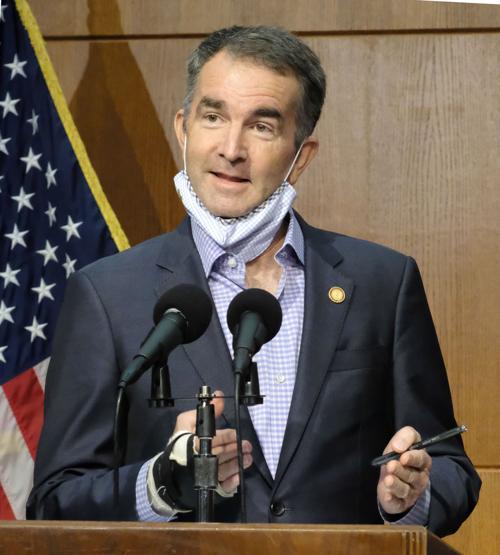 Virginia Gov. Ralph Northam threw the weight of his administration behind efforts to legalize the recreational use of marijuana in Virginia, citing racial inequities in how laws around the drug are enforced and promising a meticulous regulatory process on the path to making it widely available.
Just a year ago, Northam appeared reluctant to embark on the legalization process, but on Monday, citing two studies by Virginia government bodies, he said that a path exists to legalize the drug in a manner that is safe, addresses inequities and attracts revenue to Virginia.
"Legalizing marijuana will happen in Virginia, and as it happens, we want to make sure that we regulate it properly and that we do it the right way," Northam said during a call with reporters.
If the efforts are successful, Virginia would become the first state in the South to legalize the recreational use of marijuana, joining 15 other states that have done so.
Northam's announcement came alongside the release of a new report from the legislature's oversight and research arm that studied how Virginia could legalize marijuana and highlighted racial disparities in how the state's current laws are enforced.
The Joint Legislative Audit and Review Commission found that while Black and white Virginians use marijuana at similar rates, Black state residents are 3 1/2 times more likely to face arrest.
The commission also found that roughly 30,000 Virginians are arrested each year on marijuana-related offenses, with 90% facing charges of simple possession. Legalization, the report found, would reduce overall interactions with police and the criminal justice system.
JLARC's findings echo the concerns of civil rights advocates, who for years have argued that the disparities in marijuana enforcement have caused lasting damage to communities of color. The ACLU of Virginia said Monday that legalization should seek to "repair that harm," including by expunging records for marijuana-related offenses and by making sure communities of color "benefit from a new legal market."
Northam threw his support behind expungements and said he favors the concept of "social equity licenses" — under which a government entity would prioritize communities most harmed by the war on drugs as the state doles out licenses for the sale of marijuana.
"Marijuana laws have been based originally on discrimination," Northam said. "This has become an equity issue."
The state stands to benefit financially from the legalization of marijuana. JLARC's study estimates that the state would spend $10 million to $16 million per year to regulate marijuana and operate related public health and social equity programs.
Once sales kick off, net sales tax revenues (after operational costs) would eventually rise to $147 million to $250 million per year, if sales are taxed at 20%, or $177 million to $300 million a year if the state set the marijuana sales tax at 25%.
The state of Washington taxes its sales at 37%, while sales taxes in Colorado and Oregon come in at 15% and 17%, respectively.
The timeline for legalization was not immediately clear Monday, but the Northam administration said it plans to introduce legislation on the issue during the General Assembly session that starts in January.
Agriculture Secretary Bettina Ring said it could take 18 to 24 months to get the regulatory framework off the ground. She said a report coming Nov. 30 from the Virginia Marijuana Legalization Work Group that the administration convened would shed more light on the administration's timeline.
Democrats' majorities in both chambers of the legislature this year led to decriminalization of possession of small amounts of marijuana. Under the new law, people found with less than an ounce of marijuana face a $25 civil fine, and the offense no longer carries jail time or a criminal conviction.
The tasks before lawmakers in the coming session include creating a regulated marketplace for the sale of the drug; establishing age limits and purchase limits; reworking criminal laws around marijuana sales; and broadening public education on marijuana and substance abuse to protect public health.
Northam emphasized Monday that legalization would come with investment in substance abuse education in schools and the broader community. He said the state would also closely track data on public safety, health and equity to ensure that legalization has no adverse effects.
Northam said he has never smoked or otherwise consumed marijuana. But the former pediatrician said he has some experience with its use in medical settings to treat children who suffer from seizures.
"We want to make sure that everything we do going forward is focused on that public health aspect," Health Secretary Dan Carey said.
Several high-ranking Democrats on Monday showed support for the concept. Decriminalization attracted some support from Republicans in the House and the Senate, but it's unclear how many of those lawmakers would support full legalization.
Smart Approaches to Marijuana, a Virginia-based group that opposes the commercialization of marijuana, said it supports decriminalization and expungements, but called legal sales a step too far.
"Commercialization results in the creation of an addiction-for-profit industry that markets extremely potent marijuana products ... to young people and overwhelmingly targets communities of color and low income as profit centers," the group's president, Kevin Sabet, said in a statement.
(804) 649-6254
Twitter: @MelLeonor_