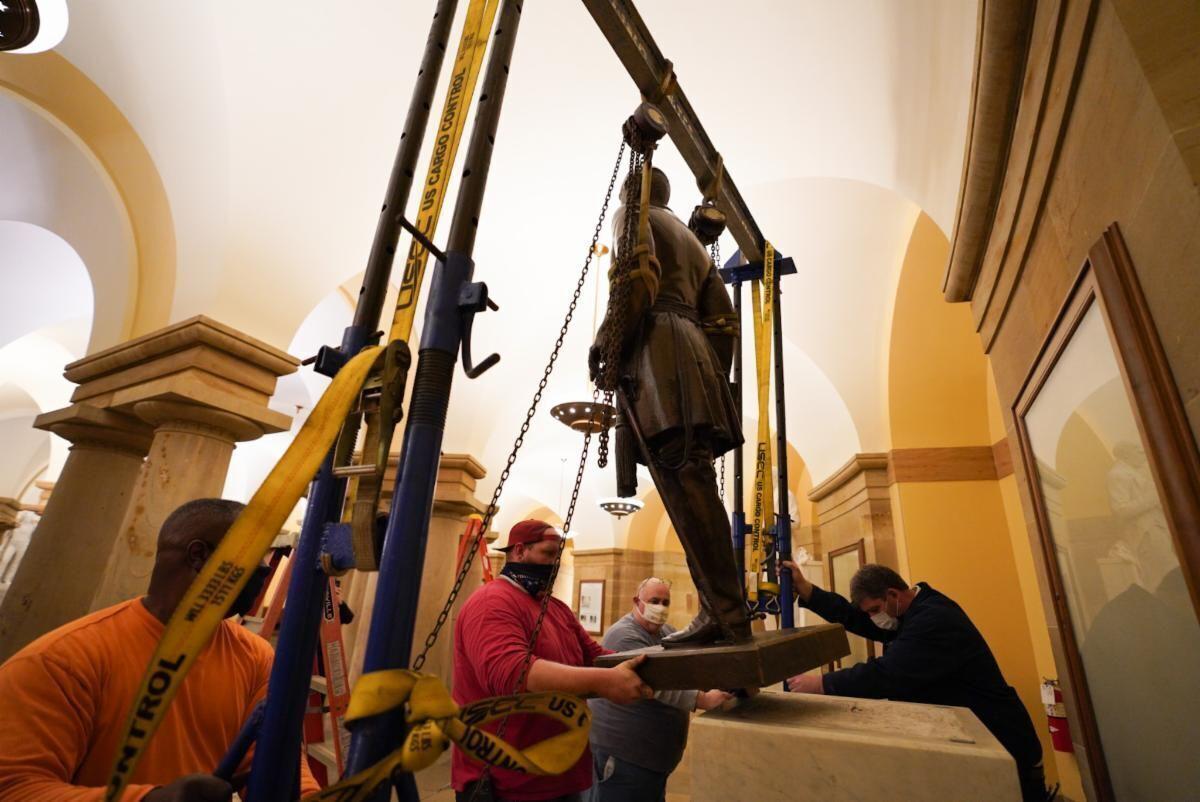 Virginia removed its statue of Robert E. Lee from the U.S. Capitol overnight, the latest move in the state's purge of Confederate iconography in a year of reckoning on racial injustice.
Each state gets two statues in the Statuary Hall collection. Since 1909, Virginia's statues have depicted George Washington and Lee. A state panel last week recommended to the General Assembly that Virginia replace its Lee statue with a statue of teenage civil rights hero Barbara Johns.
"We should all be proud of this important step forward for our Commonwealth and our country," Gov. Ralph Northam said in a statement Monday.
"The Confederacy is a symbol of Virginia's racist and divisive history, and it is past time we tell our story with images of perseverance, diversity, and inclusion.
"I look forward to seeing a trailblazing young woman of color represent Virginia in the U.S. Capitol, where visitors will learn about Barbara Johns' contributions to America and be empowered to create positive change in their communities just like she did."
In April 1951, Johns was 16 years old when she led a walkout at Farmville, Virginia's Moton High School to protest the students' substandard segregated school facilities. Civil rights attorneys Oliver Hill Sr. and Spottswood Robinson took the Prince Edward County case. It was rolled into Brown v. Board of Education, the landmark case in which the U.S. Supreme Court ruled government-segregated public schools unconstitutional.
Protests in Richmond and nationwide followed the May killing of George Floyd in the custody of Minneapolis police. In July, Richmond Mayor Levar Stoney ordered removal of the city's Confederate monuments. A state-owned statue of Lee remains on the state capital's Monument Avenue. A Richmond judge in October ruled in favor of  Northam's order to take it down, but an appeal is pending.
Virginia lawmakers this year gave localities more control over Confederate monuments in their jurisdictions. Legislators also passed sweeping changes on police procedures, limiting use of chokeholds and barring no-knock warrants, among other measures.
In December 2019, Democratic Virginia Reps. Don McEachin and Jennifer Wexton urged Northam and Virginia General Assembly leaders to replace the Lee statue at the U.S. Capitol, asking them to consider "what monuments we can add to acknowledge the horrors of slavery, expose the injustices of institutional racism, and honor those who dedicated their lives to fighting for equality."
Julie Langan, director of the Virginia Department of Historic Resources, said at last week's meeting of the Commission on Historical Statues at the U.S. Capitol that the base of the Lee statue was too heavy for the museum and would be stored separately.
In July, Virginia's Democratic Speaker of the House, Eileen Filler-Corn, directed the removal of a statue of Lee and seven busts depicting Confederate leaders from the Old House Chamber inside the Virginia Capitol.
Northam's budget proposal includes $25 million to transform Monument Avenue and support other historic sites tied to the city's slavery heritage.
(804) 649-6645
Twitter: @AndrewCainRTD