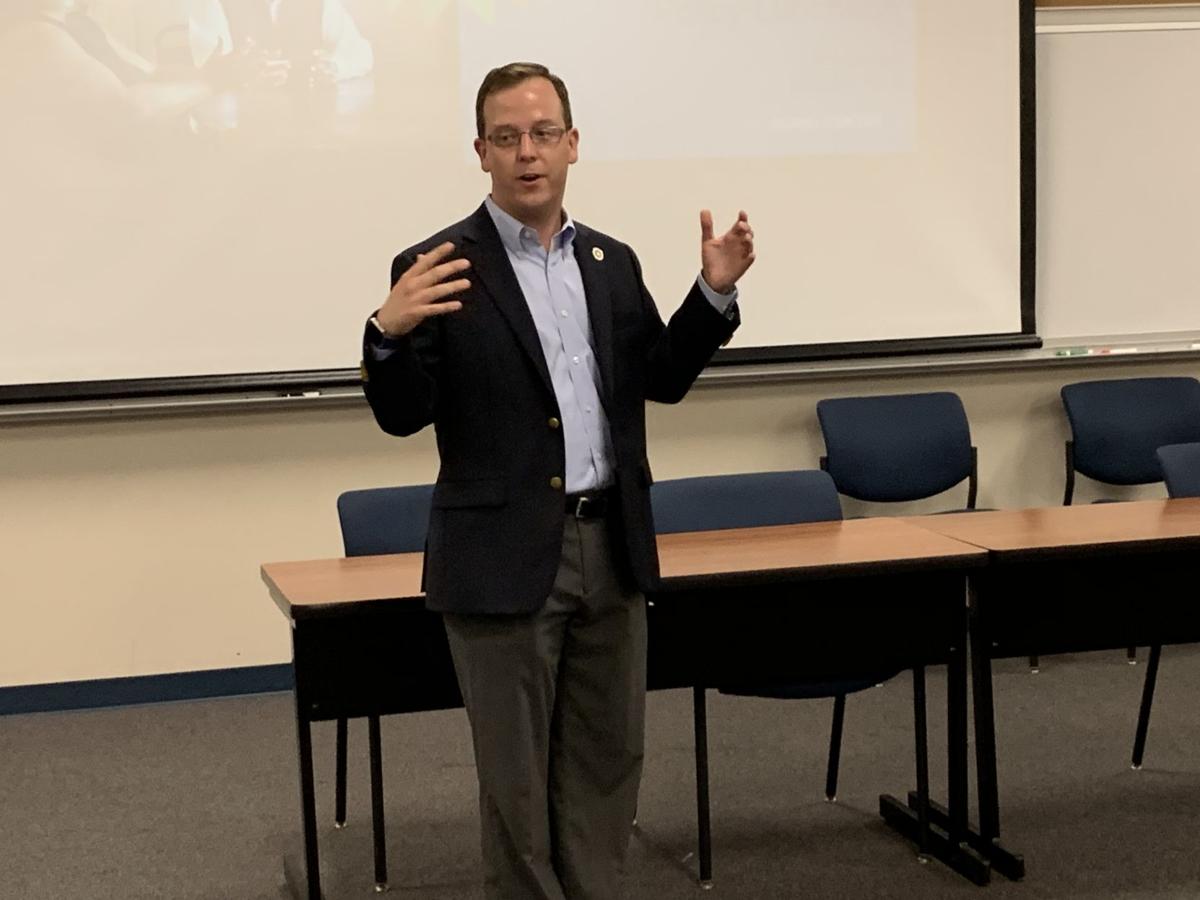 Editor's note: This the final part in a three-part series on issues facing rural communities.
Representatives with the North Carolina Rural Center traveled to Morganton on May 15, to share how they are advocating for a better Burke County and improvements in rural areas across the state.
John Coggin, director of advocacy at the NC Rural Center, and Miles Kirksey, Morganton native and engagement coordinator with the center, spoke to a group of local leaders in a variety of fields and shared their vision for more developed and prosperous rural communities, based on exhaustive research.
Participants in the luncheon said the issues most pressing to them were expanding accessible, affordable high-speed broadband ; stabilizing and transforming rural health; and investing in stronger entrepreneurship and small business development systems.
Coggin said 75 percent of businesses in rural counties in North Carolina employ 10 or fewer employees, and the number of rural small businesses in the state has declined 7 percent since 2005. During that same time period, the number of small business loans decreased by 26,299.
"After the Great Recession (of 2008), you see an uneven recovery," Coggin said. "Some counties are doing well, and some are falling even further behind. We're trying to get at some of the reasons why this capital access is becoming less and less, and ways that we can spark investments in our small businesses."
He observed that state funds are more often offered to attract large companies to relocate or set up a branch in North Carolina, instead of being used to help local small businesses. He cited a recent $ 2.2 million package offered to Amazon to open a facility in Raleigh that would employ about 50 people.
"We do want to recruit those big companies and be the best in the nation at it," Coggin said. "All I'm saying is that if we're willing to offer $ 2.2 million for some jobs in Raleigh, we've got to figure out a way of supporting the 87 percent of jobs that are being created all over the state."
Representatives from the NC Rural Center held business roundtables throughout rural counties in the state to get direct feedback from small business owners about what policy solutions would help grow their businesses. Their suggestions were comprehensive.
"We have some ideas about creating an ecosystem around those small businesses so that we have education to train our kids to think entrepreneurially, starting at the earliest grade levels; to invest in the infrastructure that's going to make people want to locate in a rural area; and coordinating a lot of our federal, state and local regulatory agencies to develop resiliency plans, since we are having more and more natural disasters in the state," Coggin said.
In addition to obstacles to capital access, the center also is looking at regulatory barriers that may need to be lifted to help small businesses grow in rural areas and better coordinating of governmental permitting, licensing and inspections requirements. Other suggestions include increasing funding to organizations that support small businesses and investing in infrastructure that small businesses need, such as broadband, roads and housing.
The center is in the midst of facilitating the formation of a legislative study committee that will look into all these ideas and turn them into sound, efficient policy.
"(We) must create communities where entrepreneurship is encouraged and where small businesses – and the people who own and staff them – can thrive," a statement included in Coggin's presentation read.