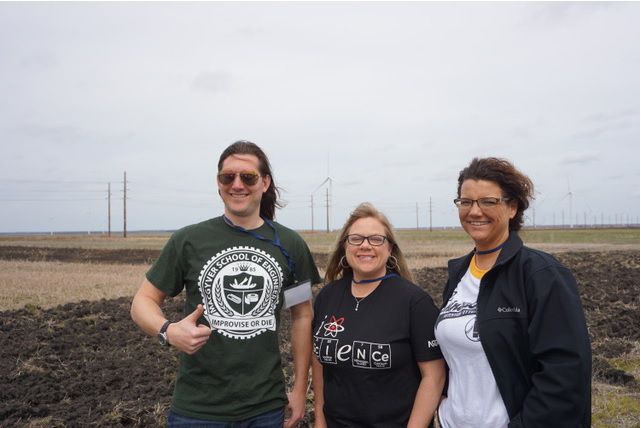 Three Burke County Public Schools engineering teachers were selected to participate in the 2019 N.C. Energy Literacy Fellows Program, a yearlong teacher professional development program that combines hands-on STEM investigations with place-based explorations of energy production facilities, energy research facilities and relevant careers.
Andrea Gladden (East Burke Middle School), Eileene Moss (East Burke High/Draughn High) and Clay Nelson (Patton High School) will receive up-to-date, curriculum-relevant content including STEM-based activities that showcase current energy science, technologies and careers to promote energy literacy among students while cultivating the energy workforce. This program is conducted by UNC-Chapel Hill's Institute for the Environment with funding from the Duke Energy Foundation.
"I was thrilled when I found out that I was accepted to be a N.C. Energy Literacy Fellow," said Gladden, a Project Lead the Way teacher at EBMS. "This year has been full of changes as I began a new position as a middle school Project Lead the Way teacher. I teach about sustainable energy sources, but just imagine the depth and complexity I can now add to my lessons after actually visiting a wind farm and solar farm. Being an N.C. Energy Literacy Fellow has allowed me to bring the world to my students who may one day be the change this world needs."
These teachers were selected to participate in the program through a highly competitive application process. Teachers participating in this program acquire at least 30 hours of professional development while learning about topics ranging from electricity generation by conventional and renewable energy sources, including the acquisition, management and use of each energy source, to energy efficiency and energy conservation.
"One goal of the N.C. Energy Literacy Fellows Program is to cultivate a community of middle and high school science, engineering and technology teachers who become statewide leaders when it comes to energy education," said Dana Haine, program director.
A key feature of the program is the many field trips teachers take to energy production and energy research facilities across the state. In March, fellows visited the Amazon Wind Farm East, the only wind farm in North Carolina, to learn about wind energy. They also toured a utility scale solar farm and visited the Coastal Studies Institute on the East Carolina University Outer Banks Campus in Wanchese to learn about ocean energy technologies.
"By touring these sites in person and meeting the personnel involved in operations, teachers are able to discover the many curriculum connections that can be made by introducing the featured energy technology from land use implications, to economic considerations, to career connections," Haine said.
Fellows will convene at UNC-Chapel Hill from June 25-27 for a three-day workshop titled "Exploring the Future of the Grid" where they will learn about how the electrical grid works and the challenges it faces as more renewables come online. They will tour Duke Energy's
Distribution Control Center in Raleigh and will receive classroom resources for helping their students understand and visualize the grid.
"Our students are the future of this world and ensuring they are at the forefront of technological advances and the latest scientific facts and research is the most important part of our jobs. This program gives educators the ability to do just that," said Nelson, a Project Lead the Way Engineering teacher at PHS.
"As North Carolina becomes more of an energy leader we need to make sure we have educators, students and a populace that is energy literate," said Paul Gantt, the 2018 fellow and coordinator for Project Lead the Way for Burke County Schools. "This program is not only a great resource for teachers but also a great avenue for sharing ideas among peers and this program has already returned dividends to our students as participating teachers have created unique energy-related activities.
"We have created wave energy generators and solar powered pumped hydro storage systems. Our summer programs include energy efficiency in the home, sustainable energy systems, and large scale solar charged electric vehicle systems. We are also hosting a wind turbine live build competition in conjunction with the Historic Morganton Festival in September. I believe that this program played a large part in these experiences. As fellows, they will all have the opportunity to travel together to Tennessee in September to tour Oak Ridge National Laboratory and bring what they learn back to the classroom."