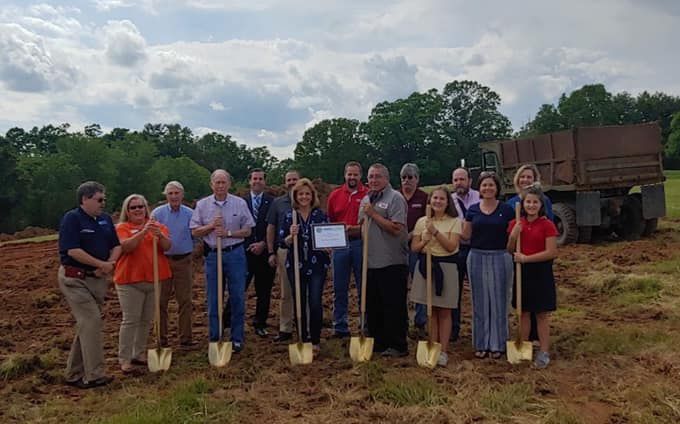 For more than 20 years, Tires Plus Tire Pros has served the town of Valdese with a business that has grown into a full-car service center with a 10-bay garage.
Now, Tires Plus is expanding its operations to a new location in Morganton.
Currently under construction at 1252 Burkemont Ave. is a 19,200-square-foot building designed to service 12 vehicles simultaneously that will efficiently and effectively meet the needs of Tires Plus customers, according to information submitted to The News Herald by the business.
The business plan, submitted by the owners' daughter, Christy Lefevers, says Tires Plus of Morganton will follow the same blueprint as Tires Plus of Valdese, located at 1375 U.S. Highway 70 W.
"We will be a tire retail and full-service shop that will be located on one of the busiest highways in Morganton," the information said. "We have purchased land that is large enough to accommodate the design of a modern tire retail and vehicle service shop and will serve the citizens of Morganton."
Tires Plus of Morganton will be involved in retailing passenger vehicle tires, light truck tires, medium and heavy-duty truck tires from different manufacturers from the United States and abroad, the information said. The business says it is set to service a wide range of vehicle maintenance and repair services for clientele in and around Morganton.
The original Valdese location, owned by Ronnie and Donna Lefevers, has grown from a three bay garage which primarily sold tires into the current operation that sells tires, wheels, mufflers, batteries and hitches. Ronnie Lefevers has more than 45 years of experience in the auto tire retailing and automotive service industry, working with the leading tire brands in the United States, according to information from the business.
Tires Plus says that by franchising with Tire Pros, which is a subsidiary of American Tire Distributors, it is able to offer its customers a nationwide roadside warranty, tire protection plans and financing options.
"We are aware there are several sole proprietors and small chains of tire retail shops (in the area), which is why we spent time and resources to conduct research to be well-positioned to favorably compete with all our competitors," the information said. "We have an online website which is an additional service option for our customers.
"As with our current Valdese location, Tires Plus of Morganton will ensure that all our customers are given first-class treatment whenever they visit our shop. We have in place a point-of-sale software that will enable us to manage a one-on-one relationship with our customers no matter how large the numbers of our customers' base may grow. Our mission is to give back to the community that has given so much to us."
The Lefevers family says it will ensure that it holds accountability to the highest standards by meeting customers' needs precisely and completely whenever they step into the shop.
"We will cultivate a working environment that provides a caring, sustainable approach to earning a living and living in our community, for our partners, employees and for our customers," the information said.
Tires Plus says it provides tires and services to a wide range of corporate, small business, local government and individual clients in Burke County and the surrounding area. Tires Plus offers brands like Goodyear, Bridgestone, Cooper, Firestone, Uniroyal, Hercules and Michelin, among others.
Its full list of products and services includes new passenger vehicle tires, new light truck tires, new medium and heavy-duty truck tires, farm and agriculture tires, custom rims (alloy and non-alloy), vulcanizing services (replacing tires, wheel alignment, wheel balancing and tire repairs), alignments, mufflers, original and custom exhaust systems, oil changes, tune-ups, brakes, hitches, transmission repair, engine repair (major and minor), batteries, and N.C. Safety and Emission Inspections.