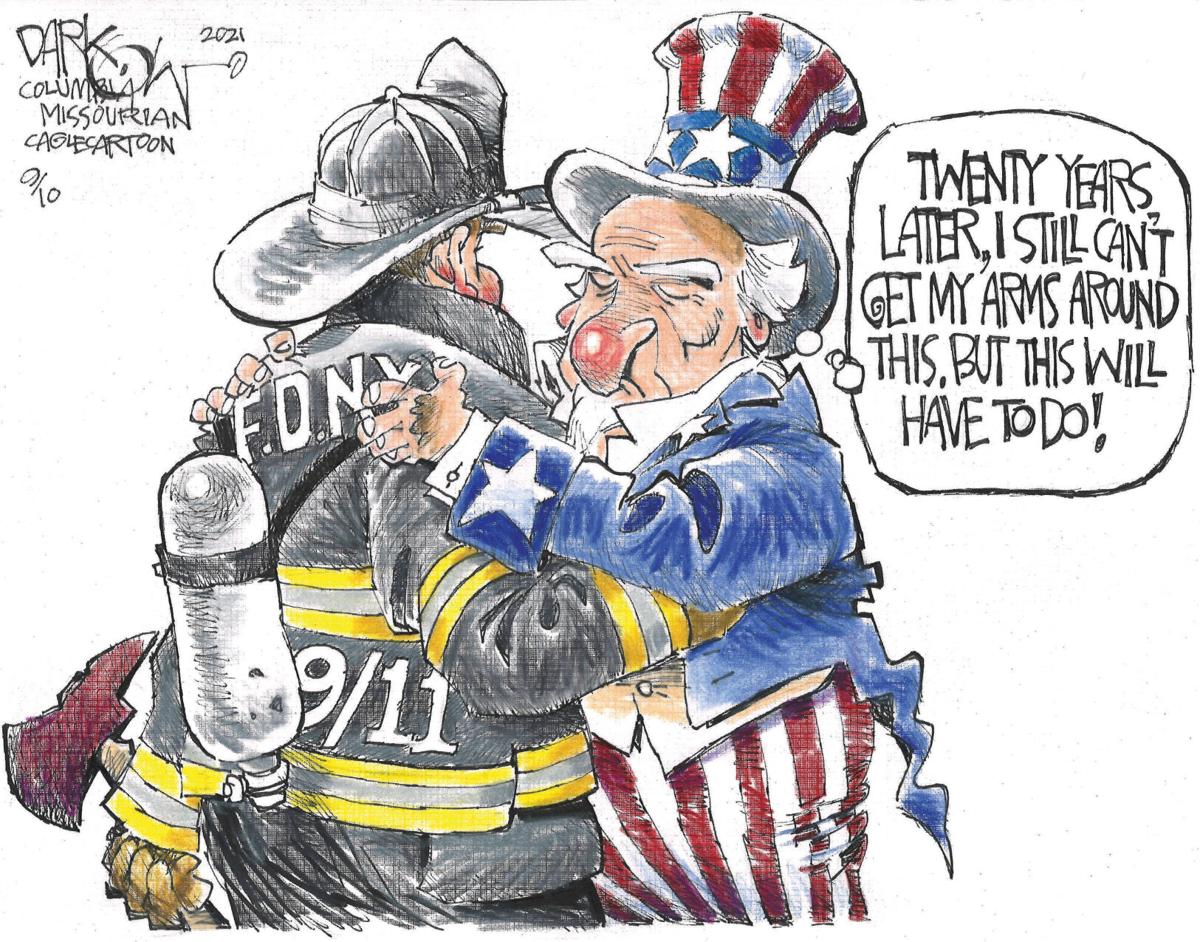 Editor's Note: This column was originally published in The News Herald in December 2001.
NEW YORK CITY — Riding in a drafty, rattling Yellow Cab from LaGuardia Airport into New York City recently, during weekday morning rush hour, what caught my attention (besides the traffic jam) were the American flags.
They were everywhere: decals in car windows; stickers on car bumpers and fenders; freestanding miniature banners jammed into dashboards (my cabbie planted one beside the ticking pay meter). The Stars and Stripes hung from windows, from apartment balconies, from storefronts, from door jams and from top-floor roof ornaments.
Stuck in traffic shortly after crossing the Triborough Bridge into northern Manhattan, nearly 10 miles north of the World Trade Center, I took a 360-degree visual sweep to count flags in view. I gave up at 170 when we started moving again.
I was in New York City on business. During that taxi ride, impressed by the solidarity exhibited by consistent displays of American flags, I decided to visit Ground Zero, the site of the collapsed World Trade Towers.
It was another in an uncharacteristic string of awesomely beautiful fall days: Bright blue cloudless skies, gentle breezes and temperatures in the low 70s. No rain in the forecast. In fact no rain in weeks. It was weather nearly identical to that on Sept. 11.
On that date, two passenger jets, each loaded with 10,000 pounds of fuel, slammed into the World Trade Center towers. Engineers have since calculated that each impact exerted a sideways force of 25 million pounds.
The 110-story towers, with a combined weight of nearly 1 million tons, collapsed with such violence that the upper floors struck the ground at 120 mph, creating a boiling dust cloud of pulverized concrete, steel, wood, rubber, metal, paper, plastic, flesh, stone, glass, you name it, you imagine it, that rushed through the canyons of New York City at 56 mph. You could not outrun it.
The gigantic plumes of dark stuff were so mammoth space station astronauts orbiting 200 miles up saw them. Fires roared, smoke poured. We've heard the stories and seen the pictures.
Toward late afternoon, I went underground and boarded the Red Line subway to the World Trade Center station. The train stopped at the Chambers Street station, about five blocks north of Ground Zero. The system was closed beyond that.
The train's doors hissed open. I stepped onto the platform, which was two levels beneath the streets. Immediately I smelled the scent of distant fire, a distinctive smell that reminded me of an old house fire. And I was 50 feet underground and nearly half a mile from the site.
Exiting the subway station, I climbed the steep steps to street level and found that city life seemed fairly normal; lots of cars and lots of people. I started walking south to the site. The crowds thinned the closer I got. A white mist hung in the air, shrouding stoplights and street signs, and it thickened as I got closer. The mist was, I suspected and later confirmed, drifting steam and smoke still leaking from the site.
I walked toward a trendy street, Park Place, near the heart of the financial district and a little more than three blocks from Ground Zero. The suit-and-tie stockbrokers should have been pouring out of elevators, onto the streets and into the bars for happy hour. But there were no stockbrokers and no crowds. The streets, dusty and enveloped in the mist, were essentially empty, and the hour was not happy. Many tall buildings were dark, and appeared to have been empty since Sept. 11.
In the subway I smelled old fire. But here, three blocks out, the scent took on a new chemistry. It still smelled of old house fire, but now the scent was of decaying stuff — paper, wood, dirt, everything; it wasn't so much unpleasant as it was haunting.
It had rained in this city just once in the six weeks since the attack, not enough to wash away the film of gray. Everything still carried a thin coating of dust. It covered your shoes, got onto your clothes. It was in the air, still. A good rain would clean things dramatically.
City agencies had erected a protective barrier that formed a perimeter at a distance of about two and a half to four blocks out from the site. You could not get closer without proper authorization. The barrier was a 9-foot-tall chain-link fence draped with a green nylon fabric that blocked the view. Personal messages were pinned to the barrier – missing person notices, children's sympathetic crayon drawings, official city notices. Clutches of flowers lined portions of the barrier base. A few people bunched quietly at breaks in the fence to capture a peak. Occasionally, you'd see the flash from a camera.
I climbed police barriers and first-floor windowsills to peer over the barrier and into the site. Powerfully blazing lights illuminated a gigantic gray mountain of what looked like immensely dense concrete powder with twisted and busted steel beams jutting outward asymmetrically. All around it rescuers and associated equipment looked miniature in the scale of things. How tall was the mass? Fifteen stories? Twenty stories?
Relate it to Morganton: If Ground Zero was at the old courthouse, then the debris field would extend in all directions for almost a third of a mile outward. It'd reach Nite Furniture, the old Post Office, The News Herald and CoMMA. Anything closer would be crushed and buried beneath a pile of rubble that would be taller than any building, church steeple or water tower in town.
Flying home a couple of days later, my airplane, on its climb to cruise altitude, traveled right down the Hudson River. Sitting on the left-hand side of the plane, I had a spectacular view of the city lights sparkling in the crisp air of November twilight. Yankee Stadium was ablaze with the World Series. The top of the Empire State Building was bathed in red, white and blue lights. The high-tech electronic billboards of Times Square bounced brilliant cascades of color off of neighboring buildings. Where the tallest buildings in American once stood were two illuminated smoldering holes in the skyline.
And I thought of what President George W. Bush said recently: "War has been waged against us by stealth and deceit and murder. This nation is peaceful, but fierce when stirred to anger. This conflict was begun on the timing and terms of others. It will end in a way, and at an hour, of our choosing."
Allen VanNoppen is founder and president of VanNoppen Marketing LLC in Morganton.