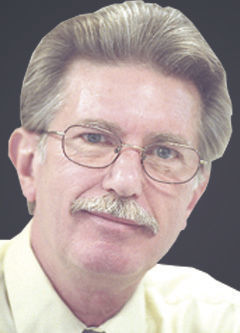 In my time, there have been many epidemics and health scares, but the coronavirus has changed us socially and economically more than any other.
When I was a boy, the polio epidemic of the early to late 1950s was scary, but I don't remember staying home from school because of it. Polio patients were immediately quarantined, but the nation didn't slow down or go into mass isolation because of the dreaded disease.
But even second- and third-graders had an idea of what was going on and what polio could do. Infantile paralysis, as it was known, could cause almost total paralysis. It could leave survivors in wheelchairs and debilitate the body forever in a number of ways. It could kill.
Humanity has grappled with polio throughout civilization, but the 1950s epidemic was the worst ever within the United States. The information effort was monumental, thanks to The March of Dimes in large part. Everyone talked about polio, and every parent seemed to understand the warning signs.
One of the symptoms was stiffness in the neck. I knew one kid — younger than me — who complained of a stiff neck. His parents rushed him to the hospital. They didn't even try to diagnose the problem or ask the child any questions.
A mere hint of polio was enough to alarm families and neighborhoods.
After examination and an interview by the doctor, the conclusion was the stiffness was not from polio. The kid dropped something behind the couch, crawled between couch and wall to get it, and wrenched his neck from the contortions of getting in and out.
The doc said the parents did the right thing, even though the hospital visit was after hours. The polio epidemic gave new meaning to "Better safe than sorry."
When a vaccine developed by Jonas Salk became available, kids stood in line to get it. In the early 1960s, we stood in line again for Albert Sabine's oral vaccine. It was in a sugar cube. We got two of them, a few weeks apart.
My parents believed in vaccination. Brother and I got every shot that was available for childhood diseases. Tetanus and typhoid fever required periodic shots when we were kids. The situation is much better today, but it's still imperative that children get their shots.
Salk and Sabine almost stamped out polio in America and around the world. The disease still appears from time to time. Viruses don't easily give up.
The World Health Organization calculates polio survivors worldwide number in the millions.
Coronavirus a mutant surprise. Sometimes, some vaccines used for other diseases can be modified and used, but there is no magic medicine that can treat every virus. That's why we have so much trouble with the flu.
I didn't understand it all those years ago, but I got the impression that there was the plain old flu, and then there was the so-called Asian flu that was worse than bad. As it turns out, there are last year's influenza and this year's. Flu is not quite the same, year after year.
We were just as scared of polio as we are fearful of the coronavirus. However, what we are experiencing because of today's pandemic is worse in many ways than the 1950's nightmare.
It's not easy, but we must do everything we can to be well.
Let me add that if you would know more about polio and thus the human spirit during a crisis, there are two examples of required reading.
"We Made Peace With Polio" is a book about two Caldwell County parents whose two daughters contracted the disease. One died quickly; the other lived in an iron lung for 17 years before passing away. The father, a highly respected local educator, wrote the book.
Then there is the "Miracle of Hickory," a superhuman effort with an incredible result. Go to the internet. Go to the library. Go to the monument on Union Square. It is well documented.
We may pray the Covid-19 saga ends with more miracles like Hickory's.
Concerned about COVID-19?
Sign up now to get the most recent coronavirus headlines and other important local and national news sent to your email inbox daily.