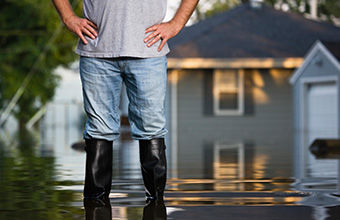 What's the first thing that comes to mind when you think of water – a refreshing drink, a way to stay cool, something that keeps your garden healthy? While water is all of those things, it can also cause damage in a short period of time. One of the keys to preventing damage and mold from water is to act quickly.
Ryan Morgan of the Morgan Agency Inc. in Morganton has been an Allstate Insurance agent for 15 years, and over that time, he's had many opportunities both to help customers recover from losses and to educate them on ways they can prevent a loss from happening in the first place.
"In order to prevent water damage," Morgan says, "you first need to be aware of sources of possible water damage.  Heavy rain, an overflow of the sewer system, or condensation from activities like cooking or showering are the main sources of water damage that we see."
For the individual who is either building a new home or remodeling an existing home, Morgan suggests considering the following:
Choose wood-based over paper-backed products for walls (e.g. use wainscoting instead of drywall)
Place electrical outlets higher up on walls to avoid contact with water in the event of a flood
Rather than carpet, consider area rugs.  These can be rolled up and removed if a flood threatens, or removed and dried if they do become wet.
Morgan also offers a couple of common sense tips for protecting important items.  "It's always a good idea to keep electronics on higher shelves, or at the very least to keep them up off the floor," he says.  And while electronics tend to be the first thing people think about protecting, Morgan reminds us that the most valuable items many people own are those things that cannot be replaced.  "Your photos, for example, are important - those can be much more difficult to replace that a TV.  We recommend storing those items on a higher floor when possible, and we also suggest keeping them in plastic containers."
One of the main concerns with water damage is the possibility of mold.  In addition to being unsightly, mold can contribute to allergic reactions, asthma, and other respiratory complaints.  The way to control indoor mold growth is to control moisture.  "If water gets into your home, you want to clean and dry damp or wet building materials and furnishings within 24-48 hours," says Morgan.  If mold has become a problem, he adds, it's important to clean up the mold and eliminate the source of moisture. 
Morgan offers some tips to help prevent mold from forming in your home:
Don't install carpeting in areas that have a perpetual moisture problem.
Reduce indoor humidity to 30-60%.  This can be done by venting bathrooms, dryers, and other moisture generating sources to the outside, increasing ventilation, and using exhaust fans whenever cooking, dishwashing, and cleaning
Reduce the potential for condensation on cold surfaces (i.e., windows, piping, exterior walls, roof, or floors) by adding insulation.
The most practical advice Morgan can give to someone who's experienced water damage?  "Starting water damage clean up as soon as possible increases the likelihood of saving water-soaked items and preventing mold growth," he says.  That, along with prevention, which includes consulting with your insurance agent to make sure you are properly inured to protect yourself from water losses, is your best bet for staying high and dry.