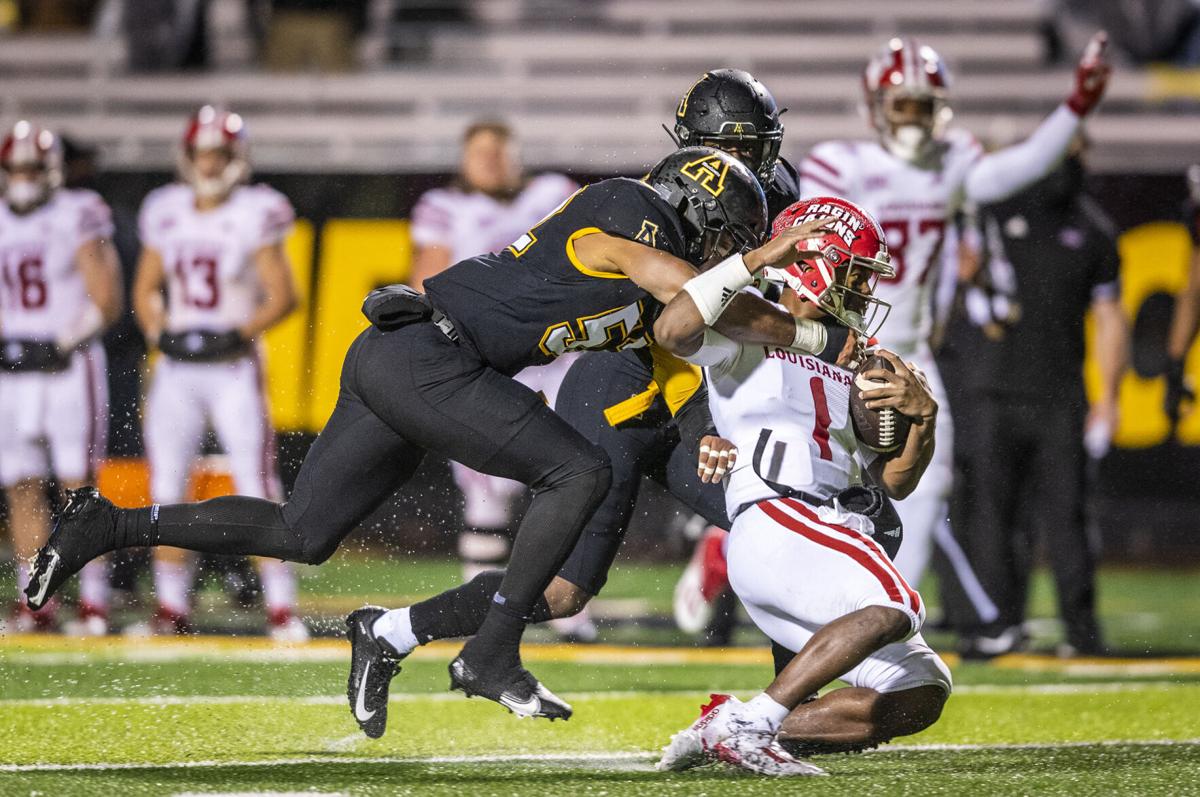 BOONE — Don't look now, but there's some consistency present around Boone again.
Appalachian State started spring football practices this past week, and for the first time since the 2018 season, players haven't seen a coaching change. Some staffers are new, sure, but most of the crew stayed intact, including, most notably, head coach Shawn Clark.
At least one player has noticed the difference it's made early for his unit. D'Marco Jackson, a senior inside linebacker, was part of a defense that suffocated play during Wednesday's practice. Two days before, when the Mountaineers held its first of 15 spring practices, he noticed similar play from his group.
Part of that, he said, comes from the program holding on to most of its staff. Defensive players aren't learning new wrinkles for their system. Right now, they can just focus on play and react. Defensive players aren't having to think as much.
"I think the consistency in the coaches," Jackson said. "... It's nice coming out there and we don't have to spend as much time in the coverage because older guys, they know it.
"But at the same time, they're helping out the younger guys. It's more older guys bringing on the younger guys. That's the biggest thing I see really."
That's manifesting in small but noticeable details. For example, Jackson pointed out, he's more familiar with the voice of Kaiden Smith calling plays out behind him. Last year, Smith became a starter for the first time, and there was an acclimation period. This year, Jackson said, he can find Smith's voice anywhere on the field, even if he's talking at a normal level on the sideline.
In a 9-3 debut season for Clark, Jackson stepped into more playing time and thrived. He had 91 total tackles, 2.5 sacks and a couple interceptions. And he's part of a group that, thanks to a year of extra eligibility granted by the NCAA, brings back most of its starters. Only Shemar Jean-Charles, a starter at defensive back and an NFL Draft hopeful this year, has moved on.
Plus along with Clark, that group has the same defensive coordinator, Dale Jones. At this point, Jackson has played under three coordinators: Jones, Ted Roof in 2019 and Bryan Brown in 2018. Nate Woody was the defensive coordinator in 2017, when Jackson redshirted.
So for the first time, he and teammates aren't having to adjust to a new set of preferences, even though there are two new faces on the defensive staff again — safeties coach David Lockwood and cornerbacks coach Rod West.
That's allowed older players to teach, Jackson said, and younger players are able to learn from observation and put it into practice much earlier. It's the crucial spring-practice depth building at work.
"We got a lot of guys playing different positions, and it's really helping them understand," Jackson said. "And I feel like when you know what the guy beside you is going to do, that eliminates a lot of thoughts in your head of questions. I see a lot of guys really understanding it now. I can tell guys are watching film and we're fixing those mistakes."
Multiple players grabbed interceptions on Wednesday. One of them was Jackson, who corralled a ball off a teammate's tip.
App State was a top-20 defense last season, and if what Jackson is seeing is any indication, the Mountaineers are making those first steps to do it again.
"It's a difference between just playing the game but having confidence in playing the game, and I see a lot guys this year with the confidence," Jackson said.