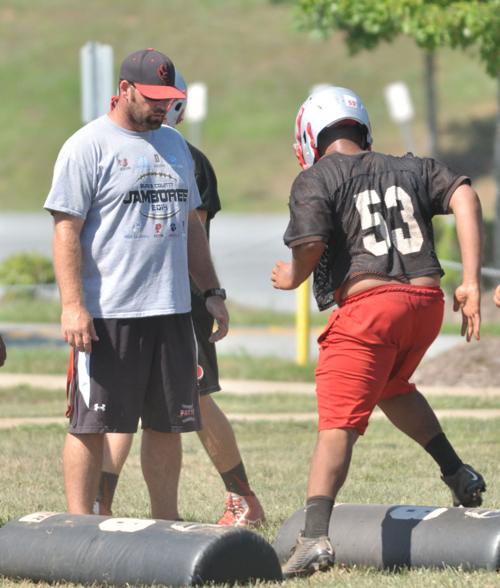 Jonathan Browning will become Patton High School's sixth full-time head football coach, according to a press release from Burke County Public Schools on Wednesday night.
Browning has served as Patton defensive coordinator for the last three years and has been on the coaching staff for six total years. He recently concluded his seventh year teaching health and P.E. at PHS and has been the Panthers head baseball coach for the last five seasons after having previously taught and coached at Liberty Middle.
Browning, 42, last month was named interim head football coach after fourth-year coach Tom Eanes resigned with the team in the middle of the NCHSAA's allowable 10-day spring practices.
"I am extremely excited to have this opportunity to lead this great group of student-athletes and coaches," Browning said, according to the release. "I have loved my time working with the students and being a part of the Patton community. My goal is to be the leader they deserve.
"First, I want to thank my savior, Jesus Christ, as well as my wife, kids and parents for their support throughout my coaching career."
Under Browning, the Panthers defense improved each season in yards and points allowed per game, leading the county in both statistics this past fall as Patton broke a program record for wins and won a first-round NCHSAA state playoff game, accomplishing both for a second consecutive year.
"Coach Browning already has a rapport with our players, and I know our athletes will continue to look up to him and give him and the team their all," Patton athletic director Jeff Williams said, according to the release. "He has great experience as a player and as a coach in both football and baseball and is entrenched in the Patton community. I'm excited about the future of Patton football with Coach Browning at the helm." 
Browning is a 1994 Freedom High graduate and 2000 Appalachian State University graduate. He played offensive lineman and linebacker for the Patriots on the gridiron and was a team captain as a senior.
Browning said he will remain defensive coordinator for the 2018 season "with the thought of trying to get someone else ready for that role."
He said much of the rest of the coaching staff, including offensive coordinator, is undetermined but that Eric Shehan would be back for a sixth season and Trey Justice would be back for a fourth season as assistant coaches. Shehan has coached running backs, linebackers and defensive ends and Justice has coached wide receivers, running backs and defensive ends in the past.
Browning said the team's offense will use some version of triple option to best fit its personnel.
The Panthers start summer workouts this coming Monday morning. Ahead of that, Browning was expected to meet with the returning players Thursday night to relay to them the summer schedule as well as his expectations.
"I expect them to give maximum effort and have a great attitude," he said, according to the release. "They will be as well prepared as any team we face. We did lose some seniors and had a very good team last year, but because of some injuries last year, some younger guys were able to get valuable playing time so we have some underclassman returning with varsity experience."
Patton first-year principal Sara LeCroy said Browning "stood out among our applicants for his philosophy, his student-centered beliefs and his competitive nature."
"His experience and understanding of our students, school and community will enable him to be an excellent fit in this position and continue to do good things for Patton football," LeCroy added.
 Browning said he expects to remain PHS head baseball coach for the 2019 season.
Be the first to know
Get local news delivered to your inbox!