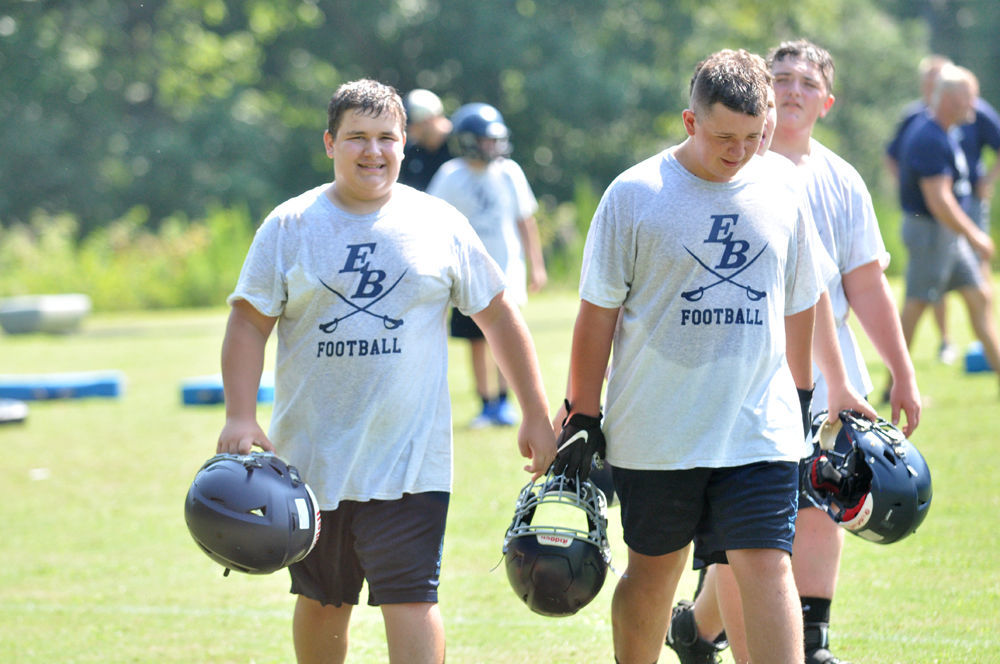 Though they haven't physically seen each other since March, Burke County Public Schools coaches and athletes have stayed connected virtually over the past few months.
Starting Monday, they will be able to work out and train in person. Burke County Public Schools Superintendent Larry Putnam said it is the first step as schools prepare to reopen.
"The school year has a rhythm to it, and as we transition from one school year to another with summer in between, summer school, football workouts and band camps are usually the unofficial start of the new school year," Putnam said. "Our athletes get back to in-person workouts and training on Monday and our Jumpstart Summer School starts July 13. There are still so many unknowns and though this year looks very different from other summers, these activities help us regain some sense of normalcy."
Like most other aspects of life during the COVID-19 pandemic, sports workouts will look different when coaches and players step on the field Monday. Due to those differences and to explain how the workouts will operate from start to finish, Burke County high school coaches, athletic directors, trainers and principals compiled a video for players.
The videos have been released on individual school websites and social media. The videos explain how health screenings and temperature checks will be conducted, how large workout groups will be, the use of face masks and social distancing. Locker rooms and weight rooms will be closed, equipment will be sanitized, and fist bumping, hugs and spitting are prohibited.
Because sports are a big part of student-athletes' lives, staying connected with their coaches has been important part of their physical fitness, but their social and emotional needs, too.
In the case of Derrick Minor, the newly appointed head football coach for East Burke High, he was faced with making brand new connections. He was able to make initial contact with his athletes and their families before and even after school was shut down.
"We called a virtual, in-home meeting, and I was able to meet 'face-to-face' with parents and with the players and establish and make sure parents knew how to stay connected," Minor said. "We have a team email where I send out a weekly newsletter, we have Remind app texts, we have a football Facebook, Instagram and Twitter page, so there is no escaping our communications."
Players are able to send in photos of them working out to show Minor and accumulate what they call pride points.
"Pride points is a system that we build into to reward positive behavior and you are teaching kids accountability," Minor said.
Being able to stay in communication with his athletes is not only to make sure they are staying physically active, but gives him the opportunity to check in on them mentally and emotionally.
"We want to be ready for football, but honestly it starts with relationships, and if a kid knows that you care about them beyond the football field, they are going to play harder for you and you also develop them as a young man for the rest of their life," Minor said. "We use football as an excuse to check in on our kids."
When it comes to working out, players are sent weekly workouts to use at their home whether they have weightlifting equipment at home or not.
"There are three parts to the workout that I send out each week," Minor said. "One is for the athletes who do have equipment, the other is for the athletes who do not have equipment and then everyone should be doing some form of agility or conditioning."
Amber Reddick, Freedom's head girls basketball coach, said FHS will have a tent set up at the top of the football stadium and each athlete will report there first for their temperature check and questionnaire.
The girls and boys basketball teams will alternate the locations of their workouts. Two days out of the week will be inside the gym and the other two will be outside.
"On Mondays and Wednesdays, the girls are going to go outside and we will do strength and conditioning workouts," Reddick said. "And on Tuesdays and Thursdays, we will be in the gym for ball-handling and shooting. Each player will have their own ball and it will be sanitized."
Reddick said she believes the workouts will serve not only as training for athletes, but also as a way to talk and express how each of them are feeling.
"I think that is going to be a big part of these workouts, and taking it a step further than just a Zoom," Reddick said. "Even though we will still have to social distance, they will still be able to encourage each other, talk to each other and be in the physical presence of each other."
"We are excited that virtual-only workouts are shifting to in person workouts," Putnam added. "I want to thank the Burke County Board of Education for approving these summer workouts and the schools and coaches for coming together to make these workouts possible for our athletes and for working hard to make sure we are doing this safely."
Be the first to know
Get local news delivered to your inbox!