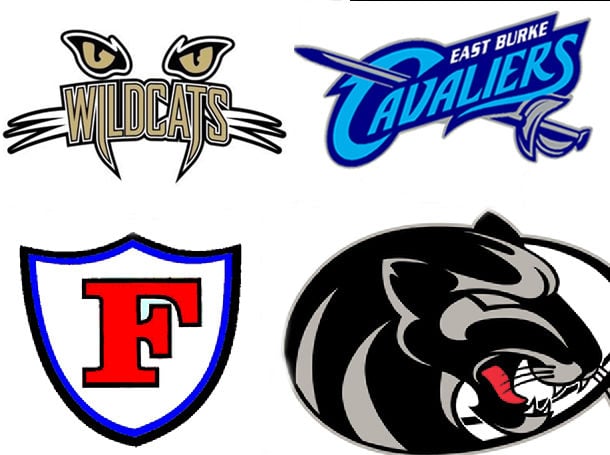 Burke County Public Schools in a press release Thursday said in accordance with N.C. Gov. Roy Cooper's new executive order, larger attendance at outdoor athletic events will be a reality soon across the county.
Tickets for outdoor events such as high school and middle school soccer and football as well as the upcoming baseball and softball seasons will be available to all spectators at the gate, up to the 30 percent capacity limit set by Cooper.
The order goes into effect Friday, in time for East Burke's football home opener against West Caldwell on Saturday at 2 p.m. (The other three county football teams played Thursday night.) EB says operating at 30 percent, it will be able to sell nearly 3,000 tickets at its spacious stadium. 
The state's newly set indoor attendance limit is different than for outdoor events. For indoor events, per the order, 30 percent capacity is allowed but with a limit of 250 people.
Freedom says it will have 250 tickets available for Saturday's 3 p.m. third-round girls basketball playoff home game against Hickory. Fans can arrive on campus one hour before tipoff, and doors are expected to open 45 minutes prior to tipoff. The contest will still be live-streamed via the FHS YouTube channel for those unable to attend.
"Mask wearing, social distancing, temperature checks and well checks will be enforced," the BCPS release states, "and all other NCHSAA rules and regulations and health and safety guidelines and procedures will be followed."
For all upcoming outdoor athletic events, those guidelines and procedures will include:
Masks must be worn to gain entrance and must be kept on, covering the mouth and nose at all times.
Social distancing markers will be placed throughout the event area, including in the stands. Those who do not live in the same household must follow social distancing guidelines of remaining six feet apart.
Parking lots and gates will not open until one hour prior to the start of the sporting event. Tailgating in parking lots on school grounds will be prohibited. Limited concessions will be available and will only include pre-packaged food and beverages.
Only NCHSAA passes will be honored this season.
BCPS says additional specific information pertaining to each school and each sport will be provided on the school websites. BCPS also says that since more spectators are allowed to watch in person, the events will not be live streamed.
"Burke County Public Schools and our high schools and middle schools are excited about N.C. Gov. Roy Cooper's new executive order," the release states. "We thank you for your support and understanding during this time of navigating high school athletics in the midst of this pandemic. We also thank you for realizing these policies and guidelines are given to us by state officials and must be followed for everyone's safety and for our teams to continue to meet NCHSAA eligibility.
"We are relying on you and your cooperation to help make our season successful. As a reminder, to help continue to mitigate the spread of COVID-19 and keep our schools open to in-person learning and our athletic teams healthy as well as for everyone's health and safety, please continue to follow the three W's: Wear a face covering. Wait and practice social distancing. Wash your hands thoroughly and often."