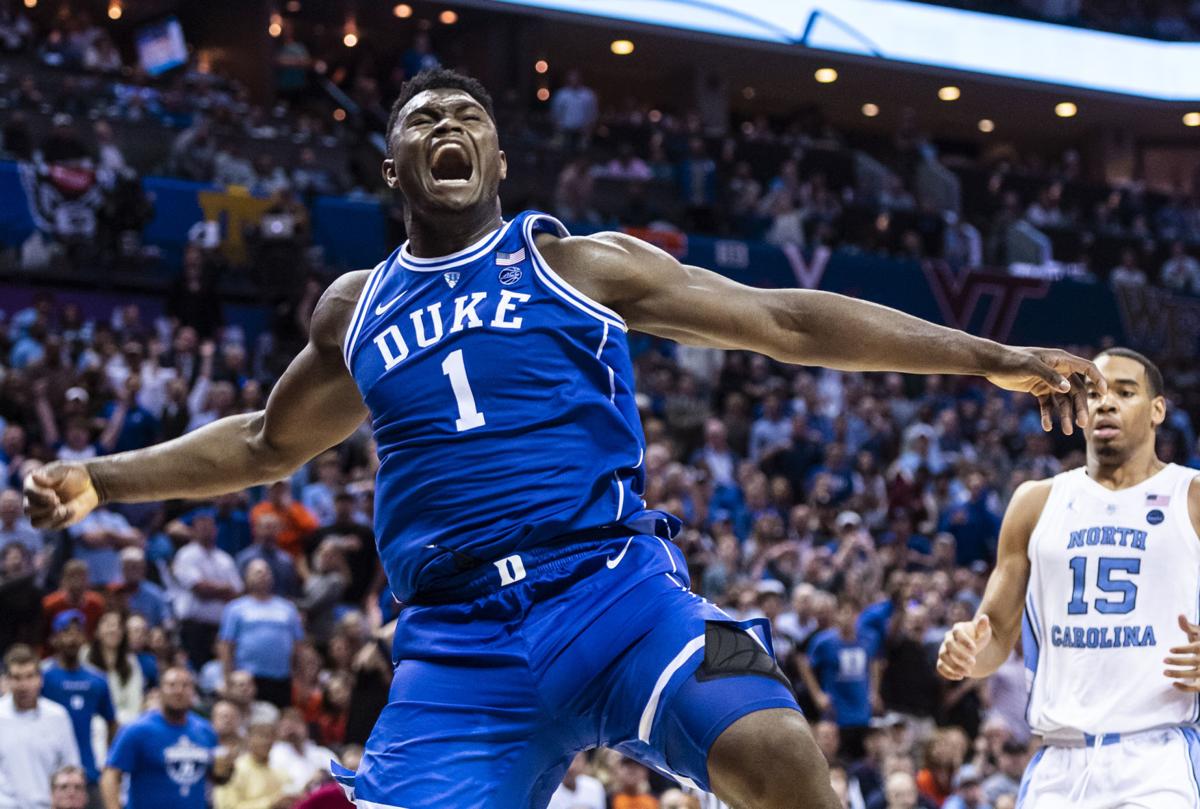 This is the weekend that Zion Williamson takes his national show into another realm.
The phenomenon that is the freshman from Duke will play out on the biggest stage in college basketball, and even Duke's most ardent detestors will be watching.
The transformation happened last week in Charlotte when Williamson broke ACC Tournament records and led the Blue Devils to a three-game sweep, collecting admirers along the way. In the championship game against Florida State, the arena was speckled with light blue and orange, Carolina and Virginia fans who didn't sell their tickets but stayed an extra day to watch the spectacle.
And now it goes nationwide.
"I tell you," FSU coach Leonard Hamilton said after the title game, "he has to be one of the top five best athletes that I've ever seen on the basketball court. He reminds me a lot of, you remember a name, I'm going to bring a name from the past.
That was a new one. Logan was a comet that streaked across Cullowhee back in the early '60s, a legendary leaper who changed the way basketball was played, taking it from a gravity-bound game to one that was played above the rim.
The great players through time didn't just carry their team. They carried the sport in a new direction. That's what will happen with Williamson, and this week thousands of young eyes will be on him for the first time.
They'll see for themselves the remarkable athlete that looks as if he should be wearing shoulder pads. If not for the basketball uniform, he would look as if he were wearing pads.
At 6 feet 6 and 285 pounds, he's as strong as anybody in the game, including the NBA. And his jumping ability, the quick-twitch reaction and the grace in traffic is something we've never seen.
"He's a world-class athlete," Hamilton said. "His quickness, his speed, his strength, his power, his ability to stop and start and change directions, how fast he gets up. He changes things. I mean, it's hard to match that level of special athlete."
Williamson was a myth before he ever went to Duke, a high school legend out of Spartanburg, S.C., who was a viral sensation, a must-see video package that every other high school kid in the country watched over and over.
In that sense, he's the first modern basketball player to spring from social media into reality. And if Duke goes far into the NCAA Tournament, his fame and influence will increase.
Already, he has changed the way basketball shoes are seen worldwide. And in fact, Nike had a special shoe made for him in China after one from his old pair exploded on national television in the first UNC-Duke game.
It was an international incident. Nike's stock dropped by a percentage point the next morning.
"Right after the event, they sent their top people out here to figure out what went wrong the next day." Mike Krzyzewski, the Duke coach, said. "And then those people went to China to actually look at the making of a shoe that would be very supportive and then they came back within a week with different alternatives to make sure that it was done right."
That doesn't happen with anyone else, except maybe LeBron James.
From mixtapes to feature stories in the Wall Street Journal and Forbes, the phenomenon that is Zion Williamson has already become must-watch television. The three UNC-Duke games were the most-watched college basketball games of the season, the third meeting becoming the most-watched conference tournament game in the history of ESPN.
Now the weird truTV, TNT and TBS fans will see the appetizers as CBS awaits to serve the main course.
That would be Duke and Williamson on Friday night primetime.
Too much? Maybe, but a lot of people who were tired of hearing about his shoe are now watching the show.
"He deserves the recognition," Hamilton said. "You can put him down as one of the greatest athletes that have ever come through the ACC, and there have been quite a few of them."
And even one that came through Cullowhee a long time ago.