COLUMBIA, S.C. — Without Johnny Dawkins, there's none of this.
Mike Krzyzewski isn't 'Coach K,' Duke isn't among the greatest programs in college basketball and the Blue Devils aren't in pursuit of their sixth national championship under the game's all-time winningest coach.
In order to add to the program's storied history, Duke will have to go through the most influential player to ever come through Durham as it meets Dawkins' Central Florida team in the second round of the NCAA Tournament on Sunday night at Colonial Life Arena.
ESPN analyst Jay Bilas, a teammate of Dawkins' at Duke, put it plainly.
"Johnny is the most important player to ever play at Duke and without him, it's not like it is now," he said. "I don't know what would have happened — I would hope (Krzyzewski) would still be there — but without Johnny this would not have happened on this arc."
Before Dawkins, Krzyzewski was just another young coach with a vision for his program, and to that point, the vision was still taking shape, going 27-30 over his first two seasons at Duke, including 10-18 in the ACC. There was nearly mutiny within the Iron Dukes as influential donors wanted Krzyzewski out.
Despite the fact that Krzyzewski had made just two NIT appearances in his seven seasons at Army and Duke, Dawkins believed in him.
"I still had a belief in who I thought he could be come," Dawkins said. "He painted a really good vision for us as a team, what he thought we could do. He painted a great vision for me, what he thought my career could be like."
That promising freshman class in 1982 didn't deliver immediate results, instead going 3-11 in ACC play and 11-17 overall as freshmen before finally giving Krzyzewski his first NCAA Tournament appearance in 1984. As a senior in 1986, Dawkins averaged 20.2 points en route to delivering the first of Krzyewski's 12 Final Four appearances, falling to Louisville in the national championship game.
Duke has only missed the NCAA Tournament once since then, in 1995, when Krzyzewski took a leave of absence to address health issues.
"Obviously, he was the start of us developing our program at Duke," Krzyzewski said.
More than a player
Not just the start though, as Dawkins returned to Duke in as an assistant coach in 1998 and became the Blue Devils' associate head coach the next season, helping lay the foundation for the 2001 national championship team.
Playing alongside him in Durham, Bilas didn't get the sense that Dawkins had coaching aspirations after his professional career ended.
But once Dawkins became Krzyzewski's right-hand man, Bilas — himself an assistant on Krzyzewski's staff from 1989-92 — didn't need long to see that his former teammate was cut out for the job.
"As soon as he started and I saw him on the floor interacting with players, I knew, OK, 'This dude is a coach; he's going to be a coach for a long time,'" Bilas said. "Johnny's got an amazing way about him. He's a cutthroat competitor, but at the same time, got this humility about him and he's never the loudest person in the room until the game is on. He's always calm in demeanor but he's fiery and anybody who's been around him behind the scenes knows that."
Along the way, Dawkins went from one of Krzyzewski's former players to one of his closest friends — a friendship that has held up through the years, even after Dawkins left to coach at Stanford in 2008 before moving to UCF in 2016.
They're in frequent contact throughout the season and last caught up about two weeks ago.
"We had a good conversation somewhere around then, just talking about one of our wins," Dawkins said. "He called and just kind of caught up with him, he caught up with what we were doing. Of course, we follow each other's progress and see how each other's team is playing and stuff."
That's what makes this matchup even tougher.
Unlike North Carolina coach Roy Williams, who regularly schedules games against his former players and assistant coaches, Krzyzewski does his best to avoid his.
"Why would you want to? They're family," he said. "If you don't have to play against him, I'm not going to do it, but this presents an opportunity for both of us in a great setting."
Meetings with Jeff Capel (Pittsburgh) and Mike Brey (Notre Dame) are frequent because of the ACC schedule, but Krzyzewski has only seen Dawkins on the opposite sideline once, in 2014, when Duke met his Stanford team in the Coaches vs. Cancer Classic.
"We do what we have to do, but it's not something we would pick," he said. "That wouldn't happen under any other circumstance other than a tournament."
To this point, Krzyzewski has avoided Chris Collins (Northwestern), Bobby Hurley (Arizona State), Steve Wojciechowski (Marquette) while playing Tommy Amaker twice during his tenure at Michigan and Quin Snyder, now coaching the Utah Jazz, in the second round of the 2001 NCAA Tournament.
Bilas was at that meeting with Snyder's Tigers in 2001 and talked with his former teammate before the game.
"I think it's the before and after that's the issue," he said. "Obviously one of them has to lose, and Coach K doesn't want to lose and I don't think he likes to see his friends lose. When the game's going on, I think it's of zero consequence."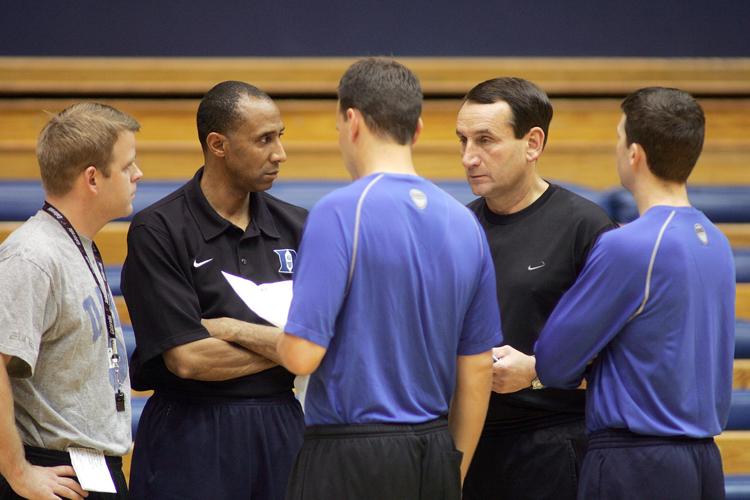 Respecting the past
A few bridges to the Dawkins era remain on the Duke staff, as assistant coaches Chris Carrawell, Nate James, Jon Scheyer and Nolan Smith all played for Dawkins.
"He was a great influence on me when I played for him for two years," Scheyer said. "He really knows the game, and obviously, he was a heck of a player."
Even more than 30 years later, Dawkins' place in Duke history is still important, even to players who arrived on campus less than a year ago and likely won't be around much longer.
"It means a lot because Johnny Dawkins, if he was in this era, he'd be a one-and-done player and he's a legend at Duke," freshman phenom Zion Williamson said.
Cam Reddish said that Krzyzewski talked briefly about Dawkins on Saturday night — not that they'd need a history lesson, with his jersey hanging in the rafters at Cameron Indoor Stadium. As the 1986 Naismith Player of the Year and a two-time All-American pick, there are plenty of pictures and memorabilia around the facility and museum.
In August, the ACC Network will launch with a documentary featuring Dawkins' freshman class, "The Class that Saved Coach K," documenting their role in the rise of Duke basketball.
"He's very special for our program, whether as a player or as a coach," freshman RJ Barrett said. "He means a lot to the Duke community and we're very happy he's a part of it."
So too is Krzyzewski and everyone else who made it through those lean years.
"He was the first superstar there and that whole group that we had, we were really lucky that we had each other," Bilas said. "We were very fortunate all around when the decisions we made to play for Coach K. "When you look back on that, he had no track record at the time; I mean, our first NCAA Tournament game was his first. The first time we did anything was the first time he did anything. When you look back, it was a heady time."
Be the first to know
Get local news delivered to your inbox!