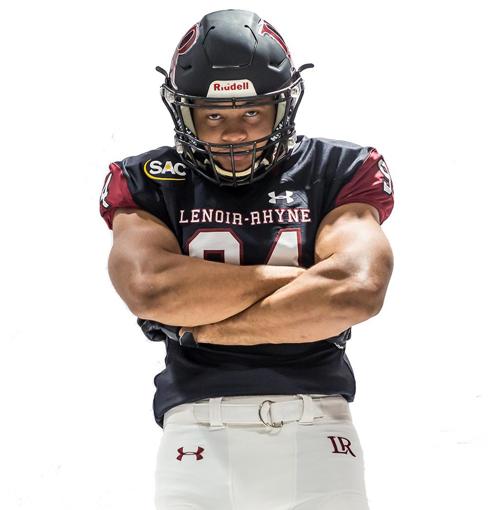 {span style="text-decoration: underline;"}RICHBURG CANTY{/span}
HOMETOWN: Sumter, South Carolina
HIGH SCHOOL: Sumter (South Carolina)
-----------------------------------------------------------------After totaling nine tackles and two sacks in 17 games over his first two years as a member of the Lenoir-Rhyne football team, defensive end Richburg Canty likely had high hopes for his junior season last fall. He made his first collegiate start in the Bears' season opener against St. Augustine's — a 68-7 home victory — but suffered a season-ending injury after recording two tackles and 1.5 sacks.
A letterwinner in three sports — football, wrestling and track and field — at the high school level, Canty watched as the Bears finished 13-1 and reached the regional championship for the second year in a row. Lenoir-Rhyne was particularly successful in South Atlantic Conference play, tallying an 8-0 record to capture its second consecutive conference title.
Although Lenoir-Rhyne's offense was noteworthy in 2019, the Bears were proficient on the defensive side of the ball as well. They were the 18th-ranked defense in NCAA Division II at season's end, allowing 81.9 rushing yards per game and 2.5 yards per carry, which ranked eighth and seventh in the nation, respectively.
The Bears also recorded 31 takeaways during the 2019 season, including 15 fumble recoveries and 16 interceptions. Only 10 teams in Division II finished with at least 30 takeaways, and only four recovered more fumbles than Lenoir-Rhyne.
Additionally, Lenoir-Rhyne led the country in sacks (50) and total sack yardage (314), with Canty's 1.5 sacks in the opening game helping the Bears begin the season with a six-sack performance. He would undoubtedly have added to his total as the year progressed, but his injury brought an abrupt end to his season.
This season, Canty is healthy again and looking to be a major contributor for a Lenoir-Rhyne defense that graduated seven players. Gone are fellow defensive ends Jaquan Artis and Jay Wiley, linebackers Clayton Horn and Sherrod Williams and defensive backs Kyle Dugger, Ivan Millken and Landon Scott.
While the Bears have 10 seniors on defense in 2019, it won't be easy replacing the likes of Dugger and Artis on that side of the ball. Dugger was selected by the New England Patriots in the second round of April's NFL draft, while Artis joined the eventual Cliff Harris Award winner in being named a finalist for the award presented to the nation's top small college defensive player.
Lenoir-Rhyne recently received its highest preseason ranking ever when it came in at No. 2 on Lindy's Sports magazine's preseason list, so it will need new players to step up this fall. Drew Cronic left to take the head coaching job at Mercer University in his home state of Georgia after leading the Bears to a 25-3 record in two seasons at the helm, but new head coach Mike Jacobs is also a proven winner who had a 42-8 record at Notre Dame College in Ohio over the past four years.
Canty has the size and ability to be a huge factor on the Bears' defensive line, especially when playing alongside the likes of defensive tackles Dan Louba and Amari Houston. With that trio and the rest of the defensive talent Lenoir-Rhyne possesses, the back-to-back defending SAC champions have the necessary components to wreak havoc on opposing offenses in 2020.
Be the first to know
Get local news delivered to your inbox!