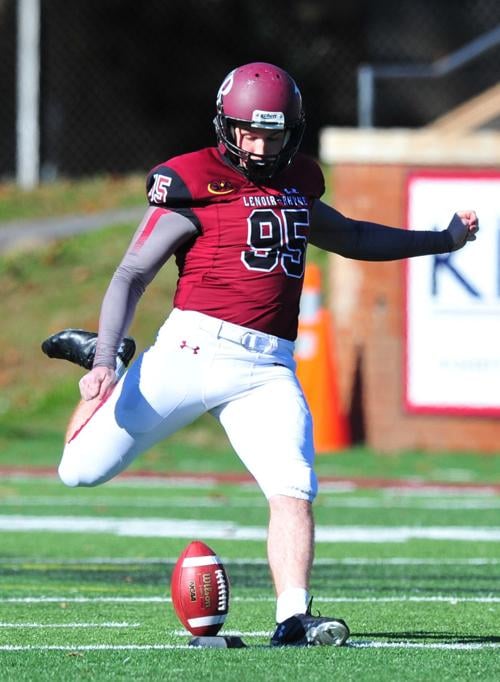 Jefferson Norwood served as the kickoff specialist for the Lenoir-Rhyne football team throughout the entire 2018 season, kicking off 84 times and forcing 24 touchbacks while averaging 57.8 yards per kickoff.
He also handled the kickoff duties in five games last season —averaging 56.9 yards on 38 kickoffs with 14 touchbacks — before 2019 All-South Atlantic Conference kicker Chase Allbaugh moved into that role during the second half of the season.
This year, Norwood is one of four kickers on the Bears' roster alongside fellow senior Allbaugh, redshirt junior Adam Gast and sophomore Austin Roderick. Although Allbaugh will likely kick field goals and extra points again — he set an NCAA Division II record by going 76-for-76 on extra-point attempts last season — it always helps to have depth.
Recognized as the Bears' Special Teams Player of the Week following a 59-27 home win over Mars Hill in September of 2018, a game in which five of his 10 kickoffs resulted in touchbacks and he averaged 61 yards per kickoff, Norwood is a solid player to have on the roster. While he has never attempted a field goal for Lenoir-Rhyne, he is more than capable of doing so in a pinch.
According to MaxPreps.com, Norwood made 9 of 12 field-goal attempts during his junior and senior seasons at Leesville Road High School in Raleigh, including a long of 46 yards. He also converted 56 of his 67 extra-point attempts for the Pride, who posted a combined record of 11-13 over his final two high school seasons but have gone 31-9 from 2017-19 — Leesville Road most recently went 13-1 in 2019, losing to Zebulon B. Vance in the 4AA state title contest.
With a new head coach at the helm for Lenoir-Rhyne, other players could be asked to step up in 2020. Former Notre Dame College (Ohio) head coach Mike Jacobs replaced Drew Cronic in December after Cronic left to take the head coaching job at Mercer University in his home state of Georgia.
Although it won't be easy to replace Cronic, who led the Bears to 25 wins, a pair of SAC titles and back-to-back regional title game appearances during his two seasons in charge, Jacobs also has a winning pedigree. He was 42-8 over the past four seasons at Notre Dame, leading the Falcons to the semifinals of the Division II playoffs in 2018 and the quarterfinals a year ago.
Perhaps Norwood will also receive the opportunity to kick field goals during the 2020 season, or maybe he will again find himself focusing solely on kickoffs after sickness forced him to the sidelines at the midway point a year ago. Either way, every player will be crucial to Lenoir-Rhyne's bid for a third consecutive conference championship.
Like every other player on the Bears' roster, Norwood just has to be ready whenever his name is called.
Be the first to know
Get local news delivered to your inbox!