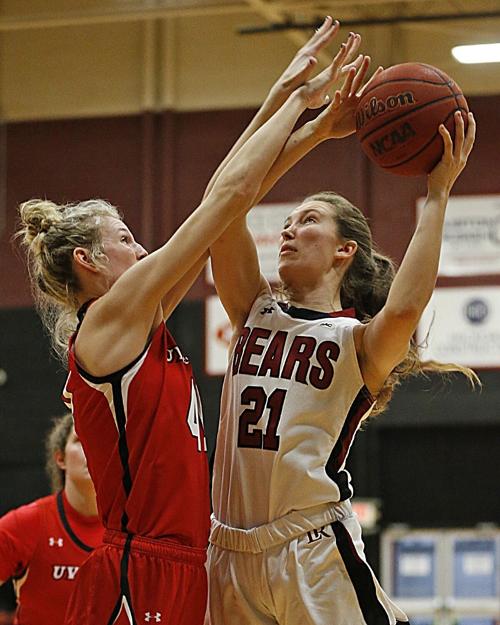 Grahm Smith was hired as the 13th head coach of Lenoir-Rhyne's women's basketball team in April 2020, and his first season at the helm was quite different from a normal campaign. A youthful Bears roster finished 6-14 while also facing off-court challenges brought about by the COVID-19 pandemic.
"Last year was a challenge, kind of with the unknowns and not really knowing what the next day would look like, much less the next week," said Smith during the Bears' weekly Facebook Live show on Nov. 4. "But this year has been great so far, obviously just to have the assurance that we're gonna be practicing each and every day with minimal if any interruptions. And to … get a full preseason in and begin practice, it's been great and we're looking forward to continuing to move forward."
A lot of new faces will suit up for the Bears during the 2021-22 season. Eleven of the 18 players on L-R's roster are newcomers, including junior forward Brandi Hudson and sophomore guard Megan Landsiedel.
Hudson transferred from Kankakee Community College in Illinois, while Landsiedel is a Division I transfer who previously played at Western Kentucky. Both are expected to receive significant playing time this winter.
"We've got 11 new (players), seven freshmen and four transfers, so we're extremely young but talented, and so they're gonna basically be thrown into the fire right away," said Smith. "We're excited about it, they're excited about it too."
Smith said L-R will rely on Hudson to provide "some depth and kind of a strong start in the paint for us down low at the forward spot," while Landsiedel will give the Bears "some more length on the perimeter offensively and defensively."
The rest of L-R's newcomers include freshmen guards Molly James, Kaitlyn Propst, Tilda Lindstrom and Ellie Wilhelm, freshmen forwards Olivia Harris, Rose Bone and Maddie Dillinger, sophomore forward Hunter LeBlanc and graduate student A'mya McClain, a guard who transferred from Pfeiffer.
"We've got a great group of young ladies on the team right now," said Smith, whose returners include senior guards Hanna McClung, Alyssa Wagner and Tatum McBride, redshirt junior forward Mallory Sherrill and sophomore guards Josie Hise, Emily Harman and Blaikley Crooks.
"The preseason was extremely successful from a conditioning standpoint in the weight room and just kind of beginning to put in some of our offensive sets and whatnot," said Smith. "… They're ready to hit the court now and actually go against someone else."
Harman led the Bears in points (14.6), rebounds (7.2), assists (4.1) and steals (1.8) per game last season. She shot 39.7% from the field, 34.6% from 3-point range and 86.4% at the free-throw line while starting a team-high 17 games.
McClung was also a key contributor for L-R, averaging 8.3 points and 3.4 rebounds in nine contests. The rest of the returners saw various levels of playing time, but all of them hit the court at some point.
"We're gonna be fast, we're gonna be dynamic," said Smith, who added that L-R will also be "a little bit more athletic" and "probably play a little bit more of an up-and-down type of game."
The Bears' regular-season opener will be a home game against USC Aiken on Saturday as part of the South Atlantic Conference/Peach Belt Crossover, with L-R continuing the event with a home contest against Lander on Sunday. Saturday's game tips off at 4:30 p.m., while Sunday's game starts at 1 p.m.
The aforementioned contests will take place inside Shuford Gymnasium, which had a new floor installed during the offseason. New bleachers and a videoboard are also scheduled to be added prior to next season.
"When I got here last year I was excited about the facility in general," said Smith. "It was bigger than anything I'd ever coached in before, so for me that was a huge step up. But the renovations are amazing, it looks great. I think more importantly it feels great.
"Our players are really enjoying just the feel of the floor, the bounce in it," he added. "Their bodies are responding really well, so they're not as sore and not as many aches and bumps and bruises."
Following the SAC/Peach Belt Crossover, L-R hosts Wingate in both teams' SAC opener on Wednesday at 5:30 p.m. The Bears' schedule also includes road exhibition contests at Radford (Nov. 19 at 7 p.m.) and UNC Greensboro (Nov. 21 at 2 p.m.).
"Obviously it'll be a chance to compete against a higher level, kind of see where we stand up against them," said Smith of the back-to-back exhibition games following the Wingate game. "… So we get a chance to start off well with two nonconference games, play Wingate at home and then hit the road for two tough exhibition games to kind of prepare us for the rest of the season in the conference."
2021-22 LENOIR-RHYNE WOMEN'S BASKETBALL SCHEDULE
Nov. 13 (Sat): Home vs. USC Aiken, 4:30 p.m.
Nov. 14 (Sun): Home vs. Lander, 1 p.m.
Nov. 17 (Wed): Home vs. Wingate*, 5:30 p.m.
Nov. 19 (Fri): Away at Radford, 7 p.m. (exhibition)
Nov. 21 (Sun): Away at UNC Greensboro, 2 p.m. (exhibition)
Nov. 23 (Tue): Away at Coker*, 5:30 p.m.
Nov. 27 (Sat): Away at Limestone*, 2 p.m.
Dec. 1 (Wed): Away at Carson-Newman*, 5:30 p.m.
Dec. 11 (Sat): Away at Catawba*, 2 p.m.
Dec. 15 (Wed): Home vs. Anderson (South Carolina)*, 5:30 p.m.
Dec. 18 (Sat): Home vs. Tusculum*, 2 p.m.
Dec. 20 (Mon): Home vs. Newberry*, 2 p.m.
Dec. 30 (Thu): Away at Young Harris, 2 p.m.
Jan. 1 (Sat): Home vs. Lincoln Memorial*, 2 p.m.
Jan. 5 (Wed): Away at Queens*, 5:30 p.m.
Jan. 8 (Sat): Away at Lincoln Memorial*, 2 p.m.
Jan. 12 (Wed): Home vs. UVA Wise*, 5:30 p.m.
Jan. 15 (Sat): Home vs. Carson-Newman*, 2 p.m.
Jan. 19 (Wed): Away at Wingate*, 5:30 p.m.
Jan. 22 (Sat): Home vs. Coker*, 2 p.m.
Jan. 26 (Wed): Away at Mars Hill*, 5:30 p.m.
Jan. 29 (Sat): Away at Tusculum*, 2 p.m.
Feb. 2 (Wed): Home vs. Lees-McRae, 5:30 p.m.
Feb. 5 (Sat): Home vs. Limestone*, 2 p.m.
Feb. 9 (Wed): Home vs. Catawba*, 5:30 p.m.
Feb. 12 (Sat): Away at Anderson (South Carolina)*, 2 p.m.