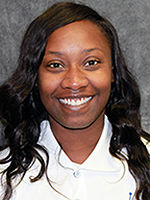 CASTINE, Maine — Though her current vantage point is somewhat isolated, former Draughn girls basketball standout and assistant coach LaSashia Connelly still has a great concern about the civil unrest and racism currently plaguing the United States.
The Bangor Daily News reported that Connelly, who currently is an assistant coach for the Maine Maritime Academy women's basketball team in Castine, Maine, was moved to help her team learn about racism following the death of George Floyd, who died in Minneapolis earlier this year after now-fired police officer Derek Chauvin, who is white, kneeled on Floyd's neck for several minutes.
Connelly and the Mariners' coaching staff organized a team video conference to discuss the situation, for Connelly to share her feelings on racism, and to expand the players' knowledge on the subject.
"George Floyd made me realize that it may have happened in Minneapolis, Minnesota, but that's something that the conversation can still be had here in Castine," Connelly told the Bangor Daily News. "We wanted to address it and what our program stands for and what we are about, how we are open and welcoming of everyone.
"I didn't realize it until I moved up here, but I may be the only person of color, black person, in these kids' lives. I'm very thankful that I was placed in this community to be that point of reference and to help with the education piece."
Connelly was named Draughn's female athlete of the year for 2009-10 as a senior after averaging 9.4 points, 3.3 rebounds, and team-highs of 4.6 steals and 3.9 assists per game, earning all-conference and all-district honors. Connelly went on to play at Salem College, where the Spirits won the 2013-14 D-III Great South Athletic Conference regular-season and tournament championships in her senior year.
After her playing days, Connelly was a Lady Wildcats assistant for two years under former head coach Jay Murray from 2014-16. She then joined Lenoir-Rhyne's staff as an assistant for one season and has been at MMA for the past four years.
The Bangor Daily News reported that the outcome of the team's video conference was a Facebook video nearly three minutes long where the players talked about Connelly and her impact on the team.
"I was crying my eyes out," Connelly told the Bangor Daily News. "The fact they acknowledge that they are listening, they are learning, and knowing how the last couple weeks have been for me, that really meant the world to me."
Be the first to know
Get local news delivered to your inbox!