There's nothing quite like the bond between father and son.
When sports or any other intensely shared interest are involved, that bond grows stronger still.
When son plays the same sport that the father did and carries on his legacy, it grows more special. And when those two not only play for the same team spanning the years but also both reach the pinnacle … well, that makes something special become entirely unique.
That's the case for Freedom boys basketball senior guard Nick Johnson, whose father Wesley Ervin was a standout for the Patriots on the 1993-94 state title team, the program's first to reach that ultimate goal.
Johnson's Freedom team has also now reached the state finals, but one of his biggest fans won't be able to see the game.
Ervin passed away on Oct. 5, 2016 when Johnson was 14 years old.
"I've heard a lot of stories about how he was like the best," Johnson said. "I've seen videos. I never believed it. But he had this book we still have at the house where he kept old clippings like all of him and his years.
"It's great to be his son, to hear the stories, try to live up to the things he did and how great he was. He was a better shooter than me, but he'd say right now I'm a better athlete than him. I wish he was around longer. His teammates all still tell me about how he played. I wish I could've seen him play."
Johnson might not have seen Ervin in action for Freedom — or for UNC Greensboro, where he signed after his FHS days were over — but he still saw him play up close and personal on more than one occasion in the driveway.
"He tossed me around, he busted my lip one time. We were competitive," Johnson said. "It was either win against him or run hills up and down. I loved it, I love getting down and dirty, that's just how I am.
"The first time I really did beat him, I was 13 and he got mad. He stood outside and shot the basketball until about 12 o'clock that night. I was happy I actually got a win. The next day, I came home from school and he beat me."
Johnson said one of his dad's favorite basketball memories came from a dunk contest he won in high school.
"He went to a dunk contest at Virginia Tech and was the shortest person there," Johnson said. "Everybody doubted him, they didn't think he was going to do a lot. They said he went baseline and caught a windmill dunk and everybody went wild. I wish I would have seen that. He had a tape of it, but it got lost.
"He used to dunk on people taller than him. Everybody talks about how athletic he was and how he was the No. 2 player in the state and how good he was. I get compared to him because of how athletic I am. But I don't think I compare to that. I don't know."
Johnson, who like Ervin stands around 5-foot-11, enjoyed a special moment earlier this season when he threw down his first dunk in game action when Freedom won at rival McDowell.
"When I did that, I felt so happy inside because I was like, 'I finally got a dunk in a game.' It was great," Johnson said. "I think I got teary-eyed after that. My mom was there. … If (my dad) was here, he'd say, 'You only got one. I've got many.'
"He was a good father. He was a funny man. He made me very determined to be better than him. He was amazing. Everyone says I'm kinda like him in a lot of ways. Maybe I'm more headstrong. But he was … he was the greatest person I've ever known pretty much."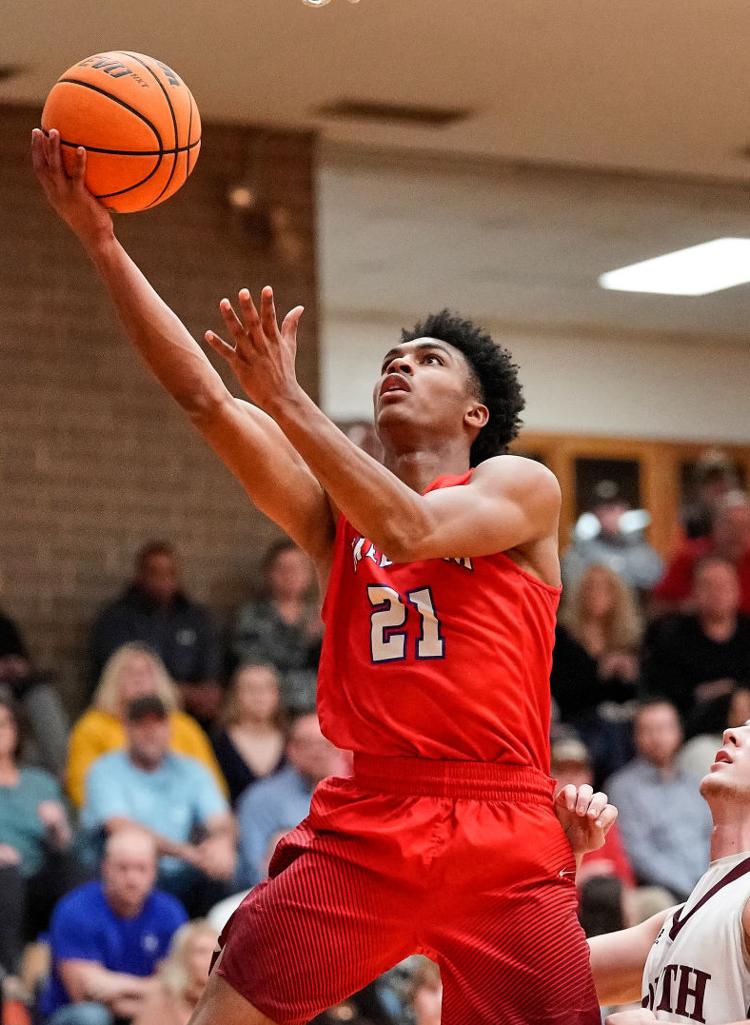 Aside from basketball, Johnson and his dad shared a love of golf and fishing. Johnson and his mother, Delicia Johnson, still carry on the fishing tradition.
"We did a lot of family stuff. He was big on family," Johnson said. "He came to all my games and was very supportive."
Johnson said his dad kept the advice simple.
"Every time I did something, he said always do your best," Johnson said. "Go 100 percent. Whatever your role is, whatever you're doing, even in school, go 100 percent. He wanted to me to do my job so I could achieve something."
Johnson and his mother hope Ervin's legacy will live on in ways aside from fishing trips soon.   
"Me and my mom have been talking about this since I was a freshman when we went to the (West Regional final) and lost to Cox Mill," Johnson said. "That game really hurt. I really wanted it to happen. And then we lost my sophomore year, and I got hurt my junior year. So this year, if it happens, it's going to mean the world to me and my family. It's going to be so big."
And what would Ervin say about being the older half of the first-ever Freedom father-son duo to win state titles?
"He'd probably make a joke about it and say he was the first one to get a ring," Johnson said. "But he'd be proud of me. He wanted me to achieve my dreams, and he knew I wanted to win a state championship. If he was here today, honestly, I wouldn't even care about the ring. I would just want him to be proud of me, live up to his expectations.
"He was a one-of-a-kind person. I'm going to keep doing everything I can to be just like him."
EDITOR'S NOTE: The News Herald spoke with Johnson on March 11, the day before the NCHSAA 3A basketball state title game was indefinitely suspended. We decided to run this story anyway now as a tribute to Johnson and Ervin, as well as to the season the Patriots have enjoyed.
Be the first to know
Get local news delivered to your inbox!