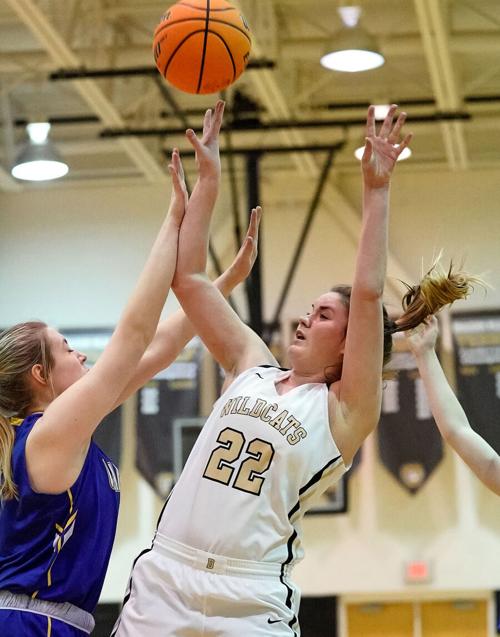 NEWTON — The Draughn girls basketball team is already off to a hot start after finishing off Foard on the road Monday night, 74-63.
The Lady Wildcats (2-0 Northwestern Foothills 2A Conf.) got a team-high 23 points from senior post Shea Owens, who seemingly was able to score at will down low. Sophomore Ella Abernathy (19 points) and senior Haley Lowman (14 points) also hit double figures.
In all, eight Draughn ladies contributed points in the win, along with forcing very timely turnovers and turning them into buckets in transition.
"I think we're playing really well as a team right now," Draughn coach Liz Taylor said. "We have a lot of people contributing offensively and defensively. I think that's the main factors."
The Lady 'Cats ball movement and ability to get the ball in the paint to Owens and Lowman helped Draughn race out to a 20-14 lead after one quarter.
Foard came back in the second with some big shots of its own, never letting the Wildcats get out to a lead that was insurmountable until the guests' defense became too suffocating.
Draughn racked up four steals in the last 2 minutes of the half, cashing in on all of them for a fiery 10-0 run to end the period with a 43-30 advantage and take the wind out of Foard's sails going into the locker room.
Draughn cooled off to start the second half, but oppressive defense helped stem the Lady Tigers' tide as Foard picked up the tempo trying to get back in the game. The Lady Tigers knocked four points off their deficit as the final quarter approached but Draughn clung to a 57-48 lead.
The Lady Wildcats were able to play smart in the fourth quarter. The Lady Tigers did not have the luxury of time, and Draughn waited patiently to force Foard into turnovers working against the clock. Owens put up eight points in the quarter, and Bailey Bryant hit a dagger 3-pointer to put the game out of reach with only minutes remaining and take home the win.
Taylor said her team's 2-0 start is no accident.
"I think we can be one of the top contenders in our conference," she said. "I've said it since day one. Our conference is really equal this year, so I feel like we really have a chance."
Draughn next gets a big test in that mission as it hosts rival East Burke on Thursday in a JV/varsity girls-only set of games starting at 4:30 p.m.
NOTE: Both JV contests between the schools were canceled when the games were moved from last Friday to Monday. The varsity boys game was then also postponed Monday and has not yet been rescheduled.