VALDESE — Recent Draughn High graduate Cierra Brown achieved a long-time goal of hers on Saturday as she signed a full athletic scholarship offer to compete in women's bowling at NCAA Division I Delaware State University.
Brown chose the Hornets over 43 total collegiate offers, including two other D-I schools (Youngstown State, North Carolina A&T), from programs spanning the nation and extending into Canada.
Delaware State was seeded No. 9 nationally at the United States Bowling Congress Intercollegiate Team Championship in May and produced its first-ever individual national champion at that event.
"I did want to go Division I," Brown said, "but my whole goal was finding a place where I fit in with the rest of the team, the coach, the environment, the pace, everything as far as the bowling team and university itself. And from what I have heard and what I know now having talked to the other bowlers on the team and having watched their videos online, it seemed fun and I thought I would fit in very well. The girls on the team are very nice.
"Since I was a young kid, elementary school age, I've been looking forward to going to college to bowl."
Brown is a two-time Tough Shots Tournament champion. That event is held multiple times a year in North and South Carolina and is a qualifying event for the Junior Gold Championship, the top youth bowling event in the nation.
At Junior Gold in 2018 in Cleveland, Brown won the national David Dahms Sportsmanship Award and accompanying $500 scholarship. Then at Junior Gold in 2019 in Detroit, Brown placed 19th out of 446 bowlers in her girls age division.
Brown would have been back at the event for the 2020 version in Las Vegas, but it was canceled amid the COVID-19 pandemic. However, she leaves Thursday for this year's event in Indianapolis. The tourney format includes four games each day for four straight days. From those scoring totals, the top 32 in each male and female age group advance to the match-play portion.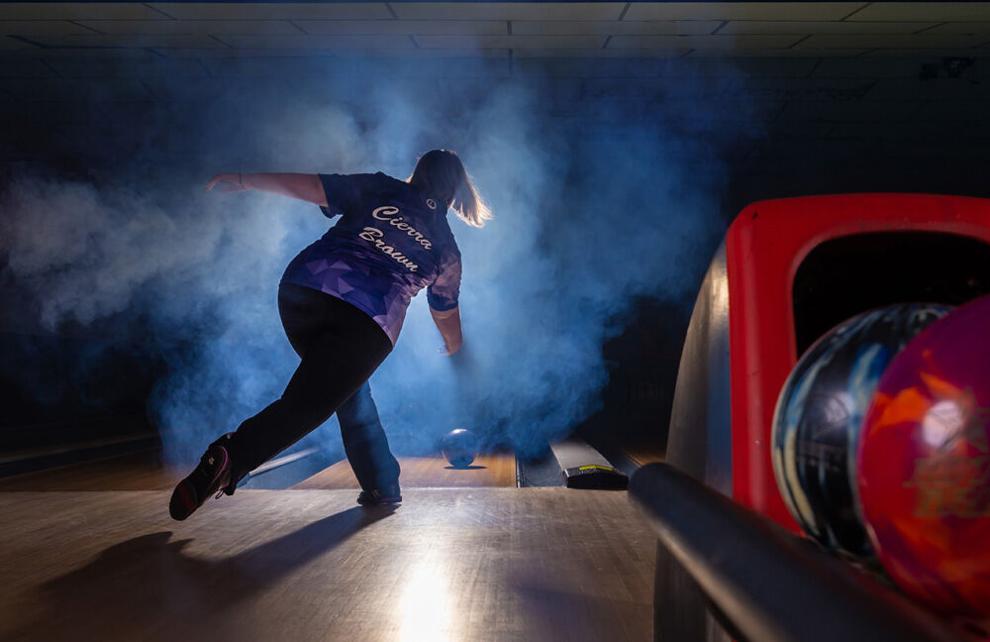 "(Cierra) announced to everybody at her signing that she hopes to do better than 19th this time, and I just hope she didn't jinx herself when she said that," said Brown's mother, Pam, who along with Brown's father, Shawn, ran the youth bowling league at Hickory's AMF Colonial Lanes until the facility closed permanently in late 2019.
When Colonial closed, Brown's home facility became PlaMor Lanes in Statesville, which is where she held her signing event Saturday. The PlaMor youth team of which Brown is a member finished first at the state level in the Division I category this year in an event hosted by Victory Lanes in Mooresville over three weekends in April and May, with Brown the only female on the team.
Brown started bowling competitively at age 10, and her mother said from her second year of youth league play, had the highest female average on the team, "and it's stayed that way since."
"She started out around a 110 average and finished this season with a 213 average," Pam added. "I knew the first time I saw her throw a ball, she had the natural form, it was just smooth. We were all shocked. From there, she just blossomed."
Brown rolled a perfect 300 in February 2020 at a local USBC-sanctioned travel league match.
"Her highest series was an 803," Pam added, "and she did that in front of coaches that came to recruit her. Most kids would be under pressure, but she flourished."
Aside from having the necessary physical skills and a quality scoring average, the key to getting noticed by colleges, Pam said, was putting out a video.
"We did a recruiting video for (Cierra) near the beginning of her junior year, because if you want colleges to know who you are, you really need a video," Pam said. "Especially in areas like we're in because we don't have a lot of collegiate bowling in North Carolina. We had immediate response."
Pam says she wished Cierra could stay closer to home to bowl in college but noted she will have at least one event per season in Greensboro as A&T's recent move out of the MEAC alongside Delaware State included every sport except for bowling.
Brown is a third-generation bowler whose older sister, Brittany, signed in the sport with Belmont Abbey College in 2019. She is planning a business management major at DSU after graduating with a 4.4 GPA at Draughn and has already earned the Presidential Scholarship for her full ride at college, around $130,000 in scholarships, Pam said.
Brown said she wanted to thank "definitely my family, mom, dad and sister, my friends and PlaMor Lanes for allowing me to practice there and have my signing there."