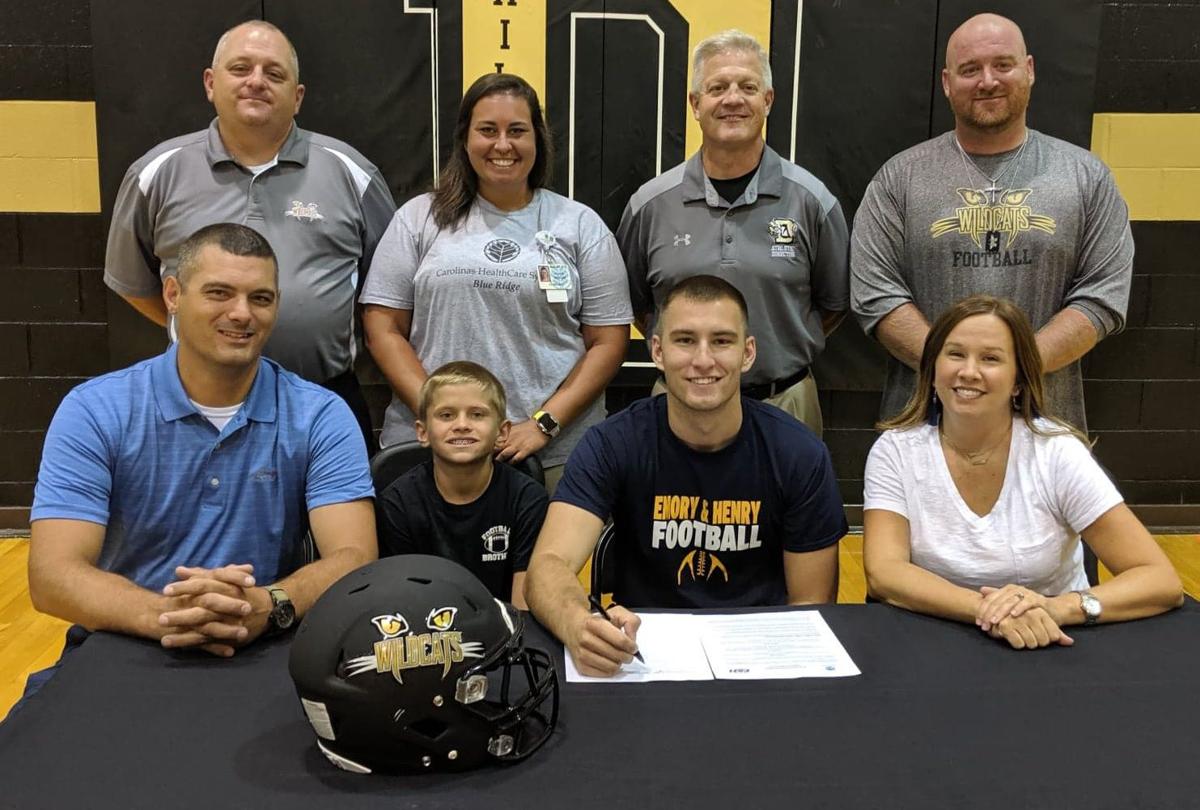 VALDESE — Better late than never, recent Draughn graduate Tyler McKinney is headed to play college football.
The former Wildcats standout running back and strong safety signed on Monday evening to join the Emory and Henry College program, and he was set to depart almost immediately to join the Wasps on campus in Emory, Virginia.
"For me, it's just something I've always wanted to do since I was 8 years old," McKinney said. "It's always been a big dream of mine to keep playing on the collegiate level. This is just, honestly, a very big stepping stone for me and my future plans."
McKinney led Draughn and was fourth in the county as a senior last fall with 521 rushing yards on 132 attempts. His nine rushing touchdowns were tied for third best in the county. McKinney also was eighth in the county with 251 receiving yards on 21 receptions.
The effort landed him on both the All-Burke County first team and All-Northwestern Foothills 2A Athletic Conference lists.
"I think most importantly, (McKinney brought) his character," said DHS coach Chris Powell. "Tyler's a hard-working kid, and worked hard from the day I got here. His versatility on the field — Tyler's a heck of a running back. He can run the football, and he was pivotal for us in the passing game.
"On the field, he just brings so much diversity. His leadership, his character and his work ethic, all of those things are going to make him successful at the next level. We've talked about it for a while — the next level's different. But if he puts in the work, I think he's going to be able to do it and handle it moving forward."
With the Wasps, who went 4-5 (3-4 Old Dominion Athletic Conf.) last year at the NCAA Division III level, McKinney expects positional shifts to nickel safety on defense and slot receiver on offense. McKinney's goals are to start, either by late in his freshman year or by the beginning of his sophomore season, and be one of the leaders in the weight room.
He intends to major in business administration at the school, which he said reminds him a lot of home.
"I've been recruited over my senior year, and I got to go on a couple visits," McKinney said. "Emory just really stood out to me. All the guys there were a lot like the guys I grew up with. The school itself had a really great atmosphere about it. Everybody knew everybody. It's like how it was here at Draughn, and that's what I want to continue with."
Powell also sees McKinney as capable of making the transition to his new spots on the field, and believes he will be a good fit for the Wasps' program, led by head coach Curt Newsome.
"I think he's going to fit in well. If they use him as a slot receiver, Tyler's got phenomenal hands," Powell said. "He's got great speed. At times last year, teams tried to man up with him when we were in empty, and they couldn't do it."
During his time at Draughn, McKinney most enjoyed playing with teammates with whom he grew up, describing them as his brothers and noting he wouldn't have wanted to go to any other school. McKinney also etched his name into the Wildcats' record book with a five-touchdown performance in front of the home crowd against Cherryville last fall.
"Being able to set that five-touchdown record was something I didn't know that I did (at the time)," McKinney said. "I didn't know until after the game was over with. When I found out, it was such an amazing thing because I knew that I could leave something behind as I graduated."
Be the first to know
Get local news delivered to your inbox!