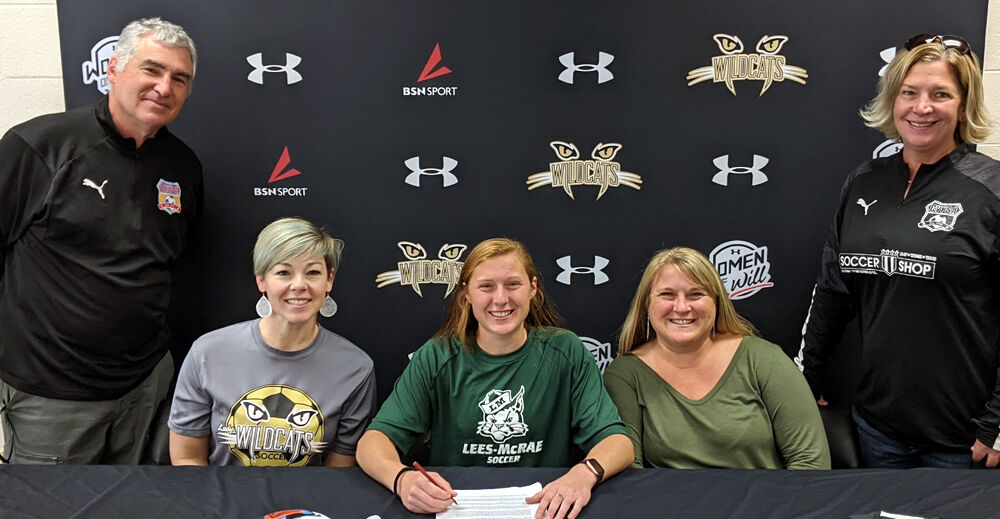 VALDESE — In her first three seasons, Haley Lowman led the Draughn varsity girls soccer team in goals each spring with six as a freshman, 16 as a sophomore and three in three games before the COVID-19 pandemic ended her junior campaign prematurely.
Ahead of the start of her senior season with the Lady Wildcats, Lowman parlayed that success into a college roster spot with the Lees-McRae College women's soccer squad, signing Wednesday.
"This has definitely been one of my dreams and something I've worked for almost every day," Lowman said. "It's something where I wake up and want to continue improving. I'm not sure on my position yet, but I'm very excited. I fell in love with the coaching staff and the college right off the bat. It's so beautiful up there.
"Some of the commits decided to do a trip up there, so I already got to meet some of them. We're already getting through that hard stage and we're going to get up there and start working at it."
DHS girls soccer coach Jamie Ward thinks Banner Elk will be good place for Lowman to be.
"From what I can tell, it's going to be a great fit for her," Ward said. "Her and the coach have already made a strong connection both personally and on and off the field. I think her ability, and being surrounded by other collegiate athletes, she will be able to shine even more than she was here at Draughn."
Lowman was named All-Northwestern Foothills 2A Conference following both her freshman and sophomore seasons. She also was named to the 2A All-Region 9 team as a sophomore and played in the Powerade State Games that summer.
"My favorite memories are definitely ever single practice and every single game," Lowman said of her DHS tenure so far, noting that while her junior season was cut short, she used the extra time off to improve even more ahead of her senior year.
"I have to take advantage of those."
Beyond her statistical success, Lowman's coaches couldn't say enough about her intangibles, noting how much she has proved herself on the practice field and in the locker room.
"Haley's leadership on the field is something special," Ward said. "She just has a knack for the ball. She knows where the ball's going to go. And she leads by example. She's the first one to practice and the last one off the field. If you say, 'Do you want to come practice on the weekend?' she shows up. She's a true leader on and off the field. She's what every coach wants in a player."
"She's a competitor and she's always out there fighting," added travel coach Sue Schellenberger. "She's a true team player and always there to support her teammates. The girls just feed off her energy. She leads by example."
Lowman additionally has proven herself to be a solid all-round athlete, also serving as a key cog on the Lady Wildcats basketball and tennis teams over the past couple years.
"She stepped up for the basketball team last year," Ward said. "She stepped on as a player having not really played for the school before and said, 'I want to play,' and she did awesome. That goes back not only to her athleticism, but her coachability. She's a team player, and she's very unselfish.
"On the court, you have to tell her to take a shot. You have to tell her to take a shot on the field. She would rather let somebody else get the glory rather than her."
Be the first to know
Get local news delivered to your inbox!