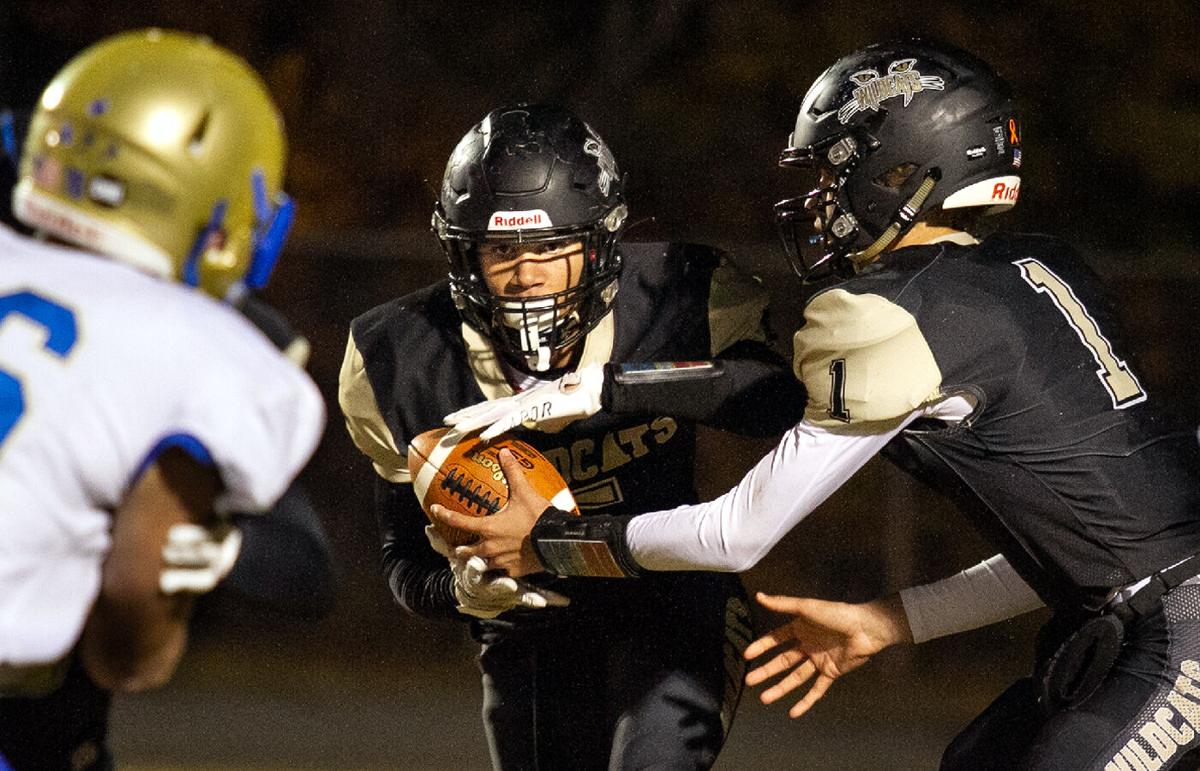 VALDESE — It was all about Nigel Dula. And of course, his offensive line.
Dula established a new Burke County record with 478 rushing yards and added six touchdowns on the ground as the No. 16 seed Draughn football team dismantled No. 17 Elkin on Friday, 56-9, in the opening round of the NCHSAA 1A state playoffs.
It was the Wildcats' second postseason victory all-time and came 10 years and one day after their first one.
In addition to the county single-game yardage mark (previously held by Freedom's B.J. Emmons; 431, 2014), which ranks No. 6 all-time according to the NCHSAA record book and blew away the previous DHS mark by 223 yards, Dula's rushing effort etched his name into several new program records.
The sophomore running back now owns the school single-season rushing TDs mark (19) and added to his own school single-season rushing yardage record, now up to 1,786. He added to his own school career rushing yardage mark (now up to 2,613, nearly 700 yards clear of second place) and drew within two TDs of Keith Loomis' career record (28).
Dula's six TDs were also a Draughn record and tied the all-time county mark, set multiple by Emmons and duplicated by Patton's Joe Eakin in 2016.
"The offensive line got aggressive," Dula said. "They set the tone early and they allowed me to do what I did."
Dula was over 100 yards, including a 24-yard scoring run, by the end of the first period, but Draughn trailed 7-6. In the second period, the Wildcats (6-5) simply took over, with Dula TD runs of 1, 5 then 99 yards plus an Eli Tillery 29-yard TD pass to Connor Pinkerton to lead 35-7. (Tillery completed four passes for 56 yards, all to Pinkerton.)
Dula's nearly length-of-the-field score with a minute left in the half came on a toss left as he burst through a tackle attempt early, found a seam and took off up the home sideline.
"I was kind of thinking in my head, it'd be crazy if I took it all the way," Dula said. "Then I did. I busted it outside and just went."
Will Price's 87-yard kickoff return opened the second half and made it 41-7.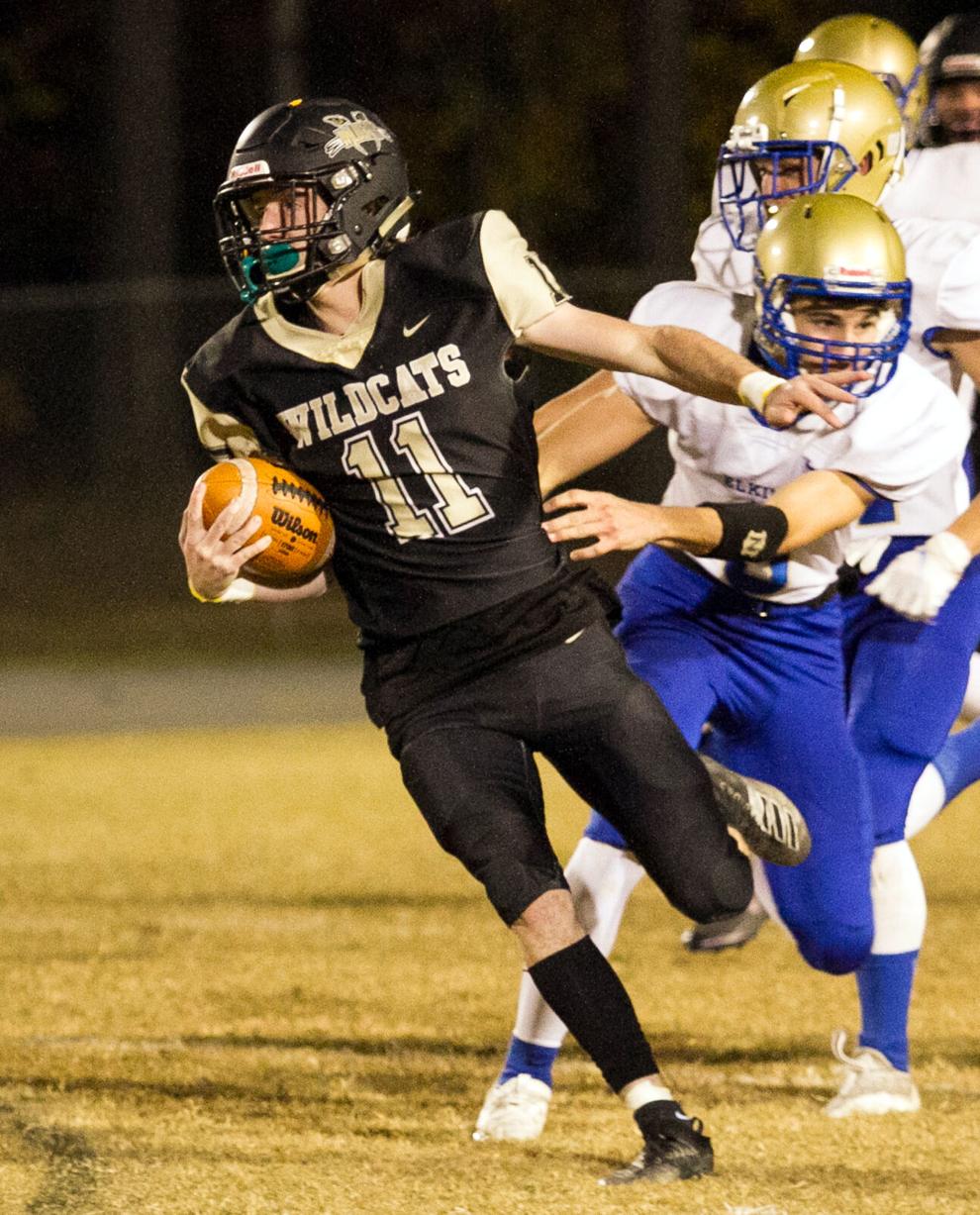 Dula's first carry after halftime covered 44 yards — he finished with five carries for 44 or more yards apiece — and he ended that drive with a 9-yard TD run. On the next possession, he broke the county yardage record with a 9-yard run before tying the county TDs mark with a 44-yarder to the house on his final touch of the evening.
For good measure, Dula also added both Wildcats' two-point conversions, one rushing and one via a pass from Tillery.
Draughn coach Chris Powell also credited the blocking work of his offensive linemen — right tackle Bryan Sanchez, right guard Tristan Hines, center Luke Rector, left guard Josh Elkins and left tackle Nathan Clark, plus tight end Jacob Mull — in Dula's career day.
"We are very tickled to death with our guys up front," Powell said. "All week long we had talked about running our double teams, making some different changes in our blocking schemes. And they did a phenomenal job of coming off the ball, creating some holes and Nigel just found the holes. He is a phenomenal athlete, and I'm blessed to able to coach the young man. There's not much coaching when you've got the athletic ability that he does.
"We started seeing them overcompensating to our strength side, so we went and attacked the weak side a little bit tonight, something we hadn't really been able to do in weeks past."
The Draughn defense more than held up its end of the bargain as well. The only points it surrendered came when Elkin (3-7) was given a 3-yard field to work with after a long interception return. (Elkin also scored on a fourth-quarter safety on a snap over the Draughn punter's head.)
The defensive charge was led by Pinkerton (two interceptions, two tackle for loss), Trevor Houston (interception, two pass breakups) and Eric Gilleon (fumble recovery), with Daylin Pritchard (QB pressure) and Luke Rector both in on 1½ tackle for loss. Thomas Lambert, Will Seagle and Donnell Wilkins also had stops in the backfield, and Wilkins broke the school record for single-season tackles in the contest.
"We filled all our gaps (on defense)," Pinkerton said, "did what we were supposed to, dropped back in our zone, and it was just easy pickings."
Things don't figure to be anywhere close to easy this week, with Draughn traveling to No. 1 seed Eastern Randolph (9-0) for round two.
Dula cited the biblical story of David and Goliath when referring to the game.
"I know they're a tough team. They're No. 1 obviously," he said.
"Play how we can play," said Pinkerton, finishing the thought and referring to the team's approach as it eyes the upset.
Powell also kept the outlook simple.
"We were saying all week, it's a new season," he said. "We're 0-0. Now our goal every week is to try to be 1-0."