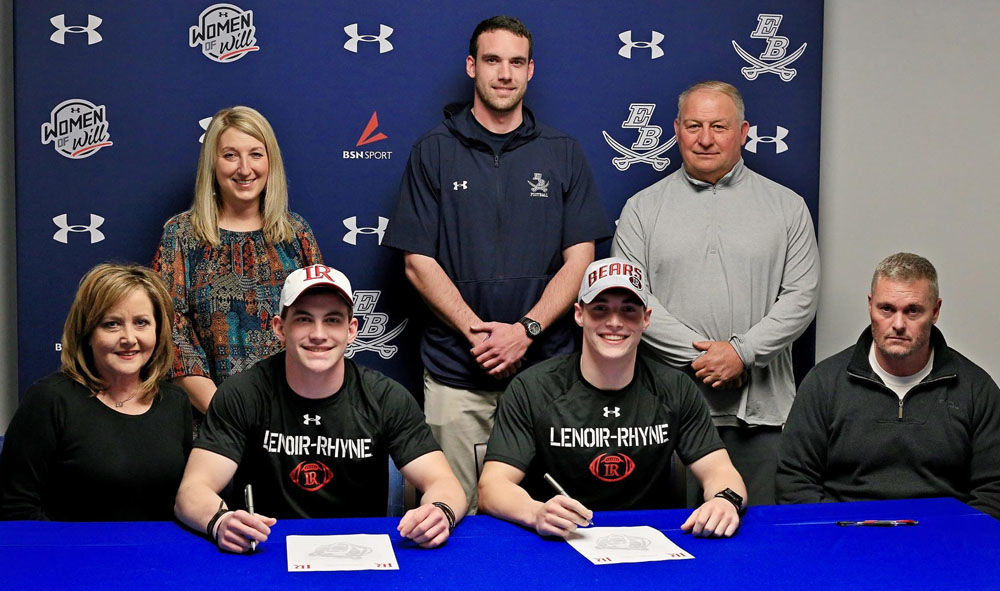 ICARD — East Burke seniors Brett and Chase Childers will be remembered as examples to live by for future Cavalier athletes.
The duo now gets to continue the opportunity to grow in their football careers at Lenoir-Rhyne University after both signing letters of intent on Wednesday as preferred walk-ons for the Bears.
Before deciding to stay together at L-R, Chase also received a walk-on offer from FCS program Furman while Brett received an offer from Catawba College, the alma mater of their father, Jim Childers, who's also EB's athletic director and serves as an assistant coach in football.
"The main thing is just being where God wanted us to be," said Chase. "It's close to home, and they've got high expectations set the last couple years by (former) Coach (Drew) Cronic."
Both players are 5-foot-9 and around 160-170 pounds, not physical giants on the field though their play dictated otherwise.
In their senior seasons this past fall, Brett started the first three games at quarterback due to injury before moving back to running back, and Chase returned from what was expected to be a season-ending injury over the summer to play in the last two games of his career against Foard and Draughn.
Chase played on the Cavs varsity team for three seasons, totaling 54 tackles (3.4 per game), five interceptions, five pass breakups and two fumble recoveries on defense. On offense, he rushed for 137 yards on 36 carries and a touchdown as a sophomore while totaling 117 career receiving yards on 11 receptions with one TD.
Brett also played three varsity seasons for EB, recording 492 career rushing yards on 100 carries, 306 receiving yards on 26 receptions and 238 passing yards, accounting for seven Cavalier TDs. As a junior, he ranked third in the county with 71 tackles. He finished with 133 career tackles.
Chase was named preseason all-conference as a senior after an all-county junior year, while Brett was a two-time all-county (including first time in 2018) and all-conference player.
The biggest defensive highlight for the twin brothers came in the opener of their junior season at West Caldwell, when Brett scored on a 41-yard interception return with Chase adding a touchdown on a 44-yard interception return. Chase returned another pick inside the opponents' 5-yard line in the EB shutout win, and Brett added an offensive score.
"A lot of prayer and discussion (went into this decision)," said Brett. "With the (new) staff coming in and the foundation set from years before, I think it really set our decision for the next four years.
Chase is currently undecided in his field of study at L-R, while Brett will major in secondary education with the goal of being a history teacher after graduation.
Be the first to know
Get local news delivered to your inbox!