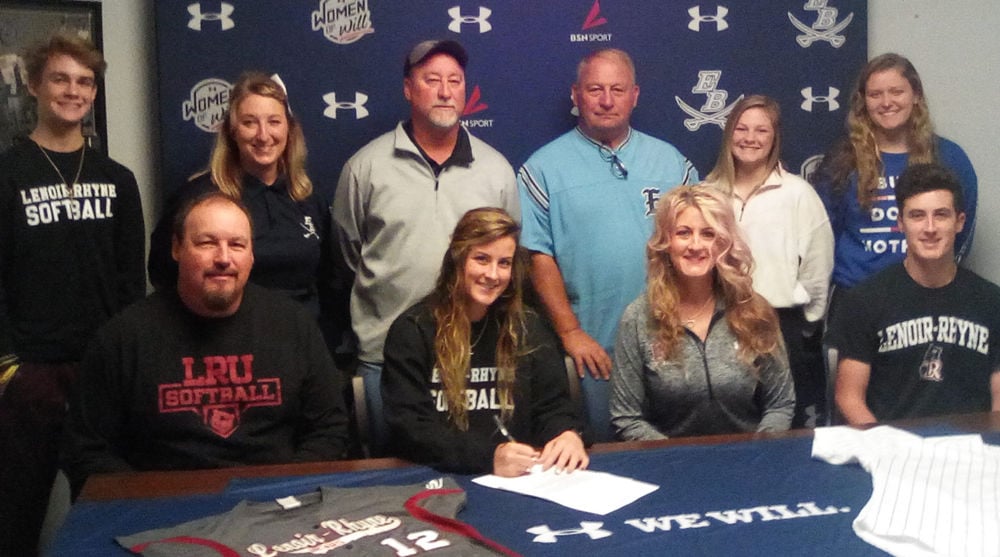 ICARD — One of the top East Burke High School three-sport seniors, Graleigh Hildebran made her collegiate decision official on Wednesday by signing with nearby Lenoir-Rhyne University to continue her softball career.
"I just felt it in my heart (it was the right decision) to go to L-R, and I just prayed about it as well," said Hildebran.
This past spring, Hildebran was second in batting average (.372) for the Lady Cavaliers as she finished with 16 hits (including three doubles and five home runs), 12 runs scored, eight RBIs and seven walks while starting at catcher.
She was also selected to the All-Burke County first team and All-Northwestern Foothills 2A Conference team as a junior.
Hildebran, already a three-year EB starter behind the plate, is currently tied for the 2A school record in career walks (28) and just needs two home runs to tie Reece Davis for the career record (12).
"She was a solid worker for four years and a dedicated player," said EB softball coach Mark Buffamoyer. "She deserves (this opportunity) and has been a great asset for East Burke softball."
Hildebran has also excelled in volleyball and basketball for the Lady Cavs. She was named All-NWFAC in both sports and all-county honorable mention in hoops as a junior after tallying 364 assists, 201 digs, 140 kills and 36 aces last fall and 6.0 points, 4.1 rebounds and a team-high 1.6 blocks over the winter on the hardwood as both teams reached the state playoffs. (This year's All-NWFAC volleyball team will be announced next week.)
After also having earned the co-maid of honor title at the Cavs' homecoming game and with volleyball season now complete for the fall, Hildebran is still hoping for much success in her last few months as a Lady Cavalier student-athlete.
"I just hope we have a good year and win in basketball and softball and (I) just (want to) enjoy this with my friends before it's gone," said Hildebran.
Hildebran plans to major in biology at L-R.
The Bears finished 26-19 overall, 9-10 in the NCAA Division II South Atlantic Conference in 2019, following SAC titles each year from 2016-18.
Jason Baker can be reached at sports@morganton.com.