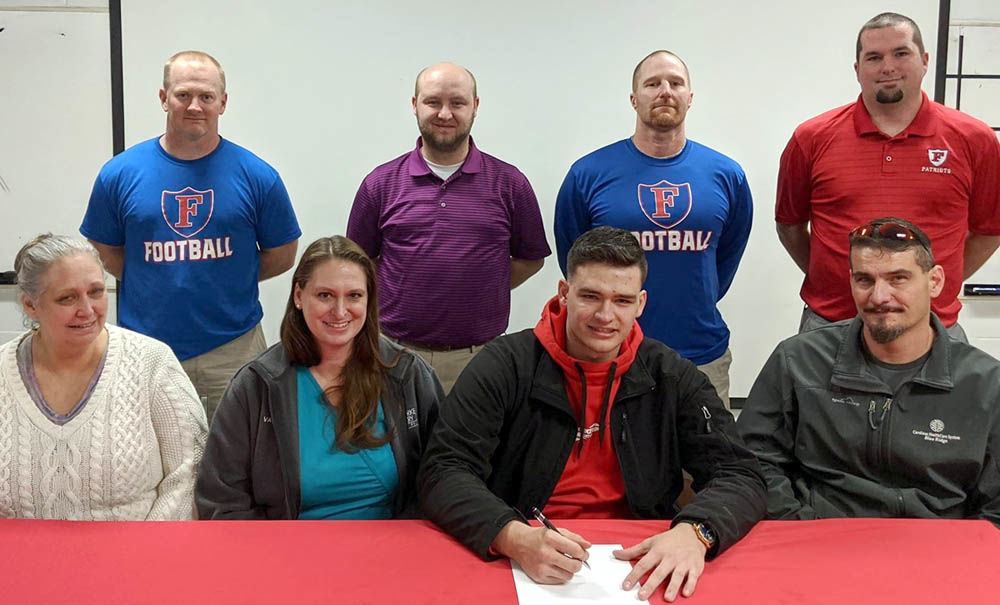 After helping pave the way for some highly prolific football offenses at Freedom High, Austin Lowery hopes to do the same at Wingate University.
The Patriots' offensive tackle made it official with the Bulldogs on Wednesday, signing to join the NCAA Division II program starting this fall.
"Just from the visit and the people there, (Wingate) captured my attention and I couldn't let go of it. That place is unlike any other place I've been to," Lowery said. "I connected with the coaches automatically and the people there. The campus is nice and smaller, which I like the smaller classroom sizes. It's easy to build relationships."
Lowery was named All-Northwestern 3A/4A Conference following his senior season. Playing both left and right tackle, he was part of an FHS offense that led the county in points (42.3), total yards (412.9) and rushing yards (195.9) per game. On the defensive side of the trenches, he added 17 tackles.
He also was named All-NWC as a junior and earned All-Burke County honorable mention as both a junior and sophomore.
"He was probably our best leader altogether on the O-line," said former FHS head football coach Luke Little, who guided Lowery through his final two seasons wearing red and blue. "He was just consistent there every day. He graded out the highest we had every week. He's a smart kid.
"We put up a lot of points the last two years, and he's been right there at right or left tackle both years. He probably would have been one of our best defensive linemen if we had been able to play him there more. Depth-wise, we just couldn't afford to get him hurt."
"It's been, overall, just an amazing experience to be able to play with all the players I've played with," Lowery added. "To be able to compete against those same guys through practices, and to play with them — it's more than just a team, it's a family. I'll always have that."
The Bulldogs finished 10-2 overall last fall, including a 7-1 mark in South Atlantic Conference play. Wingate's only SAC loss came to eventual undefeated league champion Lenoir-Rhyne, and the Bulldogs earned a first-round home playoff game.
Little said he sees Lowery as a good piece for the Bulldogs, especially once he gets into their program and bulks up a little bit.
"I think Wingate's a great fit for him," Little said. "If he'd been a little taller and a little heavier, he may have gotten a Western Carolina or NCAA Division I (FCS) offer. But Wingate's got a good program. They're usually in the top 10 or 15 every year. I think he might turn into a 6-2, 255-pound kid.
"The funny thing is they usually gain weight as soon as they graduate. I think he's gained about 15 pounds since the end of the season. ... He'll get there and get in their weight program with some good meals. And just getting older, he'll get bigger."
"My goals for playing in college are to make it the best and go 110 percent all of the time," Lowery added. "Then, I'll be wherever I need to be."
Lowery, who plans to major in criminal justice, said his favorite parts of playing football at Freedom were all the challenges he and his teammates met together on the gridiron.
"Going through Freedom my whole career, there's been adversity," Lowery said. "Being able to overcome that with all the players is just unbelievable."
Be the first to know
Get local news delivered to your inbox!