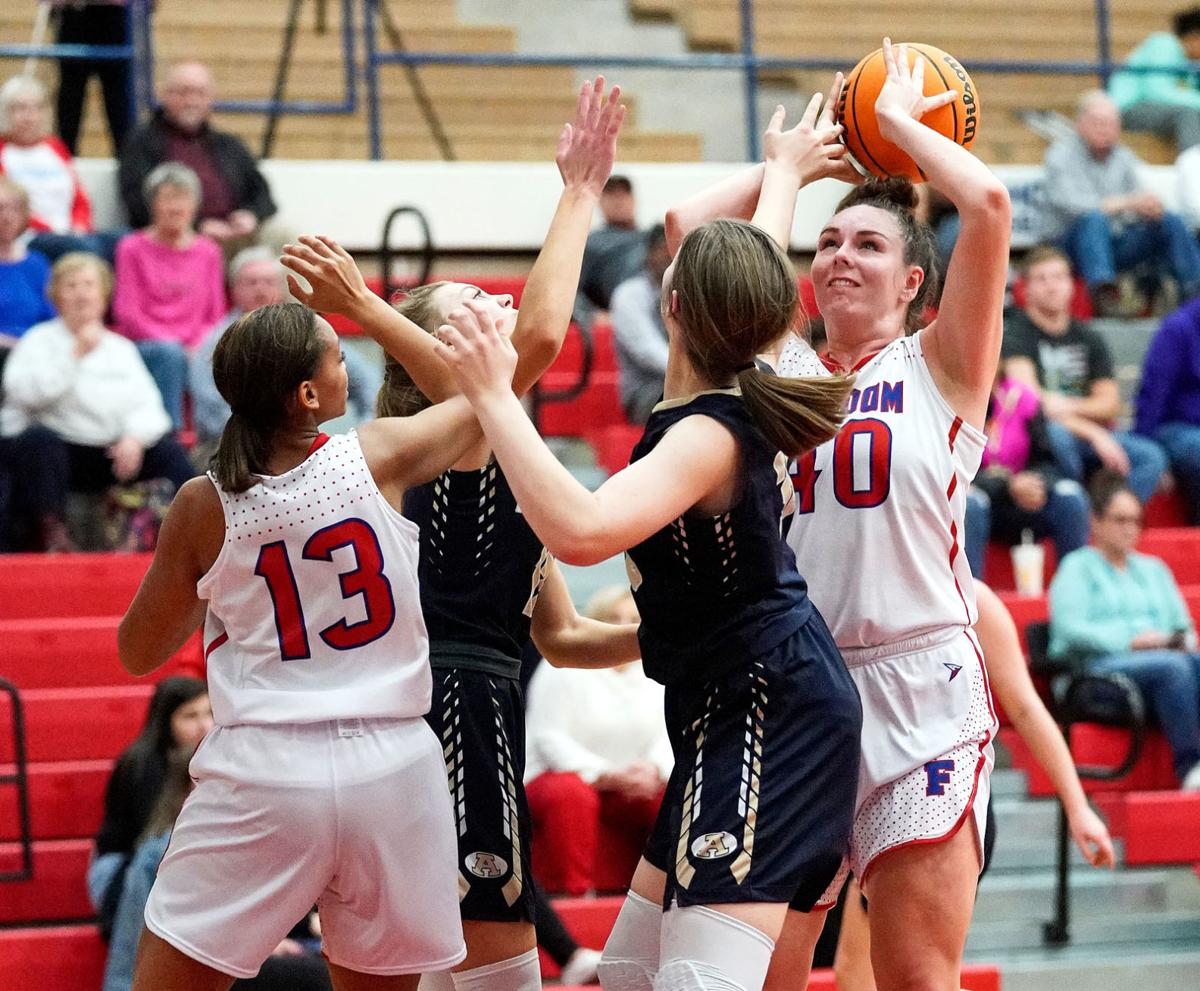 Like so many of the 349 before it, Amber Reddick's 350th win came in a runaway.
The Freedom girls basketball team's 16th-year head coach reached yet another milestone with a 65-44 blowout of Northwestern 3A/4A Conference opponent Alexander Central on Tuesday at Crump-Rogers Gym, which bears the name of her mentor — FHS' Marsha Crump — who picked up 509 total victories on the prep hardwood across 27 seasons.
"It's always special reaching those milestones, but it just makes me think of all the special kids who were a part of it," Reddick said. "Coming into a program that already had an established tradition, it's an honor for me to do anything I can to continue that."
Also like so many of the first 349 victories, the Reddick era hallmarks of aggressive, calculating defense and a sharpshooting offense paved the way.
Leading just 16-14 after a quarter, the Lady Patriots, still undefeated on the season at 15-0 (4-0 NWC), turned up the heat on defense in the second frame, turning half-a-dozen steals into baskets on the other end while draining a trio of 3-pointers to take a commanding 45-20 margin into halftime.
"We're just trying to find that balance of being really solid defensively," Reddick added. "I feel like we're selling them on when we're solid, we're going to get turnovers versus too much gambling. I think early in the second quarter, we kind of got it together on that. When we're playing good defense, I feel like our offense really comes."
Seniors Blaikley Crooks (22) and Josie Hise (18) combined for 40 of the team's points, and Crooks accounted for 12 in the second quarter alone (18 in the half) as Hise reached 13 by the intermission.
Crooks finished with a game-high five steals to help the Lady Pats turned the tide of the game.
"That's all we've been talking about this week at practice, guarding your yard and staying in front of your man," Crooks said. "Knowing you'll have help from your teammates, but also not needing that help. I think everybody just bought into that tonight, knowing that we don't have as many people to play with and we have to stay solid on defense and not reach in and foul."
Hise (three steals) was on the receiving end of some teammates' pickpocketing and also created a few of her own turnovers. She said that, in turn, really upped her team's poise shooting the ball.
"It gives us a lot of confidence," she said. "We didn't do that good at the start, but we came out and started playing better defense and communicating. Also, we were just driving the ball and kicking it out, and that led to some 3s and gave us some motivation to work harder."
Freedom's scoring was rounded out by Jayda Glass (seven, three steals), Adair Garrison (10 rebounds) and Christena Rhone with six points apiece, plus Stevee McGee (four) and Danisha Hemphill (two).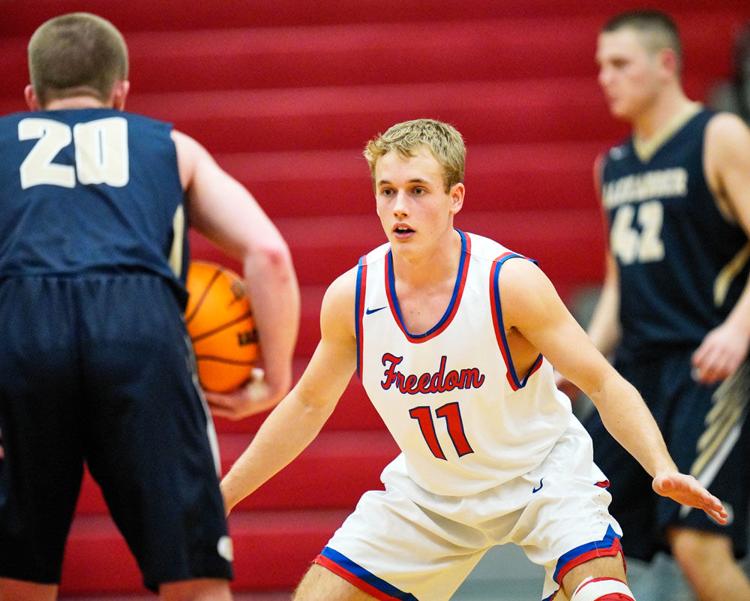 Freedom 72, Alexander Central 58
Playing a second straight game minus senior point guard James Freeman (suspension), the Patriots (14-1, 3-1 NWC) again needed to find a way to replace some of his production.
After struggling with that in an upset home loss to NWC foe South Caldwell last Friday, a trio of Freeman's classmates — Qualique Garner (21 points), Bradley Davis (18) and Jayden Birchfield (10) — all hit double figures to fill in the void nicely in a bounceback win.
Garner came out on fire, hitting back-to-back 3s on assists from Quentin Rice to start the night's scoring and assure the Patriots would never trail. He added a steal-and-score and another trey later in the frame as FHS led by six, 21-15, after a quarter.
That advantage steadily grew to nine by the half as Birchfield scored three second-quarter baskets, to 16 after three quarters on eight more points from Garner and six from Davis, and ultimately to 20 on Ben Tolbert's second 3 midway through the fourth frame before the Cougars shaved off a bit of the lead toward the end.
The hosts hit nine 3s in all — Davis (two), Rice and Kason Ledford (five points) also joined the party — as they edged back up into outright first place in the NWC, half a game ahead of Watauga (which lost to Hickory on Tuesday) and McDowell (which beat the Spartans) and a full game ahead of South, Alexander and the Red Tornadoes.
Rice added eight points and six assists, and Nick Johnson battled through foul trouble to supply four points and two steals.
Be the first to know
Get local news delivered to your inbox!