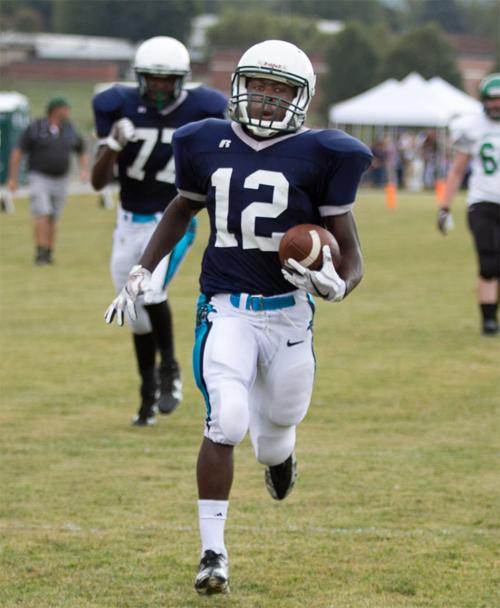 WILSON — The North Carolina Schools for the Deaf eight-man football team ended the regular season on a two-game win streak after defeating Georgia School for the Deaf, 64-52, on Nov. 3.
The regular-season finale doubled as homecoming day for Eastern North Carolina School for the Deaf, who has teamed with NCSD to field a team for each of the last seven seasons.
The NCSsD team was led by the rushing of quarterback Jeremiah Deans and running back Alfonza Robinson. Deans ran 18 times for 219 yards and four touchdowns, and Robinson added 13 carries for 121 yards and two TDs.
Deans also completed 8 of 11 passes for 193 yards and three TDs, all to Robinson, who finished with five catches for 138 yards.
Deans passed to Richard Hernandez on a pair of two-point conversions, passed to Robinson for another and ran one in himself. Robinson, Malik Brayboy, Morgan Evans and Saw Ka Taw Law led the NCSsD defense.
NCSsD (2-2) had three games rained out this season. 
Freedom's Sandy, Ramirez named All-NWC in soccer
The Northwestern 3A/4A Conference recently announced its all-conference boys soccer team, and Freedom was represented by junior midfielder Patrick Sandy and senior goalkeeper Neftali Ramirez.
According to statistics on MaxPreps, Sandy led the Patriots with eight goals this season and shared team-high honors with four assists. Ramirez averaged 4.9 saves per game and allowed 2.8 goals on average. Freedom yielded one goal or fewer in seven games this season, including two shutouts.
The NWC individual awards went to Watauga's Jair Alvarez (player of year), West Caldwell's Fracesco Gonzales (offensive player of year), South Caldwell's Nicholas Pilato (defensive player of year) and Hickory's Brian Jillings (coach of year).