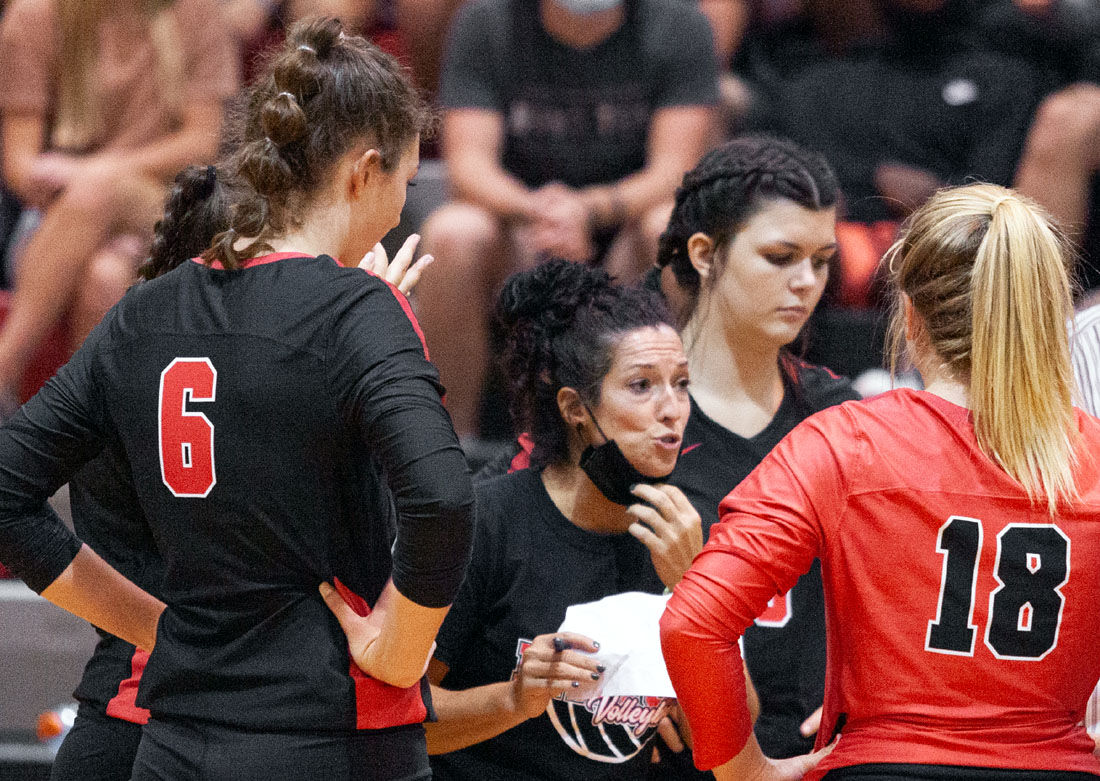 A 2-0 advantage eroded into a five-set loss for the Patton volleyball team in Mountain Foothills 7 2A Conference action at home versus Brevard late Tuesday, 25-19, 25-20, 13-25, 19-25, 6-15.
It was Patton's first loss of the season and its first three set defeats of the fall after the Lady Panthers claimed their first nine matches, including two in conference play, in straight sets. It also left a Patton loss in the NCHSAA 2A West Regional semifinals from 2019 in Brevard unavenged.
Once the pendulum swung in Brevard's favor, with the Blue Devils moving about the floor and communicating more effectively than they did early on, it stayed on the visitors' side for good. The Panthers made a push in the fourth frame, but it fell shy in between two disastrous sets.
"I think (the change) was on both sides," said PHS coach Cindy Powell. "I think (Brevard's) momentum changed a little bit third game. They definitely came back with a lot more powerful serves. And on the flipside, I think we kind of fell apart in the third game with serve-receive."
A change at the libero position by Brevard (5-1, 3-0 MF7 2A) also seemed to coincide with the momentum shift.
Patton (9-1, 2-1 MF7 2A) rallied from early deficits of 4-0 and 6-2 to win the first set, which was dominated by senior Kenady Roper along with big plays from Danielle Wojcik, Izora Gragg, Kinley Attaway and Hayley Caraway, as well. The second set was similar, with PHS eliminating a slim early hole on the strength of points from Christina Skelly, Wojcik, Roper and Lainey Poteet and surviving a late push by the Lady Blue Devils to get the 2-0 lead.
The Lady Panthers resume league action with a trip to Chase this evening.
EB 3, Lincolnton 0
The Lady Cavaliers (2-10, 2-3 Catawba Valley 2A Conf.) won on senior night Tuesday in Icard, 25-17, 25-16, 27-25, claiming a second victory in their last three matches.
East Burke was led by Caroline Pruitt (12 assists, five digs), Aubree Grigg (10 blocks, six kills), Trysten Hare (seven kills, four blocks), Claire Cook (nine assists, five digs) and Gabby Wingate (six kills).
The JV Lady Cavs also won Tuesday, 25-21, 25-22, as Bree Winkler posted 10 digs, Allison Teague eight assists and Kamiah Lawing six kills.
EB looks to stay hot as it visits West Lincoln today.
Hendersonville 8, Patton 1
The Lady Panthers (2-1 MF7 2A) fell at Hendersonville on Tuesday in their first of five straight league road matches in the middle portion of the season. PHS' lone win came via the No. 3 doubles squad of Faith Webb/Riley Berry (10-4).
Patton next plays at R-S Central today.
Hibriten 9, Freedom 0
The Lady Patriots (0-3 NWC 3A/4A) dropped all four contested matches on the court Tuesday in a makeup home match from a Sept. 1 rainout. The closest results came via Emily Kania at No. 1 singles (4-6, 7-5, 6-10) and Kania/Leah Kirksey at No. 1 doubles (4-8).
Freedom hosted Watauga late Wednesday and next visits Alexander Central on Monday.
Freedom at Cedar Rock
Kaylen Best carded a 57 and Hana Piercy a 63 as Freedom's lone golfers in Tuesday's nine-hole NWC 3A/4A match hosted by Hibriten. Hibriten (134) won the team portion, led by medalist Trinity White's 2-over par 39.
The next NWC match is today at Mimosa Hills Golf Club.