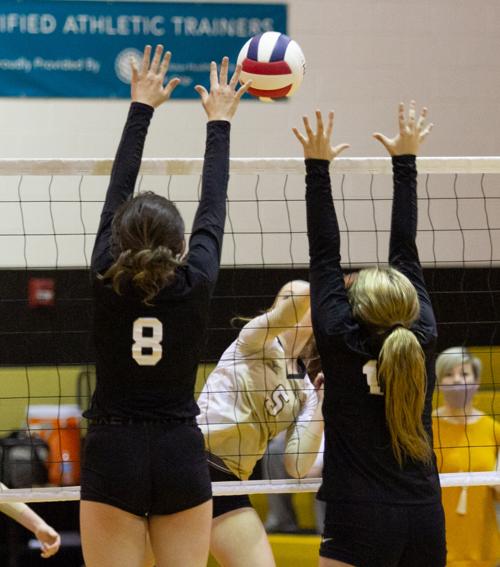 VALDESE — Going into Thursday night's in-county volleyball match, both the Lady Wildcats of Draughn (0-2) and Patton's Lady Panthers (1-1) were looking to rectify losses in their season openers two nights before and get back to even in crucial Northwestern Foothills 2A Conference play.
Visiting Patton was able to do just that, taking three straight sets and handing the Lady Wildcats their second straight loss to start the season, 25-18, 25-13, 25-17.
PHS' Kenady Roper set the tone early with a kill on the first point, starting the game off with a bang for the Lady Panthers.
Patton (1-1 NWFAC) continued to exhibit its power at the net throughout the set, but the Wildcats (0-2 NWFAC) led early at 3-2 and 4-3 and managed to keep the set close with their tough defense.
The second set proved to be a back-and-forth affair to start. Lady Wildcat libero Chloe Gary did her part to spoil Patton's great serves, giving Draughn's front line of Bailey Bryant, Sara Walker and Haygen Sigmon the opportunity to rack up points at the net. The Lady Panthers countered with tough defense on the other side by Izora Gragg and Danielle Wojcik, which eventually translated into points as the Lady Panthers found themselves ahead comfortably, 19-7. An Ella Gragg kill finished off the set.
The final set proved to be more of the same with Patton attacking the net and Draughn trying to dig its way out. In the end, the Lady Panther front line held a tough Draughn defense at bay. A block at the net by Gragg — the reigning conference player of the year — which the Lady Wildcats were not able to return decided the game.
Patton was led statistically by Ella Gragg (20 kills, 16 digs, four aces), Kenady Roper (18 digs, 14 kills, block) and Izora Gragg (27 assists, two kills, ace) as well as Katie Stoudemire (four digs), Kinley Attaway (three digs, three aces), Lainey Poteet (three kills, two digs), Danielle Wojcik (three kills, block), Christina Skelly (three digs) and Cameron Greene (two blocks). DHS individual statistics were not available.
The Lady Wildcats picked up a three-set win in the JV match to start the year at 2-0.
Draughn visits Bunker Hill on Monday while the Lady Panthers look to start a winning streak at home against another county foe, East Burke.
EB 3, W. Caldwell 1
The Lady Cavaliers bounced back in a big way from a first-set loss thanks to thanks to some key contributions at the service line in Friday's delayed season opener at home, winning 20-25, 25-12, 25-7, 25-11.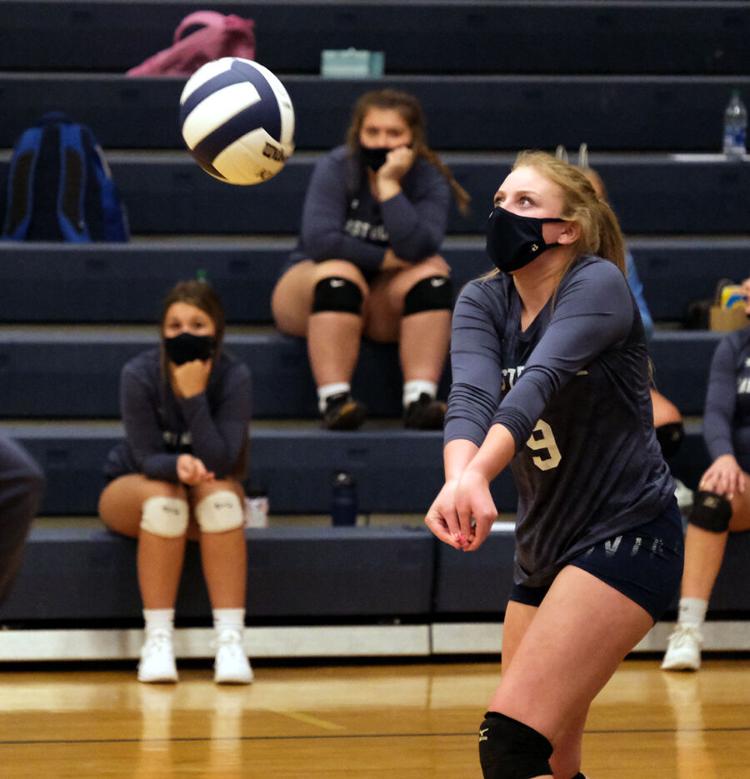 Kayleigh Icard (five) and Reese Abernathy (three) combined for eight of EB's nine service aces.
Serves by Icard and Abernathy, along with two Aubree Grigg blocks, helped EB build an 8-4 lead early in the second set, and the hosts would never fall behind again in any set to the Lady Warriors.
East Burke (1-0 NWFAC) was also led on the stat sheet by Sara Suddreth (14 assists), Grigg (seven kills) and Icard (10 digs). Erin Newton added seven assists, Suddreth and Abernathy supplied eight digs apiece and Abernathy, Gabby Wingate and Faith McDowell each posted four kills with Danielle Foxx adding three.
Mtn. Heritage 3, Freedom 2
The Lady Patriots (0-2, 0-1 Northwestern 3A/4A Conf.) were edged Wednesday at home in one of their two nonconference matches this season, 16-25, 17-25, 25-22, 28-26, 10-15.
Freedom was paced by double-doubles from Ava Thomas (12 kills, 10 digs, two blocks) and Savannah Mooney (15 assists, 12 digs). Danisha Hemphill added 12 digs, five kills and two blocks, Brooke Barker (31 digs) and Sarah Armentrout (13 digs) had two aces apiece and Gracie Buchanan chipped in with nine digs and six assists.
Freedom next hosts reigning league champion Watauga on Monday.
CROSS COUNTRY
Brittain, Kania pace Freedom
The Patriot boys and girls squads both placed second behind St. Stephens on Thursday in a dual meet held at Riverbend Park in Claremont.
Freedom was led by junior Dalton Brittain (boys, third place, 19:30.0) and senior Lee Kania (girls, fourth, 24:47.0). Sophomores Colby Anderson and Sara Byrd Succop finished one spot behind, in fourth and fifth respectively. The FHS girls were missing the top runner from their first meet, Katie Deacon.
Be the first to know
Get local news delivered to your inbox!