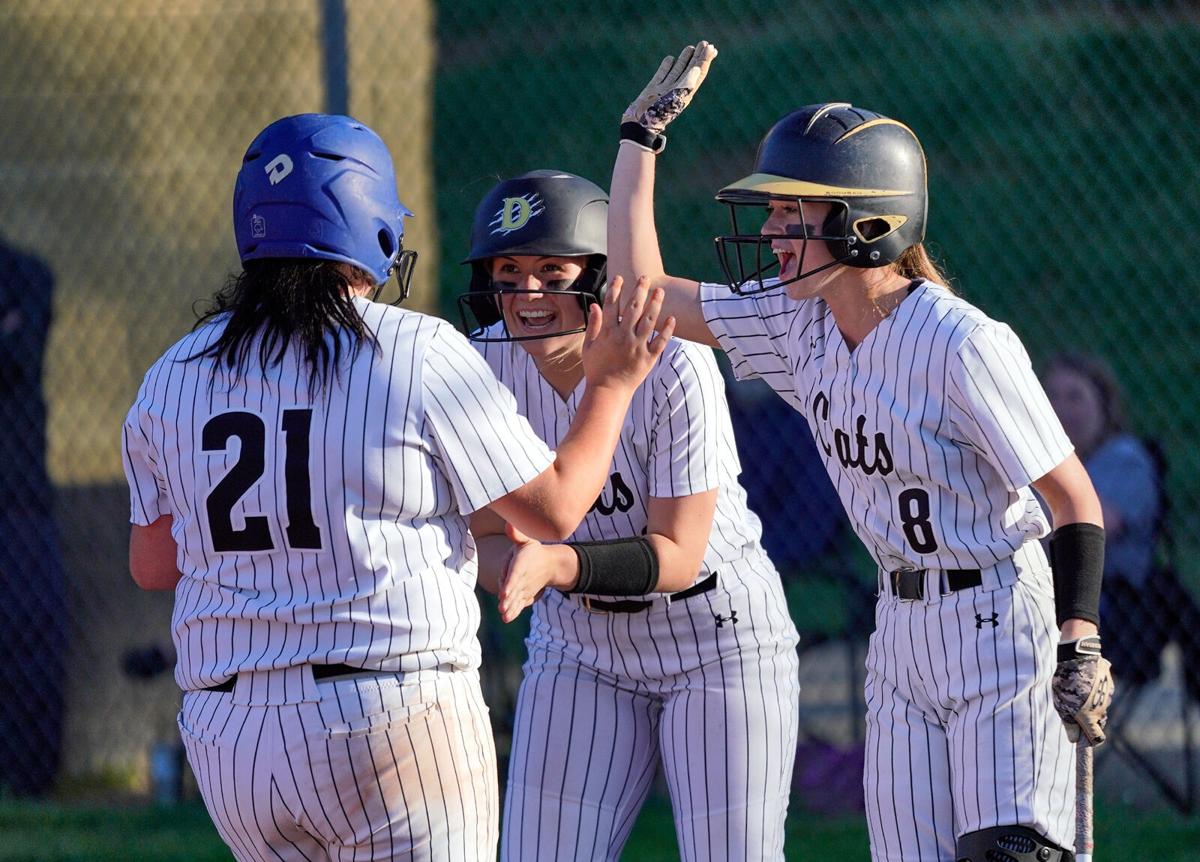 VALDESE — The host Draughn softball team overcame a slow start to defeat county rival Patton in a Senior Night slugfest on Thursday, 19-10, in the teams' last matchup as Northwestern Foothills 2A Conference rivals.
The Lady Wildcats (6-3 NWFAC) collected 21 hits to Patton's 10 including home runs by Katie Cozort, Dakota Melancon and the team's lone senior, Chloe Gary.
"(This win) has a lot to do with my team just being behind me all the time," said Gary. "It just encourages me to do better each game."
Patton (2-8 NWFAC) gained a 6-4 advantage through an inning and a half after a five-run second highlighted by a two-run double from Hailey Snodgrass.
That's when the Lady Wildcats took charge, going yard twice in the bottom of the inning as Cozort hit a two-run shot to plate Maddie Crouch followed by Melancon adding a two-run blast to plate Regan Winkler for a turnaround 8-6 lead.
Gary's three-run home run came in the fourth as part of Draughn's seven-run rally, and the hosts also scored three runs in the fifth and one in the sixth to complete the win.
Gary (two doubles, four runs, four RBI), Winkler (double, four runs, two RBIs) and Melancon (three RBIs) each collected four hits for the Lady Wildcats, with Crouch (two doubles, three runs, two RBIs) and Cozort (three runs, three RBIs) also being big producers at the plate.
Melancon started in the pitcher's circle for two innings, striking out two, before being relieved by Laney Winebarger, who whiffed six over the next five innings for the decision.
Patton was led by Bridget Patrick's four hits and two RBIs, and she also relieved starting pitcher Emily Shuping in the second inning.
W. Iredell 7, EB 3
The Lady Cavaliers (3-6 NWFAC) trailed by a run after three innings and by just two after four but couldn't muster any more offense late and fell at home Thursday
East Burke was led at the plate by Katherine Greene (2 for 4, RBI), Kaylee Paige (2 for 4, run), Madyson Johnson (1 for 2 run, RBI, walk) and Taylor Bostain (1 for 4, run). Kayleigh Icard (4 IP, 6 H, 5 R, 5 K) started and took the loss, and Kaylee Paige (3 IP, 5 H, 3 K) pitched in relief.
Alexander Central 22, Freedom 2 (5 inn.'s)
The Lady Patriots (0-9, 0-8 Northwestern 3A/4A Conf.) lost via run rule Thursday at home, yielding at least three runs in each frame. Alexander had 15 hits, and Freedom committed eight errors.
FHS' Mikhayla Lingafelt and Destiny White (2 K) both pitched two-plus innings. Lingafelt had a solo homer, and Kelbony Clark drove in Jasmine Webb for FHS' other run. Madilynn Taylor added a hit for Freedom.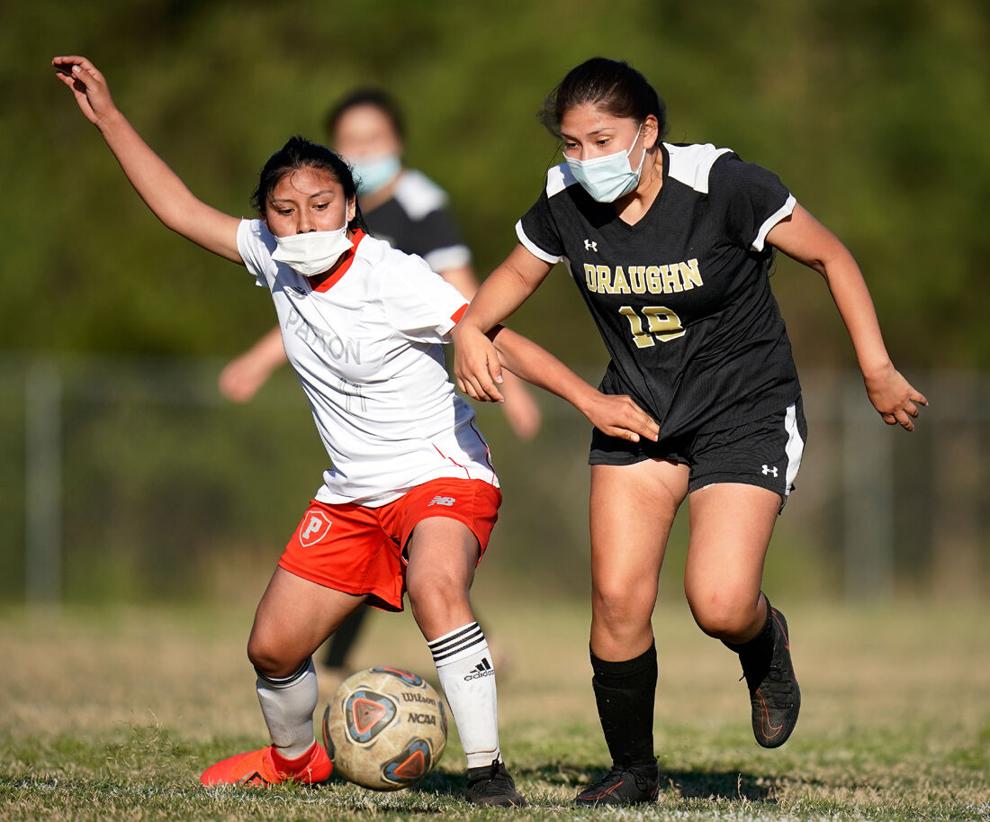 SOCCER
Patton 1, Draughn 0
Ellie Sacchetti took an assist from Maria Mateo and broke the stalemate in the 64th minute Thursday as the Lady Panthers (4-5 NWFAC) avenged their first-ever loss to county and conference rival Draughn (4-4 NWFAC) in Valdese.
"My coaches always tell me to let the ball go and run after it because I'm faster," Sacchetti said. "I just ran as fast as I could, beat (Draughn) and tapped it in."
The host Lady Wildcats had the majority of the scoring opportunities, but Sacchetti and Kiera Robinson paced PHS in the second half to outshoot Draughn both after the intermission and for the game. Danielle Wojcik recorded four saves in goal for the Panthers.
Haley Lowman led that DHS attack in the first half and Ada Caballero held serve in goal for well more than a half for Draughn. Patton held the edge in corner kicks for the contest, 3-2.
Freedom 3, Alexander Central 0
The Lady Patriots (5-3 NWC) got two goals and an assist from Skylar Georges in Thursday's home win, with Keyla Perez Rodriguez adding a goal and an assist and Abby Bryant one assist. Freedom's Kaylee Ollis had the shutout in goal with nine saves.
W. Iredell 2, EB 1 (OT)
The Lady Cavaliers (3-5-1 NWFAC) got a second-half goal from Meah Walsh off a Maya Chrisco assist to force extra time Thursday in Icard, but the Warriors found the back of the net for the game-winner in the first of two 10-minute overtime periods. EB goalkeeper Chloe Cook had 10 saves.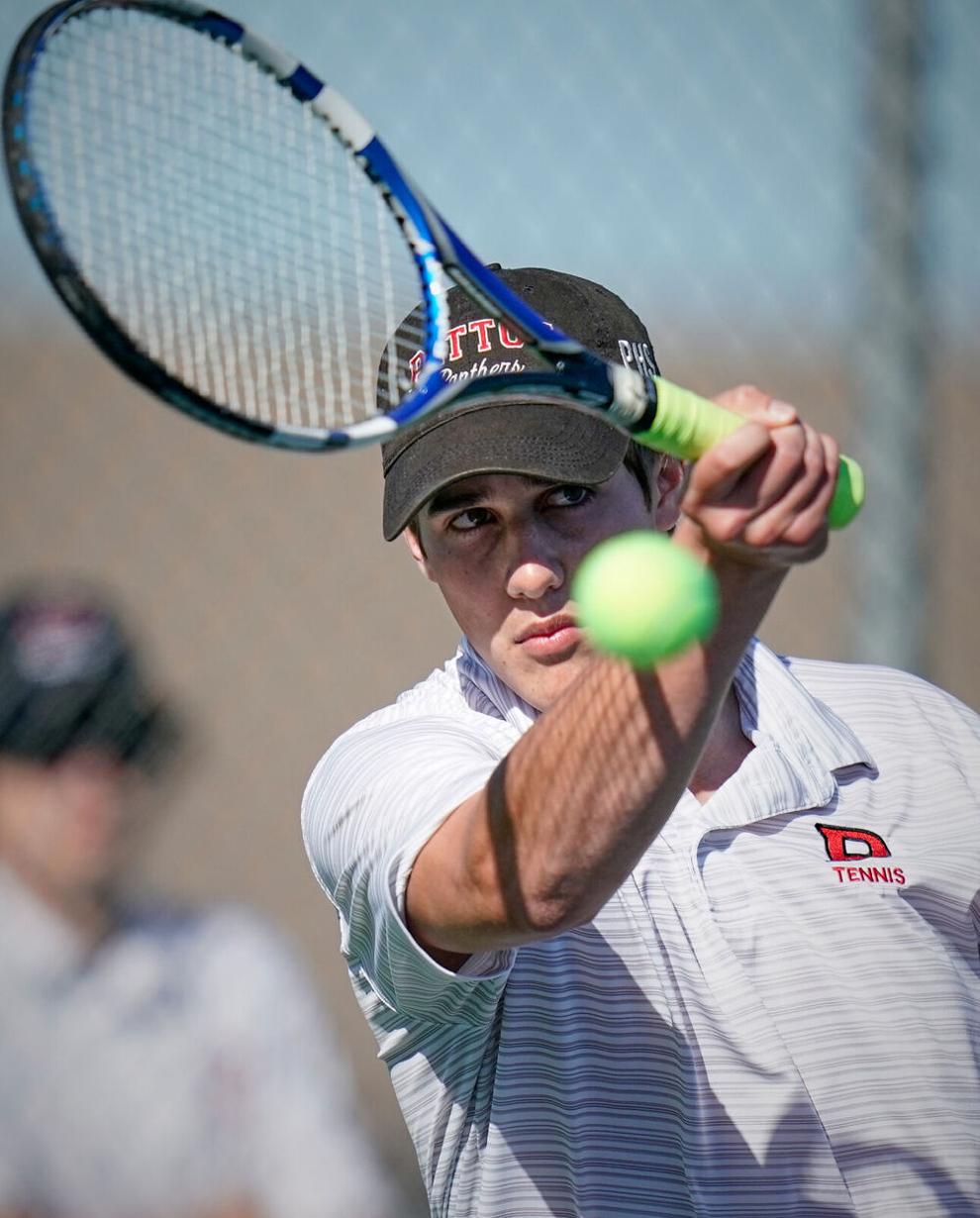 TENNIS
Patton 8, Draughn 1
The Panthers (6-1, 4-1 NWFAC) positioned themselves for a chance to share the conference title with a win Monday at Foard thanks to Thursday's road victory.
Patton won five of six singles matches before sweeping doubles play. PHS singles winners were No. 1 Charlie Gessner (6-0, 6-0), No. 2 Nick Corn (6-4, 1-1, ret.), No. 3 Braxton Mull (6-2, 6-0), No. 4 Ransom Vance (6-2, 6-0) and No. 6 Coley Welch (6-1, 6-0), while No. 5 Ryan Williams rallied for an 0-6, 6-3, 10-6 win for Draughn (2-5, 1-3 NWFAC).
The Panthers No. 1 Gessner/Corn, No. 2 Mull Vance and No. 3 Om Shah/Jared Maksoud then combined to drop just two doubles games.
EB 8, W. Iredell 1
The Cavaliers (4-2, 3-2 NWFAC) won easily at home Thursday to cap a 3-0 week. EB singles winners were No. 1 Thomas Wentz (6-0, 6-2), No. 2 Chimoua Yang (6-1, 6-1), No. 3 Justin Jones (6-7, 6-3, 7-2), No. 4 Davey Stamey (6-2, 6-1) and No. 6 Dalton Parker (6-2, 6-3).
In doubles, No. 1 Wentz/Jones won 8-4, as did No. 2 Yang/Robbie Stringfield, and No. 3 Schaffer Strong/Landon Lennex won 8-5.