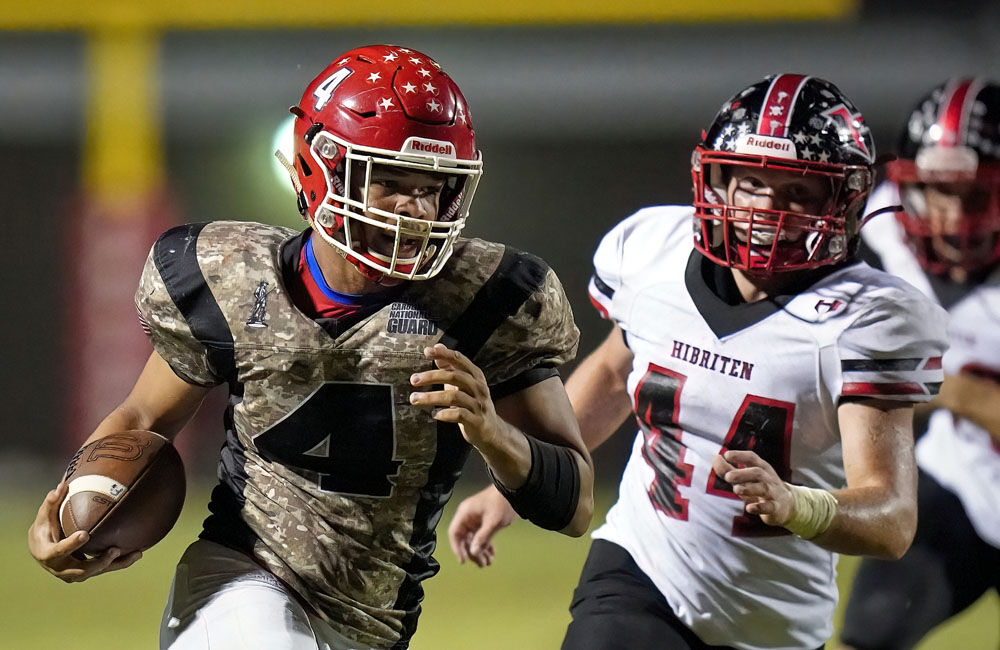 Hit hard early and often, the Freedom football team found that the three components of Hibriten's triple-option offense seemed to be medium gains, big plays and touchdowns.
And special teams proved to be an even worse option than any of those three.
What was a picture-perfect first half in all three phases for the Panthers was an unmitigated disaster for the Patriots in Friday night's Northwestern 3A/4A Conference opener. The host Patriots coughed up fumbles on two early kick returns, helping the Panthers grow their lead from 7-0 to 14-0 and from 21-0 to 28-0 in what eventually was a 42-14 blowout HHS win.
Together in trio with a Hibriten defense that kept Freedom from earning a first down in the first half, the Panthers led 35-0 before halftime, coming just inches away from a mercy-rule running clock for the entirety of the second half with a goal-line fumble as the second quarter expired.
The Patriots (3-2, 0-1 NWC) went three-and-out to start the game before Hibriten went on a six-play, 72-yard scoring drive. After FHS turned it over on the ensuing kickoff, the Panthers scored in one play from the Freedom 28-yard line.
Following another Freedom three-and-out, Hibriten went on a 10-play, 53-yard stroll to the end zone, and the Patriots again gave it away on the following kickoff return. Four plays and 13 yards later, the hosts were down four touchdowns and in what proved to be an inescapable hole.
Freedom had no answer for Hibriten quarterback Coby Wilson in the Panthers' triple-option. He ran for three first-quarter touchdowns — covering 2, 28 and 2 yards — and threw a 12-yarder on the first play of the second quarter. He later answered the Patriots' first score of the game with his fifth total touchdown of the night, an 8-yard run in the fourth quarter.
Wilson finished with game-highs of 14 carries and 85 yards to go with his four TDs on the ground and completed 4 of 5 passes for 99 yards, his lone miss being a Demarcus Lowrance interception. Wilson found three different receivers, including David Shore on the touchdown, running back Quaidyn Tugman twice for 43 yards and Nick Smith on a 44-yard completion.
Hibriten ran 56 plays — 51 of them rushes — to Freedom's 37, and nine total runners got in on the action, including Tugman (9-55), fullback Gabe Suddreth (8-59) and Sadharri Moore (5-31).
It was Hibriten's second straight rout of Freedom following a 53-0 NWC victory back in 2016.
Down 35-0, Freedom running back Curt Young finally got the Pats on the board with a 28-yard scoring run. It was set up by a Simeon Reid sack, a short Hibriten punt and a 19-yard completion from FHS backup quarterback Landon Cox to senior wide receiver Joe Cunningham.
After Hibriten responded to make it 42-7, Lowrance helped set up his own 2-yard touchdown run with a 24-yard catch from Cox. The quarterback found Cunningham twice for 25 yards and tight end Avery Pollard on a 14-yard catch-and-run earlier in the drive.
Young led FHS with 66 yards on seven carries. B.G. Hampton added 41 yards on eight runs.
Cox finished 5 of 7 for 82 yards in relief of starting QB Jaylen Barnett, with Cunningham's three catches for 44 yards leading the way in that category.
Pollard led the Freedom defense with two fumble recoveries and seven tackles. Lowrance and Chris Hensley (two for loss) also had seven tackles. Fredy Vicente Perez had six tackles and a sack, Reid also forced a fumble and Hampton made a pair of stops in the backfield.
FHS will continue NWC play this week in Sawmills to face off with South Caldwell.